Zach LaVine, one of college basketball's most intriguing players, has reportedly decided to leave UCLA after his freshman campaign and declare for the 2014 NBA draft.
His father clued Jack Wang of the Los Angeles Daily News in to his son's choice on Friday morning. He likened the decision to a breakup: "It's like a marriage," Paul LaVine said. "If it doesn't work out, you get a divorce. I don't blame anybody."
UCLA freshman Zach LaVine will declare for the NBA draft, his father says. http://t.co/3rnHX5miGl

— Jack Wang (@thejackwang) March 28, 2014
It had to be a tough call for the 6'5" guard, but ultimately it came down to the young man's future. LaVine languished at times on the Bruins bench and was not guaranteed a more prominent role in his sophomore season.
Wang pointed out that he would have likely remained a bench player in 2014-15 and may not have earned more than the 24.4 minutes he played per game this past season:
Zach LaVine isn't ready for the NBA right now, but his family didn't think he would develop at UCLA. Likely would've returned on the bench.

— Jack Wang (@thejackwang) March 28, 2014
Paul LaVine revealed that NBA scouts are high on his son's potential and think he could eventually develop into a real contributor down the line, as per Wang: "They love him. They're picturing him at 22."
However, there is certainly a chance that the Washington native fails to pan out at the next level. Bleacher Report's Jonathan Wasserman has LaVine going No. 13 overall to the Minnesota Timberwolves in his latest mock draft, insinuating that the raw guard is a fringe lottery pick.
Jason Patt of Blog a Bull believes that he is a surefire first-rounder, but openly admitted he is not ready for the challenges the Association will provide:
LaVine doesn't appear to be ready for the NBA at all, but he'll probably be a first-round pick regardless. http://t.co/ceo4ZPDRDj

— Jason Patt (@Bulls_Jay) March 28, 2014
After the team lost to Florida in the Sweet 16 on Thursday night, CBS Sports' Jon Rothstein said that he hoped LaVine would return to Westwood for another year in order to work on his skills:
Really hope Zach LaVine returns for his sophomore season at UCLA. Simply not ready for the NBA. Big time talent, but still work to be done.

— Jon Rothstein (@JonRothstein) March 27, 2014
LaVine finished his sole collegiate season having averaged 9.4 points on 44.1 percent field goal shooting and 37.5 percent three-point shooting, plus 2.5 rebounds, 1.8 assists and 0.9 steals per game.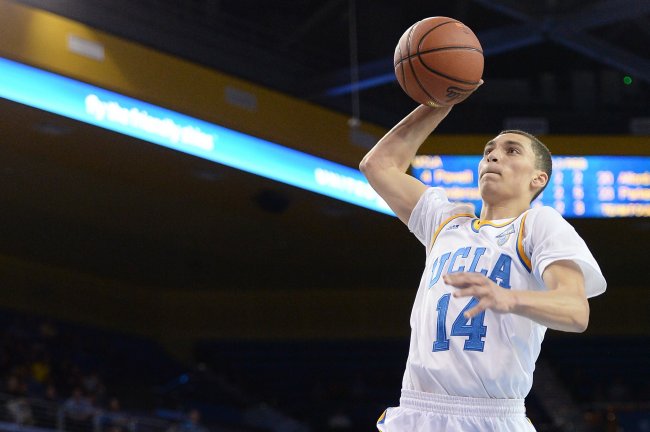 Harry How/Getty Images
Those are solid numbers, but nothing special. LaVine was great at times, however, and that is likely why a team will take a chance on him come June.
Zach Harper of CBS Sports is enamored with the UCLA product, saying his game is fun to watch:
I think it's safe to say whether he's good or not in the NBA, Zach LaVine will be one of my favorite players to watch. I am a fan.

— Zach Harper (@talkhoops) March 23, 2014
NBA analyst Rex Chapman loves the immense athleticism that LaVine brings:
Keep an eye on this kid Zach Lavine. Talk about a kid with "pop" in his body. #LIVELegs

— Rex Chapman (@rexchapman) March 28, 2014
Did LaVine make the right choice to declare?
Lavine's 18-point, eight-rebound, three-assist outburst against Oregon in late February displayed what he is capable of when he is locked in. But he also mustered up just five points (on two-of-seven shooting) and two rebounds in the season-ending loss to the Gators.
That is the maddening inconsistency of this prospect, but his ceiling is too high to ignore for teams looking to hit a home run in the draft. Keep a close eye on LaVine, as he could be one of the biggest risers in during the pre-draft process this spring.