Why the New York Jets' Cornerback Problem Cannot Be Ignored
March 28, 2014

Jeff Zelevansky/Getty Images
New York Jets general manager John Idzik has not made many mistakes so far, but he has undone many of the improvements his team has made by not securing the cornerback position opposite second-year player Dee Milliner. 
As soon as he allowed Dominique Rodgers-Cromartie, the last remaining No. 1 cornerback on the market, to make a short drive up Interstate 287 to the New York Giants' facility, he put the success of the Jets in 2014 in great jeopardy. 
Every team misses out on free agents, and the Jets did make other moves to improve their roster in different areas. However, given Rex Ryan's extreme dependence on man-to-man coverage specialists, cornerback was the one position the Jets could not afford to not have at least solidified in free agency.
The numbers don't lie—the better play Ryan has received from his cover men, the better his defenses have been.
Jets Cornerbacks Through the Years
Year
Starters
Pass Defense Rank
Overall Defense Rank
2009
Darrelle Revis, Lito Sheppard
1
1
2010
Darrelle Revis, Antonio Cromartie
6
3
2011
Darrelle Revis, Antonio Cromartie
5
5
2012
Antonio Cromartie, Kyle Wilson
2
8
2013
Antonio Cromartie, Dee Milliner
22
11
NFL.com
What is even more noteworthy is that the defense, specifically its pass rush, has improved steadily since Ryan took over as head coach. Using a first-round pick on a defensive lineman or linebacker in three consecutive seasons has given the Jets one of the best young defensive lines in football, but Ryan's defenses have only gotten worse with time. 
As much as it goes against conventional wisdom, Ryan's defenses are built from the outside-in, not the inside-out, and the fact that they are so successful should not come as a surprise when taking a closer look at the impact of a quality secondary versus a quality pass rush.
According to Pro Football Focus, the average sack rate for a 4-3 defensive end in 2013 was 14.67 percent. Meanwhile, the top cornerbacks may only give up a few, if any, completions per game. Cornerbacks can be avoided—but pass-rushers can also be double-teamed. 
Sacks do not tell the whole story, as pressure and hurries also make an impact on the game (and are much more difficult to quantify), but the idea that pass-rushers are as dominant in any given game as their highlight tape may suggest skews the perception of their value. The idea that a single pass-rusher makes more of an impact than a shutdown corner is a misconception. 
Leaning on the Secondary

Al Bello/Getty Images
How aggressively a defense plays is largely characterized by how its safeties are used. Ryan's defenses are centered around Cover 1 and Cover 0 schemes, which feature one or zero deep safeties in coverage, respectively.
The Jets were successful in this scheme because they always had tremendous—sometimes historically good—production from one of their cornerbacks.
From 2009-2011, Darrelle Revis' ability to shut down half of the field allowed the Jets to play with the aggressiveness of a Cover 1 or Cover 0 scheme while getting the downfield coverage of a more conservative Cover 2 scheme. Antonio Cromartie assumed Revis' role in 2012 following his ACL injury in Week 2.
As long as the Jets had a capable starter opposite Revis (or Cromartie), Ryan's system would thrive.

NFL Game Rewind
This style is far more reliant on cornerbacks to hold up on their own than Cover 2 systems, but it allows a defense to be more aggressive in run defense and blitz packages. After all, bringing an extra man to blitz can be just as, if not more, effective than relying on a stud pass-rusher beating a tackle one-on-one. 
This explains why, even with a sub-standard pair of edge-rushers in Calvin Pace and Bryan Thomas for four years, the Jets were one of the best pass defenses—if not the best—in football prior to 2013. 
Now that both Revis and Cromartie are wearing different uniforms, how can the Jets replicate this style of defense with Milliner and Darrin Walls set to start at cornerback in 2014?
When It Falls Apart
The Jets have been able to maintain their level of defense because their play at cornerback has been remarkably consistent, which was certainly not the case in 2013. 
Cromartie was a shell of his formerly dominant self as he dealt with a nagging hip injury. Meanwhile, rookie Dee Milliner's head was spinning as he tried to adjust to the NFL game, resulting in arguably the worst cornerback tandem in the league. According to PFF (subscription required), the Jets had the fourth-worst pass coverage in football.
At the same time, the Jets were getting more production out of their defensive front than they had in years. Muhammad Wilkerson and Pace combined for over 20 sacks alone, but their defense dropped to 11th overall. 
Initially, the Jets ran into problems because they tried to run their aggressive coverage schemes, that served them well in previous years, with cornerbacks that were incapable of holding up with minimal help. After all, the Jets' coaches (or anyone else, for that matter) could not have predicted such a sharp decline in Cromartie's play. 
As a result, big plays were given up on a regular basis, whether it be against Cromartie...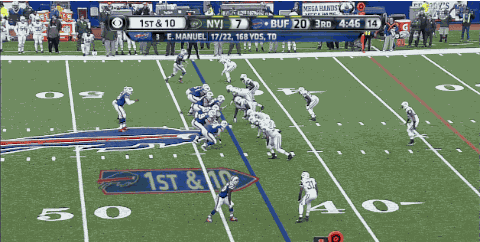 Bleacher Report
...or Milliner. 
Bleacher Report
The Jets' cornerbacks were so bad that there were times where they would give up big plays even when they were not asked to cover for an abnormal amount of time. Here, Cromartie is burned by Brian Hartline right off the snap:

NFL Game Rewind
He gets a step on Cromartie and is able to beat the safety for the touchdown with ease on a simple slant route.

NFL Game Rewind
Eventually, Ryan and his coaching staff had to call "uncle" and forgo his Cover 1 and Cover 0 ways in favor of a more conservative style. Their use of Cover 2 against teams like the New Orleans Saints helped curtail the number of big plays against them, which translated into wins. 

NFL Game Rewind
Using more Cover 2 concepts helped tone down the number of big plays against them, but it goes against everything Ryan stands for as a coach. This schematic adjustment may have been a band-aid, but there is no way Ryan is going to toss his defensive philosophy aside so quickly. 
After all, Rex's scheme does more than just put quarterbacks on their backs—it sets the tone for his entire defense, which spreads throughout the team. Without Rex's scheme, the Jets lose a big part of their competitive edge that helped them win so many close games last year.
What Can Be Done?
The Jets put themselves in a corner (no pun intended) when they let Rodgers-Cromartie take a drive up 287 to sign with the New York Giants. With no more proven, elite man-to-man specialists on the market, the Jets are left with few options.
Walls showed promise last year in spot duty in place of the oft-benched Dee Milliner, but relying on a former undrafted free agent to handle the starting duties with almost no depth behind him is playing Russian roulette. There are some veterans they can still sign, such as Carlos Rogers or Dimitri Patterson, but Ryan's system would collapse with such a mediocre cornerback tandem. 
This is all assuming that Milliner, coming off a season in which he was benched three times, does not suffer any setbacks in his development. 
The Jets may be forced to use their top pick on a corner, such as Virginia Tech's Kyle Fuller or Oklahoma State's Justin Gilbert. However, not only will this cause the Jets to possibly pass on a more talented player for the sake of need, but as they saw with Milliner last season, there is no telling how long it will take for a rookie to adjust to the professional game.
The silver lining is that as the secondary continues to rebuild at a snail's pace, the defensive front will continue to develop into a dominant force to help counter the effects bleeding from the back end. Still, even the best pass-rushers only get pressure on a relatively small percentage of snaps—there will be room for opponents to make big plays on the Jets.
Missing one player at one position will not make or break the Jets' season entirely, but you can bet that Ryan and his coaches are scratching their heads late at night wondering how they are going to overcome this deficiency at such a crucial position.
Advanced statistics provided by ProFootballFocus.com (subscription required).