Kyle Busch's 2014-15 NASCAR campaign hadn't gone according to plan heading into the Auto Club 400 in California, but things are looking up after he won this race for the second year in a row.
NASCAR News provided this shot of the champion celebrating his victory at the finish line, noting it is his first of the 2014-15 season:
Kyle Busch gets his first win of the 2014 season @ACSupdates! #AutoClub400. pic.twitter.com/wpwsMpr85B

— NASCAR News (@SprintCupNews) March 23, 2014
Rookie Kyle Larson nearly stole the victory on the final lap of the two-lap green-white-checkered finish, but he settled for second place, with Kurt Busch coming in third, Matt Kenseth fourth and Tony Stewart closing out the top five, as noted by USA Today's Nate Ryan:
Kyle Busch wins at Fontana for second straight year. Kyle Larson second. Kurt Busch third, Matt Kenseth fourth. Tony Stewart fifth. #Nascar

— Nate Ryan (@nateryan) March 23, 2014
The race was thrilling from start to finish, and Erik Arneson reported it featured 35 lead changes, which is a new record:
Record 35 lead changes today in #NASCAR race won by @KyleBusch @NASCARONFOX

— Erik Arneson (@EBASports) March 23, 2014
Perhaps as a response to this fact, Busch excitedly opined after winning that he wasn't the only winner on Sunday, as relayed by NASCAR:
"I think the fans won today too man, Holy Cow!" - @KyleBusch in Victory Lane #NASCAR

— NASCAR (@NASCAR) March 23, 2014
While Busch may not be the most popular driver on the Sprint Cup Series, TNT's Adam Alexander couldn't help admire the way the champion competes:
Say what you want about @KyleBusch. I love his emotion, passion and how he competes. Would not be denied today. @KyleLarsonRacin is good too

— adam alexander (@adam1alexander) March 23, 2014
And he wasn't alone.
NASCAR driver Regan Smith was "grinning from ear to ear" after the race:
I'm sitting here grinning ear from ear reading how pumped up about today everybody is, even those of you who aren't Kyle fans loved it!

— Regan Smith (@ReganSmith) March 23, 2014
The win boosted Busch's position in the Sprint Cup Standings significantly.
Before Sunday's race, he had finished no higher than ninth place, leading to a mediocre 14th-place spot in the standings. After earning the win, though, Busch vaulted up into seventh place, just 28 points behind Carl Edwards.
Here's a look at the top of the standings heading into Martinsville next weekend.
| | | | |
| --- | --- | --- | --- |
| Position | Driver | Car | Points |
| 1 | Carl Edwards | 99 | 186 |
| 2 | Dale Earnhardt Jr. | 88 | 185 |
| 3 | Jeff Gordon | 24 | 184 |
| 4 | Brad Keselowski | 2 | 182 |
| 5 | Matt Kenseth | 20 | 179 |
| 6 | Jimmie Johnson | 48 | 165 |
| 7 | Kyle Busch | 18 | 158 |
| 8 | Ryan Newman | 31 | 150 |
| 9 | Austin Dillon | 3 | 150 |
| 10 | Joey Logano | 22 | 146 |
NASCAR.com
Note: To see full standings, please visit NASCAR.com.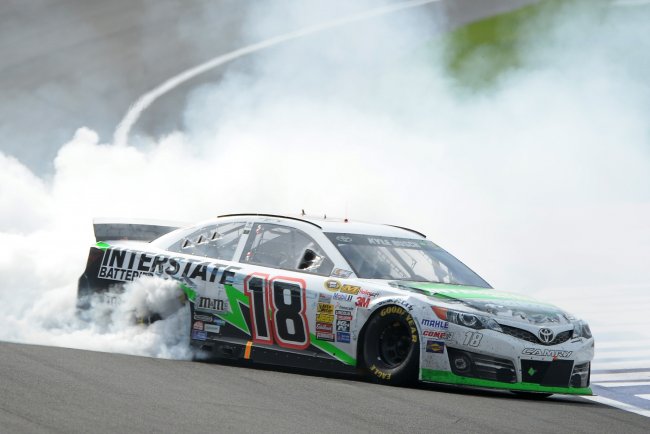 Harry How/Getty Images
The win was Busch's first since last September when he won in Atlanta. It gives him 29 victories for his career on the Sprint Cup Series, and it all but guarantees him a spot in the Chase this upcoming September.
Afterward, he discussed the exciting finish, via Ryan:
I went into Turn 1 thinking I'd run the middle, Tony started sliding off the bottom, so I cut my car to the left, drove underneath him and was able to keep Kyle Larson behind me. What a shoe that kid is.

What an awesome race this track produced two days in a row. I can't believe it. Thank the Lord for getting us locked in the Chase.
Busch won four races last season but finished in fourth place in the final Sprint Cup Standings, finishing 55 points behind Jimmie Johnson.
After five races, he's well within striking distance of Edwards and the other top drivers.
Where will Kyle Busch finish in the 2014 Sprint Cup Standings?
Another win in the next month or so will likely lock him into a top-10 finish heading into the championship. Once in, anything's possible.
After finishing in 12th place in 2011, 11th place in 2012 and fourth place last year, it appears Busch may be on the rise once again in 2014. Consistency will be key, of course, but there's no doubt he possesses the chops, the car and the crew to get the job done.
Looking ahead to next weekend's race, fans shouldn't expect Busch to double down on his seasonal win total, however, as he has never once claimed victory at Martinsville. That said, he has logged eight top-five finishes there, meaning he could easily move up the standings for the second week in a row.
Follow me on Twitter @JesseReed78