Updates from Monday, Mar. 24
Johny Hendricks updated fans on his status following his bicep injury via his Twitter account:
Surgery this morning and headed home on some great pain meds poor @ChristinaDH11 @ pic.twitter.com/15b7oobl6m

— Johny Hendricks (@JohnyHendricks) March 24, 2014
Chilling out before bicep surgery. I hope my Doc got a good night of sleep! Lol pic.twitter.com/FEKvFrCXlt

— Johny Hendricks (@JohnyHendricks) March 24, 2014
Original Text
Johny Hendricks is riding a wave of momentum after beating Robbie Lawler at UFC 171, but an injury will leave him on the shelf for the immediate future.
According to Ariel Helwani of MMAFighting.com, the new UFC welterweight champion has been diagnosed with a torn bicep, which will require surgery:
Johny Hendricks was just on KROQ in LA. Torn bicep. Surgery on Monday.

— Ariel Helwani (@arielhelwani) March 19, 2014
The ailment will reportedly keep him out of action for at least two months:
More on Hendricks. Rehab 4 wks after surgery, 4 wks of rehab (if all goes well) and hopefully start traning again in 2+ months.

— Ariel Helwani (@arielhelwani) March 19, 2014
Hendricks was aware of the injury prior to his fight against Lawler, but he decided to go through with the bout anyway:
This was the injury that happened a week before the fight that almost caused him to pull out. He also injured his shin in the fight.

— Ariel Helwani (@arielhelwani) March 19, 2014
The fact that Hendricks was able to out-strike a quality fighter like Lawler with a serious arm injury says a lot about the 170-pound champ's ability. Though he will need some extra time to heal up before resuming training, he shouldn't miss a fight provided the injury heals as expected.
As for who Hendricks' next opponent should be, Georges St-Pierre—considered to be one of the top pound-for-pound fighters in the world before taking a leave of absence—nominated Rory McDonald in an interview on The MMA Hour (via Shaun Al-Shatti of MMAFighting.com):
"Rory MacDonald," St-Pierre said, referencing his longtime friend and Tristar training partner who recently rebounded with a convincing win at UFC 170.

"If (sic) very happy for Rory. He did an amazing fight against Demian Maia and he proved he's the No. 1 contender."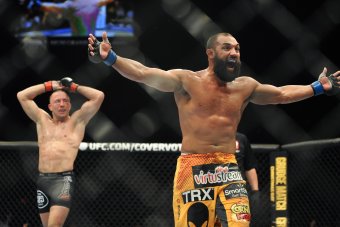 Stephen R. Sylvanie-USA TODAY Sp
Hendricks, however, has made it clear that he is looking for a rematch with GSP after suffering a controversial split-decision loss to the former welterweight kingpin at UFC 167.
Although Hendricks should make sure that he is 100 percent healthy before stepping back into the Octagon, he has already proven that he is willing to fight through pain in order to perform.
Following his gutsy showing at UFC 171, there is no doubt that UFC fans hope all goes well with his surgery and subsequent recovery.
Follow @MikeChiari on Twitter