No matter how you spin it, the Indiana Pacers are still title contenders on a collision course with the Miami Heat in the Eastern Conference Finals.
They have the most dominant defense in basketball, the fourth highest net rating and the best record in the Eastern Conference. The Oklahoma City Thunder are the only squad with a higher rebound rate, and the Charlotte Bobcats are the only team that grabs a higher percentage of available defensive rebounds.
But after spanking the Los Angeles Lakers on Feb. 25—in Evan Turner's first game as a Pacer (12 games ago)—Indiana hasn't looked as overwhelmingly dominant as we've grown accustomed to seeing. Two nights later, they almost lost to the pathetic Milwaukee Bucks at home. Then they opened March barely escaping hard-fought contests against the Boston Celtics and Utah Jazz, two franchises already fixated on Andrew Wiggins and Jabari Parker.
Jim Cowsert/Associated Press
Still, a win is a win, and Indiana came out on top in all three. But they weren't easy and symptoms of trouble were born. On March 4, Indiana fell to the Golden State Warriors when Klay Thompson hit a go-ahead, turnaround jumper over George Hill's outstretched fingertips with just seconds on the clock.
It was the first of four straight losses—the final three coming on the road—where the Pacers were blown out by the Houston Rockets and (not your grandfather's) Charlotte Bobcats. Indiana barely beat the Philadelphia 76ers and needed overtime to dispatch a 25-win Detroit Pistons team that lost Andre Drummond to a head injury in the game's fifth minute.
All of those contests came with at least one day of rest, except the Pistons and Jazz.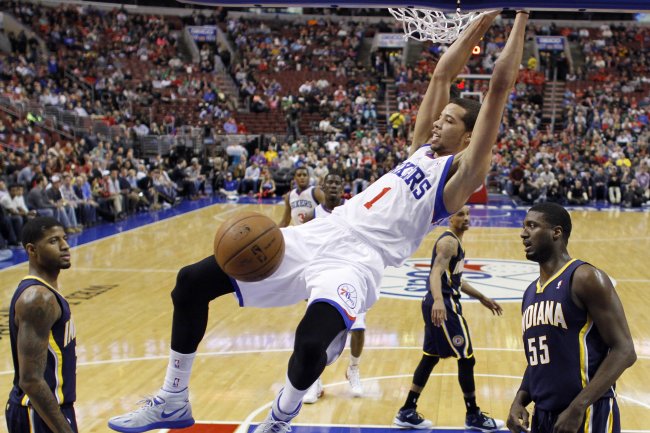 Matt Slocum/Associated Press
Could these losses and too-close-for-comfort outcomes be a case of Indiana catching the wrong team on the wrong night? Or could it have more to do with the Pacers' bad habits?
The slog of a long regular season could have a detrimental effect on a team that sometimes is playing just to get things over with (Indiana). An underdog who's already out of the playoffs might circle its match-up with Indiana and come out swinging with something to prove. Some guys on bad teams are unrestricted free agents playing for their NBA lives; dropping 25 on the best defense in basketball could go a long way in contract negotiations this summer.
Here are some more explanations as to why the Pacers haven't looked like themselves as of late.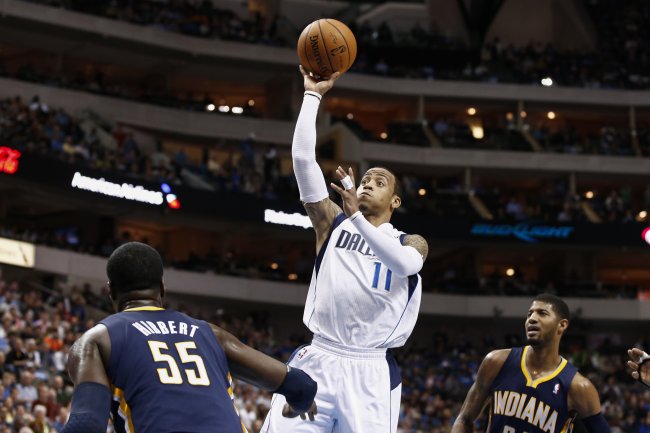 Jim Cowsert/Associated Press
Holes in Team Defense
Since acquiring Turner and LaVoy Allen (and shipping team hero Danny Granger out of town), Indiana's offense is a tiny bit better than its season output, but that still puts them below league average. They're launching corner threes at a bottom-five rate, but making up for it in the mid-range, connecting on 43 percent of over 25 attempts per game since Feb. 25.
That'd be good news if the defense maintained its ferociousness, but it hasn't.
In the last 12 games, they've allowed 103.4 points per 100 possessions, which is right between the Miami Heat and Boston Celtics for 13th in the league. A league average offense plus a league average defense equals…you guessed it: a league average team!
Obviously this isn't good enough. From opening night until Feb. 25, the Pacers held opponents to 33 percent on 18.9 three-point attempts per game. From that date until today, it's 38.6 percent on 21.6 attempts. Opponents are also shooting 46.3 percent from the corners (22nd in the league).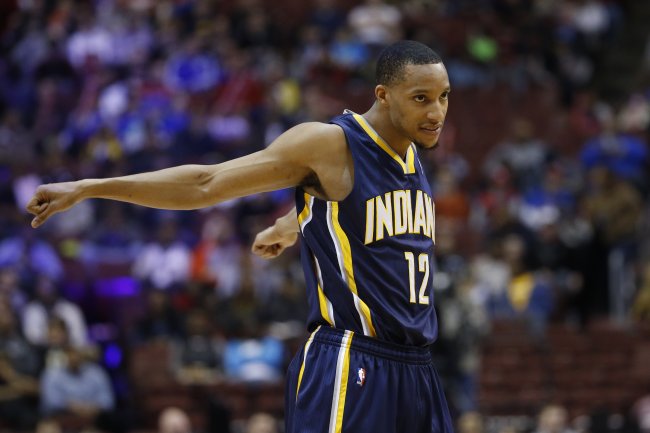 Matt Slocum/Associated Press
Turner is shooting the ball at a modestly efficient rate, but something rotten happens to Indiana's defense when he's out there: They allow a whopping 105.7 points per 100 possessions (as opposed to 98.7 when he sits).
He was brought in to punch up the offensive woes found on Indiana's bench, with the hope that any individual defensive concerns (Turner has plenty) would ameliorate inside the team's stout system. This hasn't happened.
One of the best things about Indiana's defense is how they prevent dribble penetration. Guards and wings have such a difficult time winning the front line battle, and it allows everyone else to stay at home. Turner is too slow on the ball, and too inactive away from it. He's taken off the dribble far too often, compromising everything else.
Not all is bad, though, and it'd be unfair to suggest Indiana's defense has dissolved into the creaky screen door style most commonly associated with the New York Knicks. The Pacers have held opponents to 52.3 percent in the restricted area all season long. That tops the league. In the last 12 games? Pretty much the same thing. A great sign.
If they want to regain their dominance, though, Turner needs to pick up his play and the three-point line needs to be covered.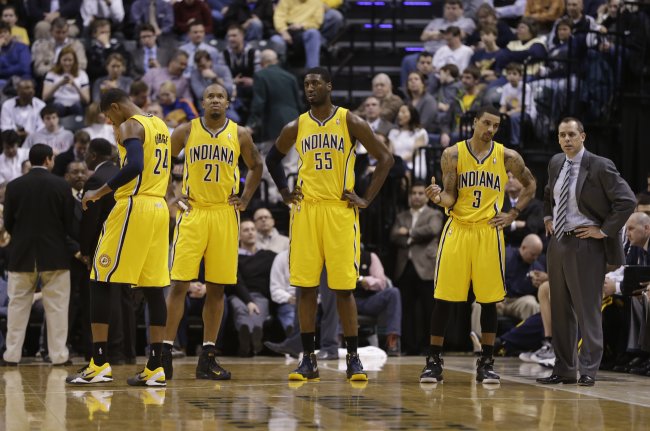 Darron Cummings/Associated Press
Starting Five Trouble and Other Lingering Issues
Indiana's starting five of George Hill, Lance Stephenson, Paul George, David West and Roy Hibbert has shared the floor for 1220 minutes out of a possible 3236 this year. That's 37.7 percent of Indiana's entire season. They're simultaneously seen as the team's pulse and source of life support.
The Pacers won't win anything this spring unless cohesive production is had by this five.
Their collective experience, two-way versatility and skill gives Indiana an ultimate advantage over any playoff opponent. These five share the same scars. On the year, they average 106.8 points per 100 possessions—as efficient as the speedy Phoenix Suns—and defend at an all world level. In their 61 games they've outscored opponents by 12.3 points per 100 possessions.
When all else fails, this group is the core of everything Indiana is and wants to become. But in the past 12 games (200 minutes) their offense has fallen off the rails, dropping to an efficiency level that's even lower than the Detroit Pistons.
Indiana's overall offense isn't anything special (20th in the league), but this starting five drags them over the top more times than not. Right now that isn't happening.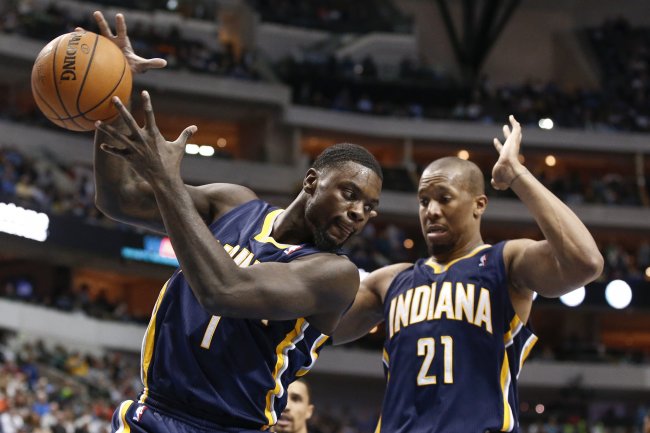 Jim Cowsert/Associated Press
Paul George is a great player who will raise his game to another level in the playoffs—because he's already proven he can and is really freaking good at basketball—but right now his efficiency levels are nowhere near "Top-Five Player" status.
He's averaging 20 points on 15 shots over his last dozen games and repeatedly turning it over in stupefying ways. George's defense remains exceptional all over the floor, but it isn't enough right now.
David West has been exceptional, actually playing above his season averages in recent outings, and Lance Stephenson is eating the world with a spoon, one ankle-breaking foray at a time. But Indiana's turnover problem is only getting worse.
Their turnover rate for the season is 15.9 percent, and in the last dozen games it's climbed to 16.2.
It's not like this is a new thing. Larry Bird, the team's president of basketball operations, has publicly warned anyone who's been willing to listen for quite some time. These quotes are from a Jan. 16 story in the Indianapolis Star:
Bird believes that the team's bad habit of sloppy ball handling could prove costly when the games matter the most.

"Turnovers," said Bird, answering quickly on what the team can still improve. "Turnovers will be their downfall. If they go down this year, it will be because they turn the ball over too much. We've talked about turnovers all the time, and if they're going to get into the playoffs and turn the ball over 20 times, it's going to put them in a big disadvantage."
It's worrisome knowing Indiana is conscious of their main problem but don't know how to fix it.
Elsewhere, their offense is hardly getting to the rim, averaging the 28th most attempts in the restricted area per game. Indiana has a few good to great mid-range shooters, but taking it to the basket is obviously their most efficient and best option.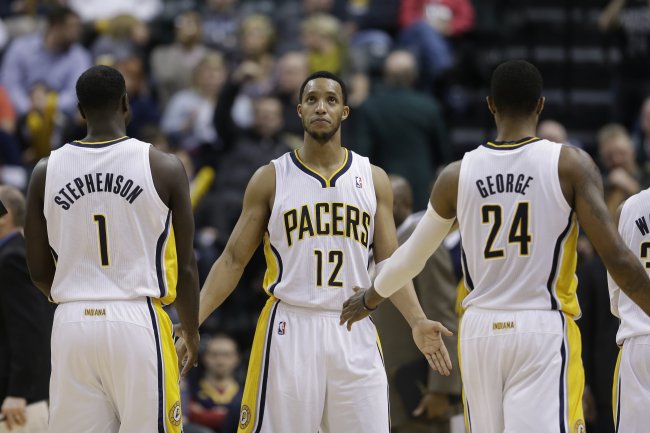 Darron Cummings/Associated Press
The Pacers know how they do in the playoffs is ultimately far more important than anything they do in March. But studying their play here allows us to highlight some weaknesses that might reappear in the postseason.
Andrew Bynum is rebounding well but nearly shooting under 40 percent in his last few games. He remains unreliable due to health issues. Can he simplify Indy's offensive concerns in the playoffs? Will George and Stephenson limit their turnovers and make simple passes instead of needless grand slam attempts?
Will Turner figure out defense? Will Indiana shore up containment on the three-point line? Are all these questions meaningless regular season chatter? It's a long grind, and the players are human. Most of their mistakes are mental, and should be corrected once the playoffs come around.
It won't be difficult to focus on a title once they can count on their fingers how many wins are needed to get there.
All stats in this piece are updated as of March 19 and were provided by Basketball-Reference and NBA.com (subscription required).
Michael Pina covers the NBA for Bleacher Report, CelticsHub and Red94 (ESPN's TrueHoop Network), Sports On Earth and The Classical. His writing can be found here. Follow him @MichaelVPina.