The United States' 43-game unbeaten streak is over. Fittingly, it was former United States manager Pia Sundhage and her Sweden side that defeated the United States, 1-0, in the Algarve Cup.
Lotta Schelin scored the lone goal for Sweden in the first half, which was all they needed in a brilliant defensive display from the Swedes. The United States continued to press throughout much of this match but Sweden stood strong and deserved the victory.
After losing in a friendly to France before the Algarve Cup, standout Swedish defender Nilla Fischer said of her team to FIFA.com, "We've got to be a lot tougher at the Algarve Cup and perform better defensively."
She certainly got her wish on Friday.
The United States was the much stronger side to start this match, taking the game to the Swedes in the first 15 minutes. That would lead to a penalty kick in the 16th minute, after Amy Rodriguez was taken down in the box.
The always dangerous Abby Wambach stepped up to take the attempt, but she was stonewalled by Swedish keeper Hedvig Lindahl. From U.S. Soccer WNT on Twitter:
What a save from the Swedish GK. Wambach hit it hard and right inside the post, but she guessed correctly and saved at full stretch.

— U.S. Soccer WNT (@ussoccer_wnt) March 7, 2014
Eight minutes later, it was Sweden that scored against the run of play, as a Sofia Jakobsson cross found Lotta Schelin, who had sneaked behind the United States defense. The Swedish superstar knew what to do from there, nodding home a nice header to give her country the lead.
Sweden didn't boast a huge attacking threat in the first 45, but they certainly played a stifling brand of defense. From U.S. Soccer WNT:
SWE has created viritually nothing in the attack, but boy are they organized on D. USA having trouble breaking down SWE to create chances.

— U.S. Soccer WNT (@ussoccer_wnt) March 7, 2014
All in all, it was a very unconvincing first half from the United States.
Sweden's strong game plan continued to give the United States issues in early in the second half. From Fox Soccer Trax:
53 Good spell from Sweden but no real test for Solo. Swedish high pressure and very high offside line continue to create problems for USWNT

— FOX Soccer Trax (@FOXSoccerTrax) March 7, 2014
The United States nearly equalized in the 64th minute. After a U.S. corner, a scramble for the ball ensued in front of the net. It managed to make its way to Amy Rodriguez, but the U.S. forward squibbed her shot just wide of the net.
The United States continued to press for that equalizing goal, and Sweden continued to deny them. Kristie Mewis had perhaps the team's best chance to score in the 82nd minute, but she couldn't solve Lindahl. From U.S. Soccer WNT:
Kristie Mewis one-on-one chance saved by Lindahl with her legs! That was the best chance of the half so far!

— U.S. Soccer WNT (@ussoccer_wnt) March 7, 2014
Mewis ran onto a flick in the box and struck the bouncing ball, but right at the SWE 'keeper.

— U.S. Soccer WNT (@ussoccer_wnt) March 7, 2014
Lindahl again came up huge again in the 87th minute. From Fox Soccer Trax:
87 Lindahl heroic again as Hagen is sent in, but the keeper charges down the shot. 0-1

— FOX Soccer Trax (@FOXSoccerTrax) March 7, 2014
The U.S. didn't show any quit, but they just couldn't crack the Swedish defense.
Grades
United States

| | | |
| --- | --- | --- |
| Player | Position | Grade |
| Hope Solo | GK | B |
| Ali Krieger | D | B |
| Christie Rampone | D | C |
| Becky Sauerbrunn | D | B |
| Meghan Klingenberg | D | B |
| Heather O'Reilly | MF | B |
| Morgan Brian | MF | B- |
| Carli Lloyd | MF | B |
| Megan Rapinoe | MF | C |
| Abby Wambach | F | C- |
| Amy Rodriguez | F | C+ |
| Substitutes | | |
| Kelley O'Hara | D | C |
| Kristie Mewis | D | B+ |
| Samantha Mewis | MF | B+ |
| Christen Press | F | B |
| Sarah Hagen | F | B |
Sweden

| | | |
| --- | --- | --- |
| Player | Position | Grade |
| Hedvig Lindahl | GK | A+ |
| Charlotte Rohlin | D | A |
| Nilla Fischer | D | A |
| Jessica Samuelsson | D | A |
| Elin Rubensson | D | A |
| Therese Sjogran | MF | B+ |
| Caroline Seger | MF | B+ |
| Lisa Dahlkvist | MF | B+ |
| Sofia Jakobsson | F | B |
| Lotta Schelin | F | B+ |
| Kosovare Asllani | F | C |
| Substitutes | | |
| Linda Dembrant | D | A |
| Hanna Folkesson | MF | B |
| Antonia Goransson | MF | B |
| Emmelie Konradsson | MF | B |
| Emma Lundh | F | B |
Player of the Match: Hedvig Lindahl, GK, Sweden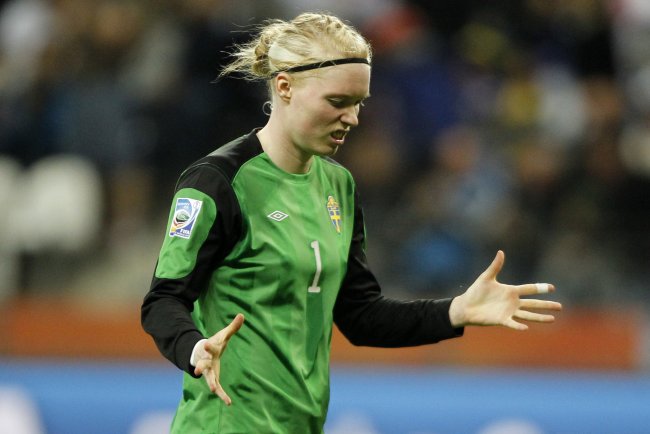 Matthias Schrader/Associated Press
You could make a case for Fischer and any of the Swedish defenders, who absolutely stifled the United States attack in this game, but Lindahl was simply superb.
Even if you took away her key stop on the Wambach penalty attempt, Lindahl made several huge saves down the stretch in this game. Her positioning was top-notch throughout, and the U.S. would have equalized against a lesser keeper.
She benefitted from the play of the defense behind her, yes, but every time the United States cracked that code, Lindahl provided the final failsafe that the Americans couldn't breach.
What's Next?
The United States will play Denmark on March 10 with group placement on the line, but the Americans have been eliminated from contention for the Algarve Cup title. Now, they'll be playing for pride and likely continuing to experiment with different combinations.
Sweden next faces Japan on March 10, likely with the Group B title on the line, and remains in the running for the tournament title. After this showing, betting against them would certainly be risky.