Real Madrid trounced Schalke 6-1 on Wednesday night to all but seal their passage to the UEFA Champions League quarterfinals.
Los Blancos' Karim Benzema, Cristiano Ronaldo and Gareth Bale ripped the German contenders to shreds in 90 painful minutes, and the Royal Blues have absolutely no hope of leveling the playing field at the Bernabeu in March.
Let's take a tactical look at how this game played out.
Formations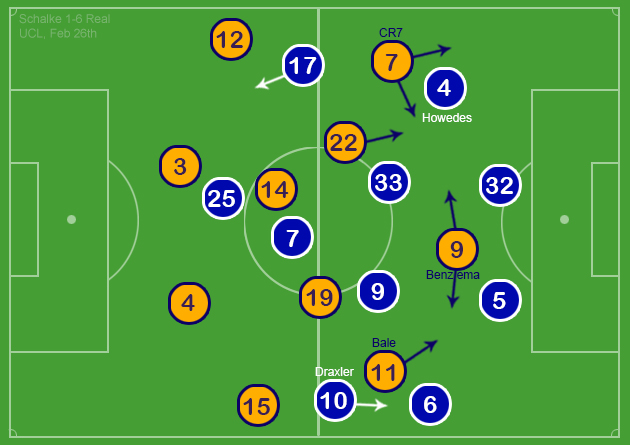 B/R Tighe
Schalke adopted a defensive 4-4-1-1-esque system, welcoming Julian Draxler back on the left, shifting Max Meyer inside and deploying Benedikt Howedes at right-back.
Real Madrid went with their standard 4-3-3, with an optimal strength XI selected to grab an early, convincing lead in the tie. Gareth Bale started right, Cristiano Ronaldo left and Angel Di Maria in central midfield.
Early Stalls
Schalke set their stall out, and Jens Keller's XI screamed "stifle."
Howedes is a centre-back by trade but has experience at right-back, and he was deployed wide of Joel Matip (RCB) presumably to try and reduce the space Cristiano Ronaldo had to work in.
Sky Sports
When forming a low-block the Royal Blues packed eight or nine behind the ball and set the distance between the defensive and midfield lines as short as five yards at times.
Draxler played as a very flat left midfielder and doubled up with full-back Sead Kolasinac when dealing with Dani Carvajal and Bale; he was industrious in tracking back and made his colleague feel more inclined to venture forward and attack.
The Anomaly
The clear anomaly in Keller's defensive outlook—low-blocks, little space between lines and nullifying tactics—was the obscenely high line Schalke ran early on in the game.
It was beaten twice inside the first four minutes, with Ronaldo wrongly flagged offside first and Benzema just straying off in the second instance.
For years we saw Jose Mourinho, then manager of Real Madrid, use Xabi Alonso's accurate diagonal passes as a weapon to release CR7 behind Barcelona's defence in multiple Clasicos, but Keller seemingly didn't catch any of those games.
Letting Los Blancos open up their play on the counter is a very bad idea and Keller's troops lacked the pace to recover. They also settled into a rhythm of sitting off Sergio Ramos and Pepe if they had the ball, with a very lacklustre effort coming from Klaas-Jan Huntelaar up front.
One vs. One
Sometimes you can game-plan all you like, but individual quality wins out.
For Madrid's opening goal Schalke looked fairly well stocked, with Draxler covering Carvajal's run, Kolasinac coming out to meet Bale and a three vs. two in defence to cover CR7 and Benzema.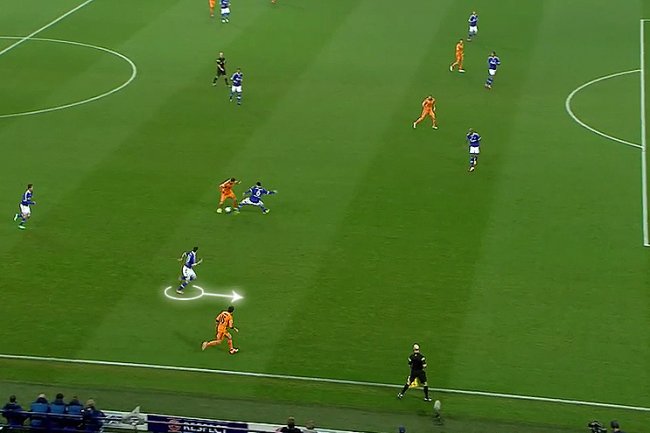 Sky Sports
But Bale jinks around Kolasinac and plays a cute one-two with Benzema who scores; a prime example of the fear expressed by the centre-backs all day, as once the midfield was by-passed they looked there for the taking.
Despite a numbers advantage and a good starting position, the defence were swept away.
Scared Schalke
After going 1-0 down following some supreme linkup between Bale and Benzema, Schalke came within inches of leveling the score but for a wonderful Iker Casillas save on Draxler.
Had that gone in we could have been looking at a different game entirely, but the miss sent shockwaves of fear throughout the Royal Blues XI—hope drained from the side despite fervent home support.
Jefferson Farfan's forays forward on the right became less frequent, Meyer lost his confidence in the final third and the team looked disjointed.
Worst of all, the aggression vanished from Schalke's play: if you're going to commit eight or nine men to a low-block, you have to be stubborn and hard-nosed, fight for the ball and make life tough.
Neither Roman Neustadter nor Kevin-Prince Boateng showed enough resilience in taking on Madrid's runners, and the away side started to take control. The defensive line dropped deeper and deeper as their ball-players advanced, conceding ground and failing to track the whirlwind of runners headed their way.
Disjointed Schalke
After the third goal, Keller's side lost their discipline completely and different players appeared to be playing different games.
Howedes, the man deployed to reduce the space around CR7, began venturing forward without any regard as to who is covering his slot. A quick counterattack, once he'd surrendered possession, resulted in Ronaldo beating Matip one vs. one and firing home a left-foot finish.
Kolasinac, from left-back, also appeared to drum up some courage and advance forward, but left too much to do for the covering Draxler and left Bale one vs. one with Felipe Santana on the other side.
It was as if five outfield players had been given one set of instructions and five players a different, opposite set. The home side's attacking intent was intensified after conceding several goals, but as they opened up and exposed themselves, Madrid simply scored more and more.
Super Madrid
This was not, however, just a shabby showing from Schalke. Real Madrid's superlative part in the tie should not be overlooked so easily.
The benefits of using a mobile target man who can filter wide, drop deep and link with his midfield became abundantly clear throughout the 90 minutes. Benzema caused chaos for Schalke's back line as he entered different areas to create overloads and fought for every ball.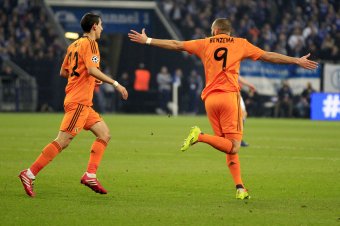 Frank Augstein/Associated Press
That he ended the game with two assists, two goals and a 100 percent pass completion percentage is testament to the fantastic job he did all-round.
Angel Di Maria, too, was a force surging forward from LCM and took advantage of the opponent's reluctant, hesitant approach in closing him down. He's physically dominant once he hits top gear, and he showed that at the Veltins Arena time and time again.
Luka Modric, famed this season for stitching this Madrid attack together so well, was positionally very diligent and dropped in to cover for his runners all night. There was one particular instance where he ended up playing right-back to cover for Carvajal, who was pressing Schalke's centre-backs in possession.
Conclusion
The visitors were immense, the hosts appalling; levy as much criticism at Keller as you do praise in the direction of Carlo Ancelotti.
Schalke struggled to set their line, lacked bite, failed to spark quick transitions (Huntelaar was slow in possession) and stood with their mouths agape as CR7, Bale and Benzema ran riot.
Some of the goals scored were incredible pieces of individual skill, but there was a serious systematic flaw at play here too.
Tactical Man of the Match: Karim Benzema