Across the collegiate landscape, Chuckie Keeton, the Utah State quarterback, is the most intriguing ballplayer coming back from a severe injury suffered in 2013. The dynamic leader was sidelined during last season's Week 6 game against BYU, and as he pushes toward being ready to participate, 2014 should be an interesting year for the Aggies with Keeton leading the charge.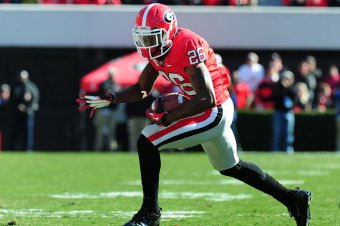 Scott Cunningham/Getty Images
Keeton is no shoo-in for this discussion; given the destructive nature of college football, there are plenty of quality options from which to choose. At Georgia, both wide receiver Malcolm Mitchell and running back Keith Marshall are expected to make glorious returns for the Bulldogs. In the ACC, Maryland wide receiver Stefon Diggs and Miami running back Duke Johnson are two explosive pieces that their respective teams cannot wait to get back.
Off the big-name path, integral pieces like defensive tackle Ondre Pipkins of Michigan, offensive tackle Chaz Green at Florida and safety Tyler Hunter from Florida State should be back and ready to help.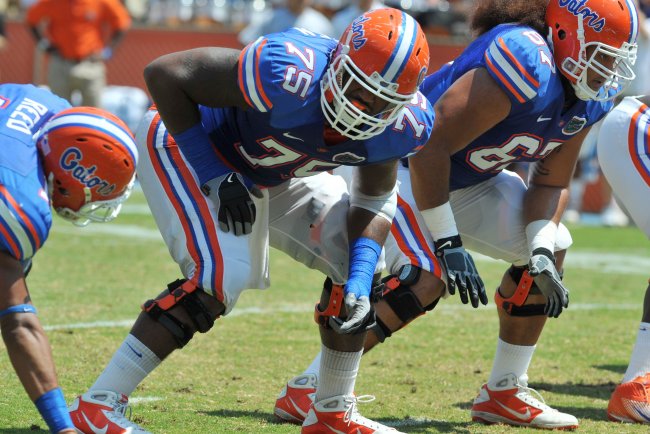 Al Messerschmidt/Getty Images
Of course, there is also the youth worth mentioning in the form of Jalen Hurd, a running back at Tennessee, and David Cornwell, a candidate for the Alabama starting quarterback job. Both were injured during their final year of high school and are looking to show they are not only healthy for the 2014 season, but also that they can contribute to the cause.
Here, it is Keeton who gets the nod. The rising senior is not only one of the nation's most intriguing players, but he also should lead a Utah State team with high hopes in the new College Football Playoff era. Unfortunately, the world will have to wait until fall camp to get a good look at Keeton, as USA Today's Dan Wolken reported in January.
Ran into Utah St's Matt Wells, who said QB Chuckie Keeton (torn ACL) on track to be cleared for June workouts. Aggies open at Tennessee

— Dan Wolken (@DanWolken) January 14, 2014
That means more spring reps for Darell Garretson, who played solid in Keeton's absence. It also means more time for the star quarterback of the Aggies to get healthy enough to show up big against Tennessee in the season opener, an opener that is critical to the Aggies' cause where being the first team to grab the automatic bid for a major bowl game is concerned.
Which returning player do believe is the most intriguing?
The SEC, Big 12, Pac-12, Big Ten and ACC all have deals guaranteeing their respective champions access to the creme de la creme of the postseason, in addition to likely four playoff spots. For the other conferences, aside from an outside shot of getting into the four-team playoff, the goal is to be the highest-ranked team for the one major bowl spot.
In 2013, the Aggies went 9-5 with a few tough losses. Keeton's team lost two games with him missing time—an 11-point loss to Boise State and a seven-point loss to Fresno State in the MWC Championship Game. Utah State also dropped the BYU game in which Keeton sustained the knee injury that sidelined him for the remainder of the season.
The Aggies also dropped two games with Keeton at full-go—both to Pac-12 teams in Utah and USC.
For 2014, the Pac-12 is off the schedule, Derek Carr, the former Fresno State quarterback, will be in the NFL and BYU has major pieces to replace on defense. Not to mention the Cougars will not be facing Craig Harrison, the original backup quarterback who Garretson replaced.
Keeton is the most intriguing because he not only is a player who is exciting to watch, but he is also in a position to lead Utah State to new heights. Although Keeton is not on everyone's radar, he certainly should be, and that is what makes the rising senior such an intriguing player returning for the 2014 season.
Utah State will have its leader back in Knoxville to start the year, and if the Aggies can get past the young and rebuilding Vols, Keeton will be on track to be a national name. While other names returning from injury will be on bigger stages, the intrigue surrounding Keeton and a possible dream season for Utah State will be tremendous to watch unfold in 2014.