For much of the season, Yaya Sanogo has been little more than a punchline to jokes about Arsenal's injury problems. Arsenal fans had understandably begun to fear that he shared more than just a history at Auxerre with the luckless Abou Diaby: Sanogo spent the first half of the season in the injury room. However, after his full debut against Liverpool, the signs are much more encouraging. Arsenal supporters are optimistic that Arsene Wenger might just have unearthed another gem.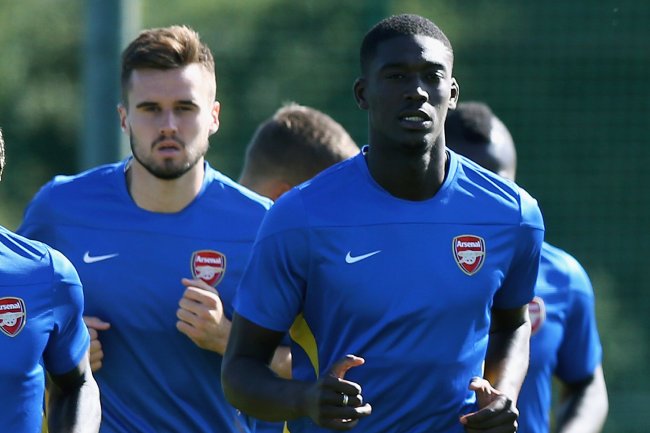 Matthew Lewis/Getty Images
Sanogo has been a largely absent figure for most of the season. He made only a couple of cameos as a substitute before a back problem sidelined him in September. It has been a long road back. As he left the Emirates Stadium pitch to standing ovation, it will have felt worth every step.
Sanogo was something of a surprise selection for the Liverpool game. Olivier Giroud was certainly due a rest, but most anticipated Wenger to plump for Nicklas Bendtner as his replacement. Instead, Bendtner failed to make the matchday squad, and Sanogo was handed his first start in Arsenal colours.
Perhaps it shouldn't have come as such a shock. At the start of the season, Wenger's stated faith in Sanogo was dismissed by many mere rhetoric to compensate for the loss of missing out on Luis Suarez and boost the confidence of a young player. Now, it seems as if he meant every word. Back in September, Wenger told John Cross of The Mirror:
We have signed Sanogo. He has not made the headlines. Why? Because he is not 50-100 million pounds. But I am quite confident he will make them [headlines] soon on the pitch and that for me is the most important.

Sanogo will surprise you because your expectation doesn't look as if it is really high. He will not surprise me because my expectation level is very high. He is a top class striker.
As recently as the Premier League fixture against Manchester United, Wenger indicated his faith in Sanogo by sending him out to warm up ahead of Bendtner. A confident display against Liverpool has seemingly established the Frenchman above the Dane in the pecking order.
Daniel Agger and Martin Skrtel are an imposing pair of centre-backs, but Sanogo didn't seem remotely phased. He showed impressive strength and movement to operate as the focal point of the Arsenal attack. He is quicker than Giroud, and more willing to run in behind the opposition defence. He also played an important part in the opening goal, bringing down a cross on his chest before thumping a fierce volley towards goal that was deflected in to the path of Alex Oxlade-Chamberlain.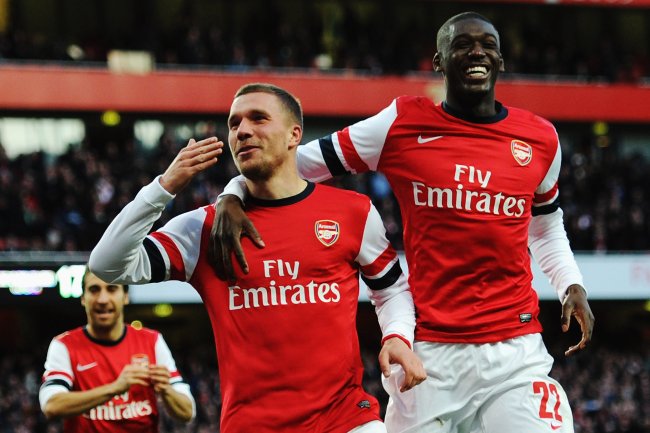 Shaun Botterill/Getty Images
He's undoubtedly still something of a rough diamond. On two separate occasions, he swung for the ball and hit nothing but air. However, that can be put down to debut nerves. In time, his assurance on the ball will only improve.
After the match, a proud Arsene Wenger told Arsenal.com:
For a first performance he was excellent. He was always in the game, he was a handle for them. It's his first official game basically, he played one game in the reserves for 60 minutes. Considering the intensity of the game, he was absolutely excellent.
Who should be Olivier Giroud's deputy?
Sanogo is not necessarily ready to start on a regular basis in the Premier League, but he does look like someone who can offer a genuine alternative to Olivier Giroud in the latter stages of any given match. According to Squawka, Giroud has completed the full 90 minutes in 14 of his 24 Premier League appearances. With the effects of a long campaign taking their toll, Sanogo's athleticism and power could afford the ailing Giroud the occasional rest.
Wenger's decision to use Nicklas Bendtner earlier in the campaign always felt like an awkward arrangement. Bendtner, Wenger and the Arsenal fans have long known that this season is merely a stop-gap before the Dane moves on to pastures new.
Sanogo, on the other hand, is a player the fans can really get behind. On the admittedly limited evidence of his full debut, he could be a force at Arsenal for years to come.
James McNicholas is Bleacher Report's lead Arsenal correspondent and will be following the club from a London base throughout the 2013-14 season. Follow him on Twitter here.