Why Knowshon Moreno Won't Find Big Money on Free-Agent Market
February 14, 2014

Kevin C. Cox/Getty Images
Running backs are going to garner a fair amount of skepticism in free agency. At a position that takes such a beating, running backs hitting the open market are often on their last legs.
Couple the wear and tear of the position with the fact that there are often cheap replacements via the draft and free-agent running backs often get the shaft. If the running back is both young and still effective, chances are he never hits the market.
It's bit rare when a running back like Knowshon Moreno is available in free agency. Moreno is going into a season in which he will be just 27 years old, he's carried the ball fewer than 1,000 times in his career and he's coming off a season in which he racked up over 1,500 yards from scrimmage. Not only does Moreno have relatively low mileage—he's a good pass protector.
Despite his positive qualities, Moreno won't find big money relative to his position in free agency—nor should he. Moreno may be a decent all-around player, but he's not a feature running back even in the zone-blocking scheme.
The Denver Broncos have drafted a running back to replace Moreno in each of the past two seasons. First, it was Ronnie Hillman in the third round of the 2012 NFL draft, then Montee Ball in the second round of the 2013 NFL draft.
Credit Moreno for holding off the two rookies, but it would be a mistake to overvalue that accomplishment. In many ways, Moreno was able to retain the starting job by default. Ball had early fumbling issues, and Hillman struggled in pass protection, which is a requirement for any running back playing with quarterback Peyton Manning.
Red Flag No. 1 — The Broncos Aren't Trying to Re-Sign Moreno
Perhaps the biggest red flag is when a team is content to go in a different direction. There are players who decide they want to test the market, but that's not the same as a team that gives very little effort into re-signing a player.
"We'll see what happens in the offseason and hopefully I'm still here with this team," Moreno said via KUSA TV in Denver.
Teams don't often let good players go they want to keep. The Broncos should have a better feel for Moreno's value than any other team, but they don't appear interested in retaining him.
Ian Rapoport of NFL.com reported prior to the Super Bowl that the Broncos didn't expect to be able to sign Moreno back in 2014. The Broncos would surely be able to slip Moreno under the salary cap if they wanted to do so, so it's not really a question of their ability but their willingness.

Ed Andrieski/Associated Press
Even though Moreno is unlikely command big money compared to most players, the Broncos simply aren't interesting in committing more resources to the position. The Broncos have Ball, Hillman and C.J. Anderson who are younger and cheaper.
"We'll see how things flush out with Knowshon," general manager John Elway said in his season-ending press conference via the team's official website. "It's a position that we have a lot of very good competition. We've got good football players at that position."
Unlike wide receiver Eric Decker, Knowshon will likely command a modest sum. Mike Klis of The Denver Post estimates Moreno's value to be about $4 million annually, but it will probably be closer to $3 million and could be even lower.
According to Spotrac.com, Moreno's cap number in 2013 was $3.3 million. Moreno's value to the Broncos was greater than $945,000 in 2013, which would have been the cap savings had the Broncos cut him last offseason. In theory, his value was also greater than his base salary of $1.7 million, or the Broncos would have taken the cap hit and saved the cash.
Moreno vs. 2013 Free Agent Running Backs
Player
Age (1st season)
Contract Years
Average Salary Per Year
Guaranteed
Knowshon Moreno
27
?
$3-4 million (projected)
?
Steven Jackson
30
3
$4 million
$4.0 million
Reggie Bush
28
4
$4 million
$4.0 million
Shonn Greene
28
3
$3.3 million
$4.2 million
Mike Goodson
26
3
$2.3 million
$1.0 million
Chris Ovory
25
3
$2.0 million
$2.3 million
spotrac.com
For a mere $1.3 million more per year, the Broncos could probably retain Moreno. Instead, the Broncos are content with their young stable of running backs who will cost a grand total of $1.6 million in 2014.
Any team looking to sign Moreno needs to be very concerned that the Broncos aren't pursuing him. Even if the Broncos were to offer Moreno a very small contract comparative to what he's getting on the open market, it's telling that he hasn't been one of their priorities this offseason.
Red Flag No. 2 — Moreno's Production Came Against Soft Fronts

Game Rewind
In an offense that set passing records in 2013, Moreno went up against soft fronts regularly. Rarely did Moreno face eight defenders in the box, and even when he did one or more were blitzing or bailing into coverage.
Denver's offense was so prolific the linebackers would give it the entire middle of the field. Often it was just the four down linemen and a single linebacker between Moreno and safeties lined up 20 yards away.
In passing situations, defenders wouldn't even bother leaving a linebacker in the middle of the field. Many teams, like the New England Patriots, dared the Broncos to run the ball. The net result in Week 12 was Moreno's best game of the year but also a loss.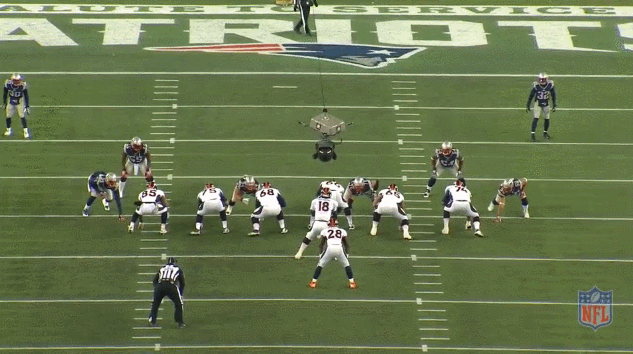 Game Rewind
Moreno had 37 carries for 224 yards against the Patriots in Week 12, but a run-heavy offense and turnovers allowed the Patriots to claw back into the game and win in overtime after being down big early. It was Moreno's only game over 100 yards rushing and just his second with more than 20 carries in 2013.
The Broncos didn't make the same mistake in the playoffs of running too much, but they still took advantage of soft fronts. On a 3rd-and-10, Manning noticed just four linemen and audibled to a run play. Moreno ran nine of the 10 yards before evading the safety to pick up a first down.
Red Flag No. 3 — Moreno Played in a Friendly Scheme
The other thing to note about the Broncos is the use of zone runs with a solid offensive line. Against soft fronts, that means Moreno was getting the second level regularly.
Moreno averaged only 4.3 yards per carry in 2013, but that's not very good once you consider that he was often untouched for the first few yards of a run. According to ProFootballFocus.com (subscription required), Moreno averaged just 2.03 yards after contact, which was 25th out of 32 running backs who played at least 50 percent of the time.
Broncos Running Back Comparison 2013
Player
Attempts
Yards
Yard Per Carry
Yards Per Carry After Contact
Missed Tackles (Rush)
Knowshon Moreno
241
1038
4.3
2.03
21
Montee Ball
120
559
4.7
2.55
19
C.J. Anderson
7
38
5.4
3.14
1
Ronnie Hillman
55
218
4.0
1.91
5
ProFootballFocus.com
Finding hidden gems and other players capable of being productive in the zone-blocking system isn't that difficult—former Broncos head coach Mike Shanahan did it for years. Moreno's most productive seasons have come in the zone scheme, but he still hasn't been a feature running back.  
Moreno is solid in pass protection and a decent receiver, but that's not enough to merit big money at his position. No team should spend $3 million per year on a player who needs to share time with another running back.
Conclusion
While Moreno is a solid player, the offense he played in inflated his numbers. Moreno's value is in a zone scheme and a pass-heavy offense where he is unlikely to face stacked boxes, and his other qualities can shine through. As such, only a small fraction of NFL teams will likely be interested in him.
San Diego Chargers running back Danny Woodhead is probably the best pure third-down running back in the entire league and received a two-year, $3.5 million contract last offseason per Spotrac.com. Anything over and above Woodhead's contract is overpaying for Moreno's services.
The Jacksonville Jaguars and Cleveland Browns are probably the only teams projected to use the zone-blocking scheme that needs a starter, so competition will be low. Both teams also have a plethora of cap space, so giving Moreno a sizeable front-loaded contract is less of a concern for them.
Several teams could use a decent running back on third down, but Moreno is obviously going to explore starting jobs first. A team has to have a need and the cap space to sign Moreno, with the latter a challenge for some teams.
There are simply too many things conspiring against Moreno for him to land a big deal this offseason, even relative to his position. Expect the market to be slow, but don't expect the Broncos to dip their toe into the waters unless Moreno comes at a huge discount relative to the expectation.