Red Bull has unveiled its new RB10 car, the design that will be tasked with landing Formula One's prolific team their fifth championship in as many seasons:
Our Tenth Season Starts Here: The RB10 Revealed. #UnboltTheBull pic.twitter.com/Vzb4HTsK0X

— Red Bull Racing (@redbullracing) January 28, 2014
For those wanting a closer look at the vehicle, which marks a decade of Red Bull participation in F1, here's a more intimate shot:
#RB10 A closer look from the front. #UnboltTheBull pic.twitter.com/zdZDnY89nF

— Red Bull Racing (@redbullracing) January 28, 2014
Jordan Hamilton also shared a look at the car on his Instagram account:
Current champion Sebastian Vettel will be joined by new teammate Daniel Ricciardo next season, after Mark Webber opted to join Porsche in the FIA World Endurance Championship.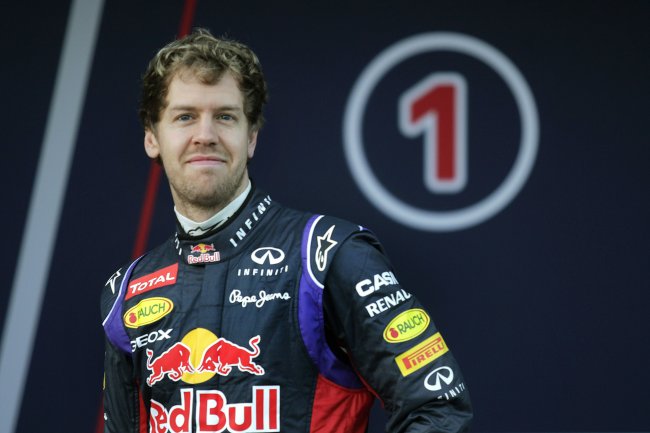 Miguel Angel Morenatti/Associated Press
Vettel is Red Bull's symbol of success, the man who has captured four titles in as many years, but he knows this season's changes in technology could have a massive impact on the standings.
As noted by Mike Wise of Sky Sports, Vettel has grounded expectations after the shift from 2.4-litre V8 engines to 1.6-litre V6 Hybrid Power Units:
It's a big change for all the teams, including ourselves. I think the last couple of years, we always knew - kind of - what to expect, which is very different this year.

Therefore, I think it's difficult to have any sorts of expectations. So I think the most important thing is, once we get going, [to] understand the car, to understand what it needs and then hopefully build on to that.
Vettel strolled to a championship victory of 155 points last season, per Sky Sports, leaving Fernando Alonso and the chasing pack struggling to maintain pace.
Do you expect Red Bull to win the 2014 F1 Championship?
The German will get acquainted with the RB10 on Jan. 28 and 29 in Jerez before Ricciardo attempts to get to grips with his new setup. It's certainly an important settling-in period for the new man, who should improve alongside Vettel's often untouchable performances.
Ricciardo finished 14th overall last term, scoring just 20 points at Toro Rosso, but he has the potential to compete in a better car at the team's sister outfit.
Red Bull's launch follows hot on the heels of Mercedes-Benz's W05 release and signals the beginning of winter testing for next season's competitors.