As the Carolina Hurricanes awaited a crucial Metropolitan Division showdown Tuesday night in Philadelphia, snow flakes began to blanket the Mid-Atlantic.
The National Weather Service forecast: 4-6 inches in Washington D.C., Philadelphia and New York.
In Newark, the Blues-Devils game remained scheduled as planned. In Manhattan, the Islanders-Rangers game remained scheduled as planned. In Washington, the Senators-Capitals game remained scheduled as planned.
But, in Philadelphia, the host Flyers seemingly wanted to push a different storyline. With their seventh match in 10 days—and a highly important match with possibly poor fan support, at that—potentially just hours away, the organization went on the offensive.
City has declared a snow emergency as of 4pm. Flyers would like to cancel tonight's game, but Hurricanes are pushing to play. Waiting on NHL

— Frank Seravalli (@DNFlyers) January 21, 2014
The Flyers wanted a postponement.
The Hurricanes did not.
The NHL granted Philadelphia's wish.
Per the NHL.com news release:
Tonight's game between the Philadelphia Flyers and Carolina Hurricanes at Wells Fargo Center, NHL Game No. 749, has been postponed due to the snow emergency declared in the city of Philadelphia.
The game will be rescheduled to Wednesday night at 6 p.m., with the Senators-Hurricanes game (originally scheduled for Jan. 24) delayed to Saturday at noon, according to News & Observer reporter Chip Alexander via Twitter:
Canes play Flyers tomorrow at 6 pm. Ottawa game moved to Saturday.

— Chip Alexander (@ice_chip) January 21, 2014
It's the second time in a two-week span that the Hurricanes, having played just five games in the last 16 days, have traveled to a city only to have their game postponed.
The 'Canes were stuck for days in Buffalo after a blizzard cancelled the Jan. 7 Hurricanes-Sabres contest. The eventual Feb. 25 make-up date cut two days into their Olympic break.
No other NHL games this season have been postponed.
The perceived inconsistency in the NHL's rescheduling system—or perhaps lack of system—has raised plenty of hairs in Raleigh.
Second postponement in as many weeks. For a game played indoors. With teams already in town.

— Michael Smith (@MSmithCanes) January 21, 2014
Fought through God knows how many blizzards in eight years on the Hurricanes beat. Nary a postponement. Now two in a month.

— Luke DeCock (@LukeDeCock) January 21, 2014
Parking lot was clear at Wells F Center #flyers pic.twitter.com/J6xBIDGZy8

— Jack McCaffery (@JackMcCaffery) January 21, 2014
@ice_chip What if it's cold & cloudy? Will the Flyers be ok with that? Don't want to let weather interfere again.

— Doug Abrams (@dabrams2021) January 21, 2014
After all, a winter storm led to the declaration of a state of emergency in North Carolina on Jan. 30, 2010, just as now declared in Philadelphia. However, that night's Hurricanes-Blackhawks game was played as scheduled, despite an announced crowd of just 6,896.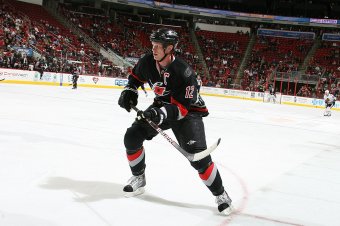 Gregg Forwerck/Getty Images
I vividly recall my 12-mile, 90-minute voyage to the arena that evening. Eight inches of snow on top of a thick layer of ice was enough to make driving conditions highly undesirable, if not absurd.
The 'Canes offered fans the option to exchange tickets for any future 2009-2010 game and suspended parking fees, costing the organization a great deal of money that wintry day.
Yet the NHL was not persuaded to make a schedule modification, and one was forced to wonder exactly what went into the league's decision-making process.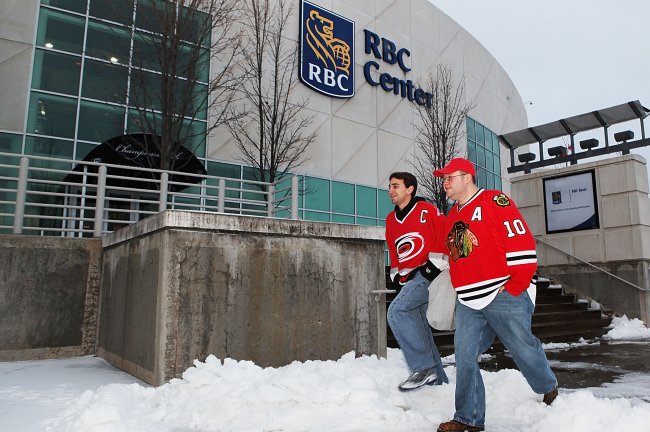 Gregg Forwerck/Getty Images
Now, almost four years later, the basic principles behind such a process are still undisclosed by the league.
How much of the decision is based on measured and/or projected snowfall? How much are road conditions considered? Does a state of emergency make a difference? Does the presence of both teams in the host city matter?
Should the Hurricanes-Flyers game have been postponed?
And, finally, the question a plethora of those involved in the Hurricanes franchise will be most dying to ask: How much do team politics weigh on the minds of those in charge?
A growing controversy surrounding Tuesday's 'Canes-Flyers postponement may prompt more visibility into the league's decision-making process. Considering the typical ambiguity of the NHL, though, it probably will not—and that will raise concerns.
Simply put, the National Hockey League, with the best interests of all its fans and teams in mind, must implement a standard system for weather-related schedule changes.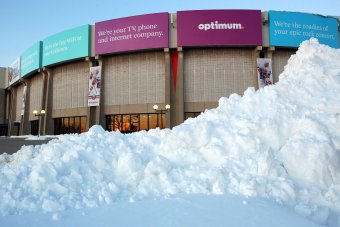 USA TODAY Sports
A precise level of weather severity must be set as the threshold for postponement.
Moreover, a fair and standard process must be set to determine the make-up date.
The NHL plays in a season laden with wintry weather and dangerous conditions; fan and player safety must be a strong priority, and rescheduling is occasionally the only reasonable option to preserve that.
But consistency in rescheduling is also a reasonable expectation, and the NHL may currently be falling short in that regard.
Mark Jones has been a Carolina Hurricanes featured columnist for Bleacher Report since 2009. Visit his profile to read more, or follow him on Twitter.