After Arsenal's victory over Fulham, Arsene Wenger hinted that the club were on the lookout for another centre-forward. The Gunners boss told John Cross of Mirror Football:
Ideally if it's possible we'd like another (striker). I give you my phone number, if you find an exceptional (player), you can call me over the weekend. Ideally, though we have not found anyone.

We are open to strengthening our squad if it's possible.
However, Arsenal fans should be careful to manage their expectations. Wenger's words are anything but reliable—especially on the subject of transfers.
Let's not forget that Wenger spent most of last summer chasing a striker, too. He dawdled over a move for Gonzalo Higuain before seeing the Argentine opt to join Napoli.
A move for another South American striker, Luis Suarez, was thwarted by an imaginary release clause and Liverpool's intransigence.
Finally, Wenger was foiled in a deadline day move for Demba Ba. Some would say pursuing Ba in the first place was somewhat naive: Chelsea were never likely inclined to do Arsenal a favour by letting a dangerous forward leave on loan.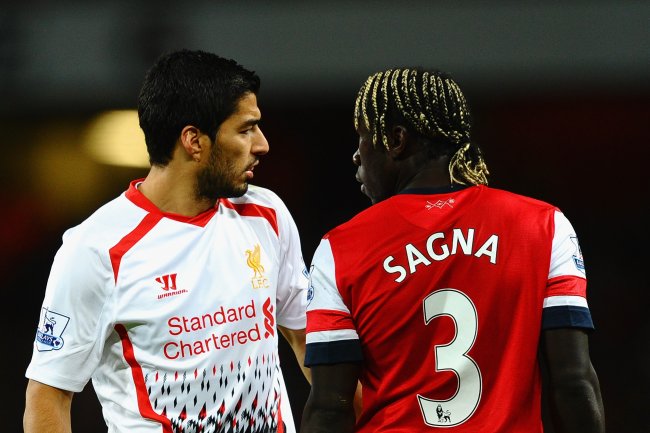 Laurence Griffiths/Getty Images
Wenger's summer dithering suggests he is very particular about the type of striker he wants to recruit. In the tricky parameters of the January market, finding a player who meets Wenger's requirement seems unlikely.
Several potential signings have already disappeared off the table. Arsenal were strongly rumoured to hold an interest in taking Real Madrid's attacking starlet Alvaro Morata on loan. However, Morata has subsequently had an upsurge in his fortunes at the Bernabeu. He even scored in Madrid's recent victory over Real Betis.
Afterwards, he spoke to ESPN.co.uk, confessing: "I have spoken with the club and the coach and told them I want to stay here."
Another possible target was Juventus forward Mirko Vucinic. The arrival of Carlos Tevez and Fernando Llorente has pushed the Montenegrin international down the pecking order at Juve, and he has been restricted to just four Serie A starts this season.
It was suggested by Mark Ryan of The Daily Mail Online that Arsenal were keen to take the clinical striker on loan. However, Arsenal appear to have been beaten to the punch. According to reports by Gazzetta dello Sport (via Italian correspondent Massimo Marioni in Metro), Vucinic is on the verge of signing a permanent deal with Inter Milan.
As the months wear on, Arsenal's options are constantly decreasing.
Will Arsene Wenger make a signing in January?
Unsurprisingly, Wenger has already begun talking up Arsenal's internal solutions.
Nicklas Bendtner returns to training this week, and he will be followed by Yaya Sanogo. However, neither can be considered a reliable alternative to Olivier Giroud. Bendtner's form is notoriously unpredictable, while Sanogo has just a few minutes of Premier League action to his name. Relying on this pair would be an enormous gamble.
Arsenal do need a striker. However, they also needed one in the summer and ended up empty-handed.
Arsenal fans ought to be warned that a new signing in January is anything but guaranteed.
James McNicholas is Bleacher Report's lead Arsenal correspondent and will be following the club from a London base throughout the 2013-14 season. Follow him on Twitter here.