10 Washington Redskins Who Will Be on the Roster Bubble in 2014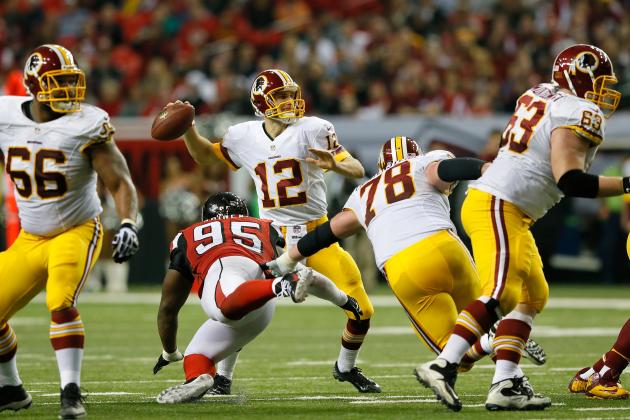 Kevin C. Cox/Getty Images

The 2014 offseason is expected to be one of great change for the Washington Redskins. Though it starts with hiring a new head coach, it extends to shaping the roster for the future.
A number of Redskins players are expected to be on the bubble in the wake of the shift in management.
Only a select few players can be considered untouchable or indispensable, and one could argue that no one is safe after a 3-13 finish to the 2013 season. Whether it be due to injury or lack of production, a number of players won't be Redskins for much longer.
Here are some of the players on the bubble for 2014.
Begin Slideshow

»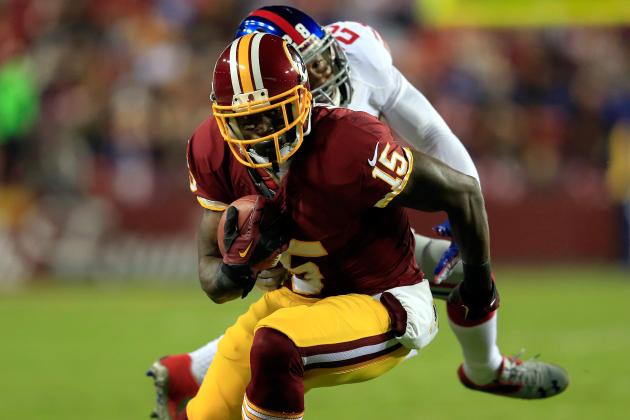 Rob Carr/Getty Images

One year removed from leading the team with 48 receptions in 2012, Josh Morgan found himself on the outside looking in for the majority of 2013. He finished with just 20 catches for 214 yards and no touchdowns, and he did nothing when called upon in the return game.
Morgan may never be more than a third receiver at the top of his game, but the Redskins clearly didn't see him as more than a role player on offense.
He is not under contract for the 2014 season, and there is very little reason to retain Morgan long term.
Verdict: Out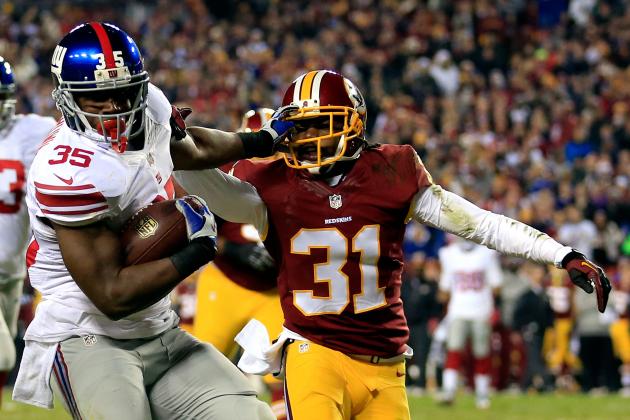 Rob Carr/Getty Images

Brandon Meriweather made more news for his fines and suspension than for his play on the field. Though it may be a commentary on the NFL's increased awareness for player safety, it also speaks to Meriweather's pedestrian performance in 2013.
Meriweather missed all but one quarter in 2012 and was more of a liability than an asset in 2013.
Rookie Bacarri Rambo showed himself as a raw prospect when given the opportunity to start at free safety, which made Meriweather a necessity. However, with much better options available in free agency, like New Orleans' Malcolm Jenkins, Meriweather is easily upgraded.
Verdict: Out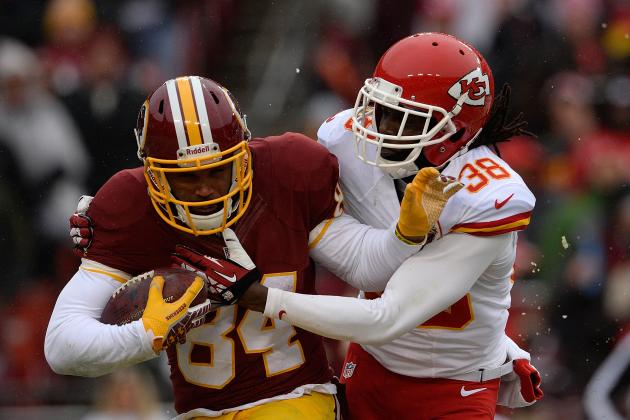 Patrick McDermott/Getty Images

Washington's special teams unit was horrendous in 2013, and coordinator Keith Burns has since been fired as a result. Niles Paul, the resident utility player in the wake of Lorenzo Alexander's departure, played well in his special teams role.
Paul, a converted receiver, is a capable offensive player with a special teams experience that every team needs.
Though he has recorded just 14 receptions for 228 yards in his career, he averages 16.3 yards per reception and could be a viable option on offense, either as a joker tight end or third receiver. Regardless of his role on the offense in the future, Paul is the closest thing to a special teams ace the 'Skins have at the moment.
Verdict: In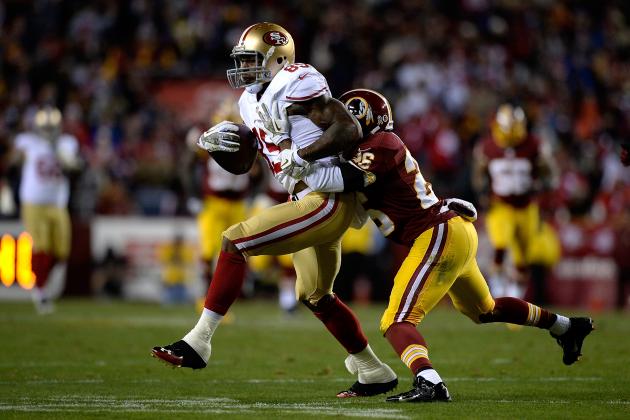 Patrick McDermott/Getty Images

Few words better describe Josh Wilson's tenure with the Washington Redskins than disappointing. He was routinely out of position in coverage and rarely made plays when necessary. The same could be said for the rest of the defense, but Wilson deserves extra credit for being a big part of the horrible early-season pass defense.
Rookie David Amerson has shown enough to earn the second corner position opposite DeAngelo Hall, who should be retained for a few more years, making Wilson expendable or less necessary.
Best-case scenario, Wilson drops down to a nickel role and thrives. Considering the versatility of E.J. Biggers and the potential of the returning Richard Crawford, Wilson may find it difficult to make the cut in 2014.
Verdict: Out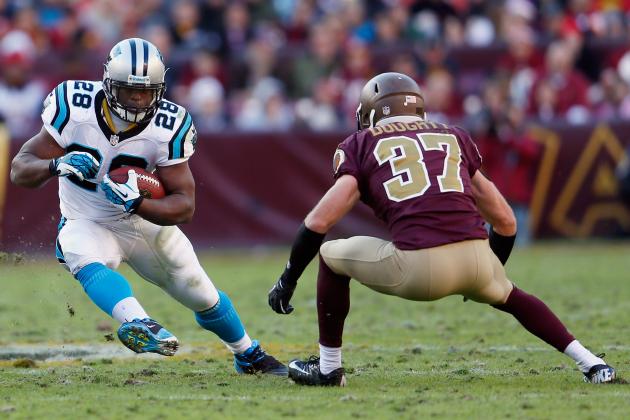 Rob Carr/Getty Images

There are no substitutes for experience and high football IQ, and Reed Doughty is an excellent example of that. He isn't flashy, and he isn't the most athletically gifted player on the field, but he knows where he is supposed to be and what he is supposed to be doing on defense.
A veteran presence would do wonders for rookies Bacarri Rambo and the injured Phillip Thomas, making Doughty a valuable asset in 2014.
Some may argue that because he is unimpressive in his play, Doughty is expendable, but a rebuilding roster will need players who know the game and know the safety position. Beyond his value as a reliable strong safety, Doughty is a good special teams contributor and should be retained.
Verdict: In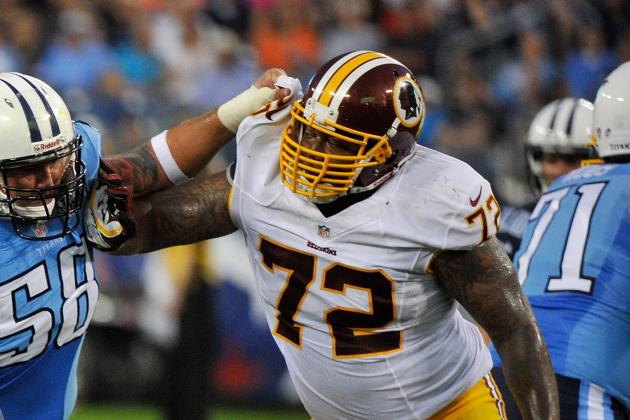 Frederick Breedon/Getty Images

Stephen Bowen was part of a largely ineffective defensive front for the Washington Redskins in 2013, one that allowed 110.6 rushing yards per game. After notching six sacks in 2011, Bowen had just one sack to his name in the two seasons to follow.
However, Bowen played through a torn biceps and underwent microfracture surgery to repair a torn PCL that led to mediocre play over the past two seasons.
While injuries can easily spell the end of a player's career, Bowen has experience in the 3-4 defense and could be valuable as a 4-3 defensive lineman to make his presence worthwhile to the incoming coaching staff. He has been a 3-4 defensive player for most of his career, so his experience is doubled under a 3-4 coach.
Though his experience is invaluable, the $9.8 million he is owed over the next two years may be a factor for the next coaching staff.
Verdict: In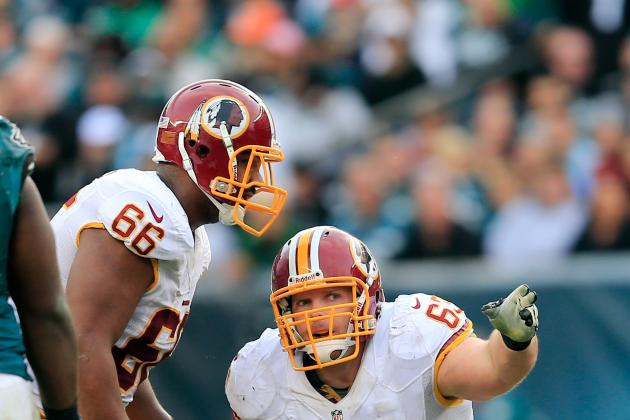 Rob Carr/Getty Images

Kevin Williams, defensive tackle for the Minnesota Vikings, notched 2.5 sacks in one game against the Redskins this season, which exceeded his season total for two of the past three seasons. He did so by exploiting weakness along the offensive line that starts with Will Montgomery.
Montgomery has been solid in his career with the Redskins, but he has been unimpressive, and average is not what the 'Skins need in the middle of their offensive line.
With a player like Cleveland's Alex Mack on the market, Washington may start their reconstruction of the offensive line right in the middle, making Montgomery expendable. Even if they don't sign Mack, Montgomery is easily replaceable with a solid option suited to handling pressure up the middle.
Verdict: Out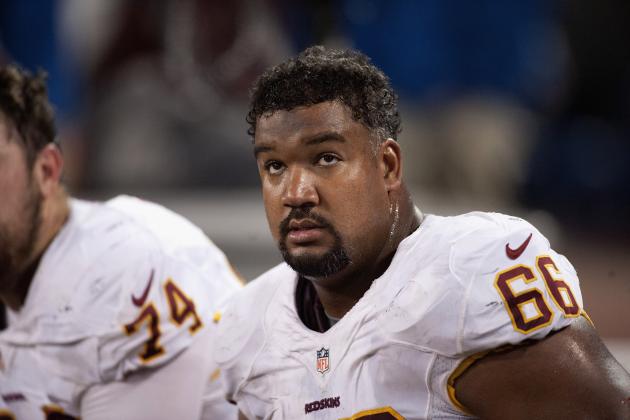 Hannah Foslien/Getty Images

Like Will Montgomery, Chris Chester simply isn't the type of player to fit into just any offensive system. Chester's skill is primarily run-blocking, which plays right into Mike Shanahan's zone-blocking scheme. However, the need for extra-mobile, undersized offensive guards is not particularly great.
Chester is a great run-blocker when asked to pull and pave the way, but he is suspect in pass protection and situations where the defense has a speedier tackle playing heads up over him.
The next head coach and/or offensive coordinator is likely to require different skills from his offensive linemen, so Chester's athleticism may not be as valuable in the year to come.
Verdict: Out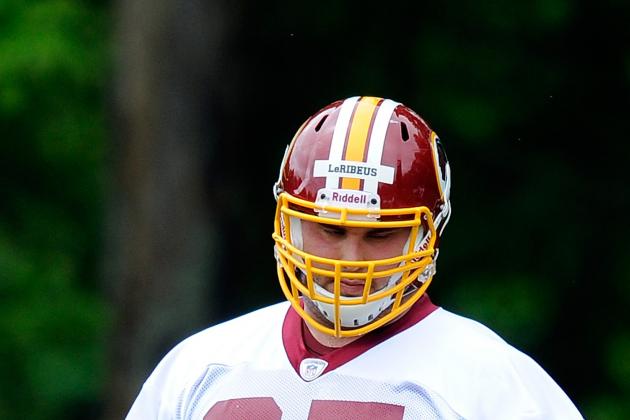 Patrick McDermott/Getty Images

As difficult as it may be to hold transitioning second-year players accountable for their lack of production, it is even more difficult to find reasons to keep the likes of Josh LeRibeus and Adam Gettis in 2014.
LeRibeus, a former third-round pick, showed up to OTAs out of shape in 2013, while Gettis has done very little to merit a spot on the active roster.
The biggest factor working against both LeRibeus and Gettis is the fact that they were drafted to fit Mike Shanahan's zone-blocking scheme, which favors smaller, more mobile offensive linemen.
The next head coach or offensive coordinator isn't as likely to run a system requiring more athletic linemen, so Gettis and LeRibeus are unnecessary in Washington's future plans.
Verdict: Out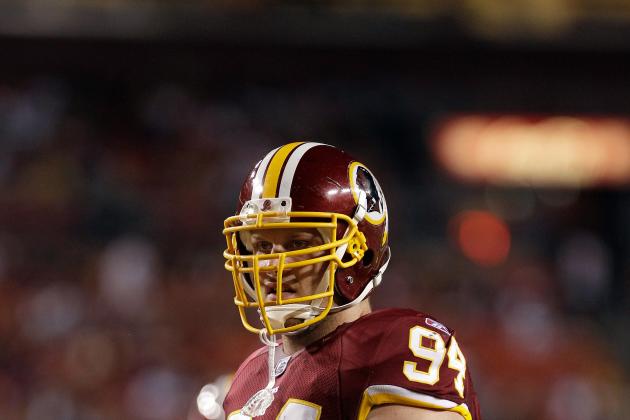 Rob Carr/Getty Images

Adam Carriker hasn't played a down of football since early 2012, and most of the past two seasons have been lost to injuries. In 2011, Carriker collective a surprising 5.5 sacks from the defensive end position, but missed 30 of the next 32 games due to a quad injury and the subsequent recovery.
Even though Carriker restructured his contract following his injury in 2013, he is still owed $9.4 million over the next two seasons.
As opposed to Bowen, who played through injury and was an acceptable presence, Carriker has missed the better part of the last two years, even after earning a substantial extension from his first-year production with the Redskins.
Missing time due to injuries is a sad way to lose a job, but Carriker's value is negligible for the Redskins in the long term. Add in the fact that he's not much use in the 4-3 alignment, and Carriker holds no value for the team in 2014.
Verdict: Out