Love her or hate her, Ronda Rousey is the biggest star in mixed martial arts today. Period. Point blank.
The UFC women's bantamweight champion stormed into the Octagon last Saturday night—with a mean mug that would make even the largest grizzly bear soil itself, determined to destroy Miesha Tate. She did just that.
Tate put up a valiant effort, pushing Rousey past the opening round for the first time in her career and refusing to surrender until the third round. The former Strikeforce champion threw everything but the kitchen sink at her blond nemesis.
But as good as Tate is, Rousey is simply better. No matter how hard Tate trains and how much she evolves as a fighter, Rousey will always be superior. That's just the harsh reality.
After witnessing Rousey finish yet another opponent with an armbar, I started to question whether anyone in the women's bantamweight division can step up to this seemingly indestructible juggernaut.
Surely, if Cris "Cyborg" Justino were in the UFC, she'd mop the floor with Rousey, but we all know that fight isn't happening anytime soon—if ever, for that matter, so there's no point in harping on it.
Contenders like Cat Zingano and Alexis Davis certainly pose threats, but in all likelihood, Rousey will hang their arms up on her mantle as well.
That's just the nature of the beast. Perhaps, there is nobody on the UFC's roster right now who can hold a candle to the Olympian.
Wait a minute. Wait… a minute. Aren't we forgetting somebody?
Rousey isn't the only Olympic-level athlete in the division. There is another, and, unfortunately for the defending champion, that certain somebody is coming to take her belt at UFC 170.
Her name is Sara McMann, and she's Rousey's worst nightmare.
How will the Ronda Rousey vs. Sara McMann fight end?
I realize that's a bold statement, and I will probably come under heavy fire for saying it, but hear me out for a second.
As great as Rousey looked in her last bout, Tate still made it a fight. Wrestling with Rousey probably wasn't the most intelligent game plan on Tate's part, but she may have exposed a very tiny chink in Rousey's armor with her efforts—a chink only a world-class wrestler such as McMann can capitalize on.
A silver medalist in the 2004 Summer Olympic Games, McMann's wrestling is eons ahead of her competition. In all of her MMA fights, she had the luxury of knowing she could take her opponents anywhere she wanted.
If she wanted to take it to the ground, she did it in a heartbeat. If she wanted to completely negate her enemy's ground game altogether, she did that as well. Case in point: her Invicta FC bout with Shayna Baszler. The ball has always been in McMann's court, and it should be no different against Rousey.
I'm not saying it will be impossible for Rousey to bring McMann to the floor. Everybody knows how strong Rousey is. I mean, she could probably toss an elephant to the ground if she wanted to.
I'm not trying to discredit the effectiveness of her judo throws at all. I'm just saying it's going to be a lot harder to pull them off against McMann.
So, let's just say this fight ends up being a standup battle. Rousey's boxing has improved leaps and bounds. We saw glimpses of it in her bout with Tate, so there's a good chance she could hurt McMann on the feet, but there is an even greater chance just the opposite will happen.
McMann might not be the most technical striker, but she packs a wallop in her punches. Now, I'm not going to sit here and try to oversell her power, because that would be silly. McMann has never knocked out anyone on her feet, but she has shown signs of hidden knockout power in previous bouts.
In a standup war with Rousey, she might get hit a lot, but she should be able to land the more significant strikes and, potentially, put her to sleep.
But there's also the chance that McMann doesn't want to stand with her. She might actually want to put Rousey on her back, and that's not necessarily a bad thing. Yes, that's usually where Rousey wants to be, but not against someone with such an overwhelming top game.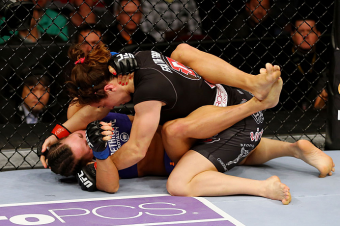 Photo by Al Bello/Zuffa LLC/Zuffa LLC Via Getty Images
If this is McMann's strategy, I expect her to be patient on top and control Rousey's hips. She won't throw any reckless ground-and-pound, because that will create openings for Rousey to apply the armbar.
McMann doesn't have the world's best submission defense, but her control on the ground is in a league of its own, and that will be the key to beating Rousey.
I realize this is all wishful thinking, but in this battle of Olympians, I have to favor the wrestler. Stylistically speaking, McMann is the worst possible matchup for Rousey besides the aforementioned "Cyborg." You can throw anyone else in front of Rousey and she will win, but she won't prevail this time. Not now.
With Anderson Silva and Georges St-Pierre both out of the picture in 2014, all signs point to Rousey as being the new PPV queen for the UFC. But her time is running out. In seven weeks, a new champion will be crowned, and there will be a new face of women's MMA.
Sara McMann might not be the champion that you want, but she's the one you need.