Best Potential Trade Packages, Landing Spots for John Lackey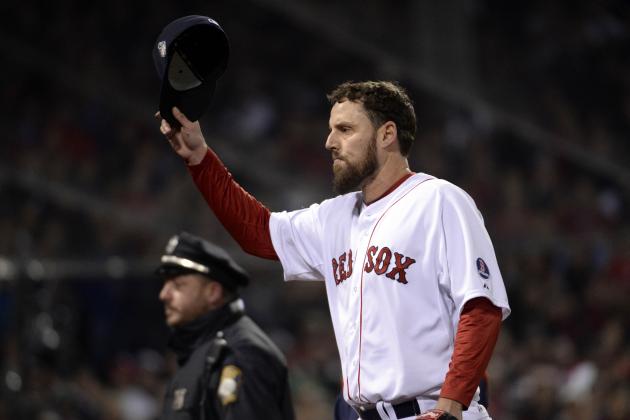 Robert Deutsch-USA TODAY
The Red Sox have an abundance of starting pitching and Lackey would draw plenty of interest on the trade market.
The Boston Red Sox might not want to trade John Lackey, given his strong 2013 season and his extremely team-friendly $500,000 club option for 2015. But, in all likelihood, they'll want to clear up a crowded rotation situation before the start of the season, and there may not be a better time to trade the veteran right-hander.
At two years and $15.75 million for the next two seasons—he'll make $15.25 million in 2014; his $500,000 club option for 2015 took effect when he missed significant time due to elbow surgery between 2010-2014, according to Baseball Prospectus—Lackey is a great value for any team. That includes the Red Sox, who, as Nick Cafardo of the Boston Globe pointed out in his weekend column, aren't particularly motivated to deal him right now.
That could change, though.
Freeing up $15.25 million of salary from the 2014 payroll while getting something of value in return for the 35-year-old, who posted a 3.52 ERA with a 1.9 BB/9 and 7.7 K/9 in 189.1 regular-season innings last season, is enough of a reason to at least listen on offers.
Gordon Edes of ESPNBoston.com reported during last month's winter meetings that the Sox were gauging interest in their veteran starting pitchers.
Here's why Lackey might be the one to be traded.
Jon Lester proved during last year's playoffs that he was the staff ace and one of the more valuable players for the World Series champs. At $13 million, he's a bargain for 2014, the last year of his current deal. The soon-to-be 30-year-old would likely net the Sox their biggest return in a trade, but they're more likely to try and sign him to a contract extension.
Jake Peavy, who is due $14.5 million in 2014 before becoming a free agent, is coming off of a solid season split between the Red Sox and White Sox. He'd certainly draw interest on the trade market. But at that salary and considering he's only been able to make more than 27 starts in one season (2012) since 2007 due to a long list of injuries, teams aren't likely to offer enough in return.
If the Sox were ever going to trade Clay Buchholz, it wouldn't be after a season in which he only made 16 starts due to injury. While he did go 12-1 with a 1.74 ERA and an impressive 6.2 H/9, teams aren't going to offer the package of players they would had he been healthy the entire season. You don't trade a potential staff ace when his value isn't at its peak.
Ryan Dempster will be 37 in May, is due to make $13.25 million in 2014 and had a 4.57 ERA last season. That's not a good combination for teams looking to add starting pitching on the trade market. The Sox would have to take on some of his remaining salary, and the return wouldn't be great, anyways.
Felix Doubront is a 26-year-old with four years of club control and a 4.36 ERA in 59 career starts. Moving him now isn't a bad idea, although it's likely that the Sox would rather trade Lackey over a young lefty who could potentially move to the bullpen if they needed to clear a spot for one of their top young prospects or even Japanese star Masahiro Tanaka, whom Cafardo thinks the Red Sox could make a run at.
Trading Lackey could make that a more likely scenario. Here's a look at some potential suitors that can offer the best potential trade packages.
Begin Slideshow

»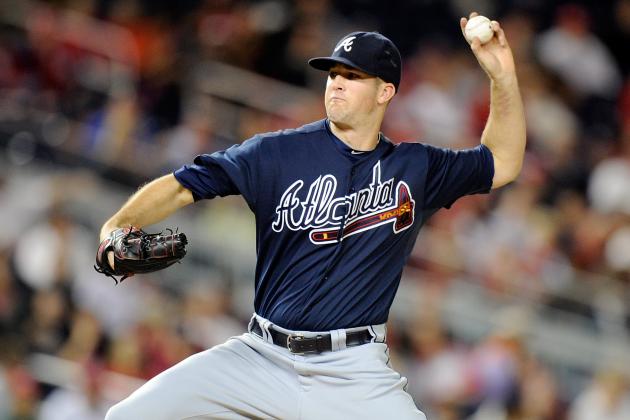 Greg Fiume/Getty Images

The Red Sox's needs for 2014 are centered around a backup plan for young hitters Xander Bogaerts and Jackie Bradley Jr., who are penciled into starting jobs at shortstop and center field, respectively. Since the Braves cannot provide help in those areas, a trade involving Lackey would likely bring back some young prospects who could help the Sox in 2015 and beyond.
Back in November, David O'Brien of the Atlanta Journal Constitution suggested Lackey as a potential target should Tim Hudson sign elsewhere. Since then, Hudson signed a two-year deal with the San Francisco Giants, and the Braves have only signed Gavin Floyd, who is a question mark for 2014 as he recovers from May 2013 Tommy John surgery.
Adding one more reliable veteran starter to a very young rotation—as opposed to giving a spot to a pitcher who is unproven over a full big league season, such as Alex Wood (pictured)—would be the safer route as the Braves try to defend their division title in 2014.
Offering Wood, who would likely pitch in Boston's Triple-A rotation and could possibly help out of its bullpen in the near future, should be enough to get Lackey and his bargain of a contract.
While the 22-year-old lefty, who posted a 3.54 ERA and 8.7 K/9 in 11 big league starts as a rookie in 2013, might seem like a lot to give up for Lackey's age-35 and -36 seasons, it's worth the risk if he can give them 30 starts each of the next two seasons and help to take some pressure off of Mike Minor, Julio Teheran and company.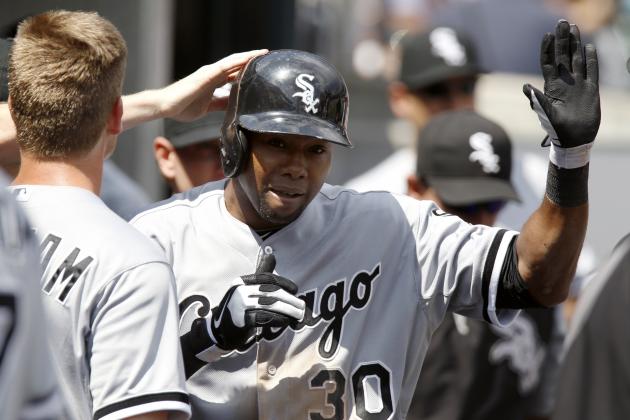 Duane Burleson/Getty Images

Should Jackie Bradley Jr., who is expected to be the Red Sox's Opening Day center fielder, prove that he's not ready for a regular big league job, the Sox would have to go to Plan B. Since Plan B would likely consist of moving Shane Victorino to center field and allowing Jonny Gomes and Mike Carp to spend much more time in left field than should be necessary, it's probably a good idea to find a better contingency plan.
Capable center fielders aren't easy to find on the trade block. The White Sox, however, do have some depth at the position after the acquisition of Adam Eaton and are likely willing to part with Alejandro De Aza (pictured).
The 29-year-old De Aza is no slouch. He has a good combination of speed and offensive ability—the left-handed hitter had 17 homers in 2013 and a .349 on-base percentage with 26 stolen bases the previous season—and can play all three outfield spots.
Again, a straight-up swap could do the trick. The White Sox have traded away one potential starter in Hector Santiago and currently have Felipe Paulino, who is returning from Tommy John surgery, and rookie Erik Johnson, penciled into the last two rotation spots. There is certainly room for Lackey.
Both De Aza and Lackey have two years left of club control remaining, although De Aza will likely make a few million dollars less over that time. He's eligible for arbitration the next two seasons after making $2.075 million in 2013.
While this particular deal won't save the Red Sox a lot of money over the next two seasons, it does help fill what could be a very important role on the major league roster, even if Bradley can handle the everyday job and De Aza ends up serving as the fourth outfielder.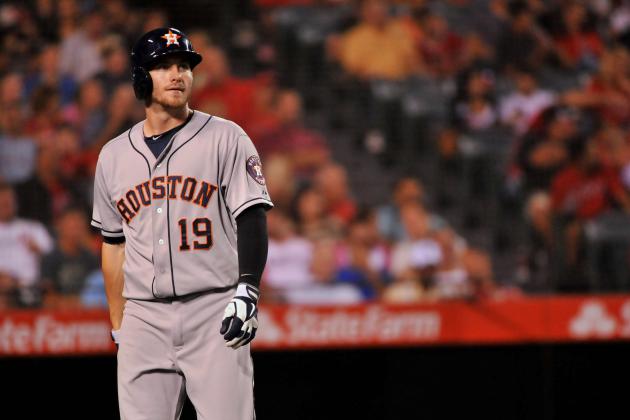 Jonathan Moore/Getty Images

The Houston Astros aren't quite ready to contend for a playoff spot, but general manager Jeff Luhnow has his team headed in the right direction, and the it could make a run by 2015.
In 2014, a realistic goal would be to come as close to .500 as possible after averaging 105 losses over the past three seasons. Adding free-agent starting pitcher Scott Feldman to the rotation helps. It's not nearly enough, though. Trading for Lackey, a native of Abilene, Texas, would give them a second veteran at the top of the rotation to take pressure off of youngsters Jarred Cosart and Brett Oberholtzer.
Robbie Grossman (pictured) wouldn't be the centerpiece of the deal, although he's not a bad backup plan to have in case Jackie Bradley Jr. isn't ready to handle everyday duty in center field. The switch-hitter had a .702 OPS in 62 games as a rookie while starting 25 games in center field.
The acquisition of Dexter Fowler and the eventual arrival of top prospect George Springer makes Grossman expendable.
Along with Grossman and a lower-level prospect with upside, right-hander Vincent Velasquez, the team's No. 6 prospect, according to Baseball Prospectus, would be the key player heading to Boston for Lackey. With a ceiling of a No. 2 starter, the 21-year-old Velasquez would give the Sox another high-end pitching prospect who would be arriving in the upper minors as their current crop of top pitching prospects—Matt Barnes, Henry Owens and Anthony Ranaudo—are beginning to graduate to the majors.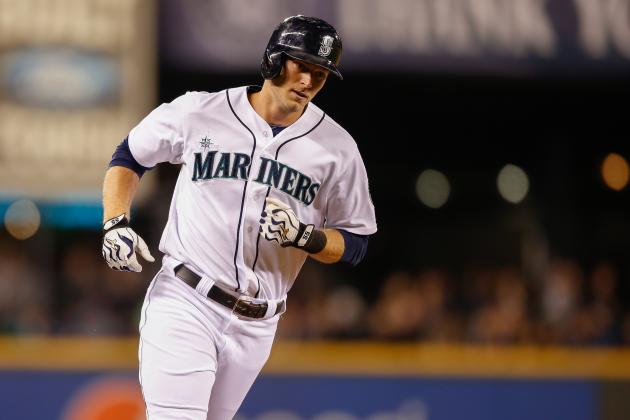 Otto Greule Jr/Getty Images

After signing Robinson Cano to a $240 million deal, it could be that the Mariners aren't willing to spend much more to add one of the top free-agent starters available. But adding John Lackey at two years and $15.75 million to give them a steady presence in the middle of a rotation that currently has Taijuan Walker, James Paxton and Erasmo Ramirez penciled into the last three spots after Felix Hernandez and Hisashi Iwakuma isn't a bad idea at all.
While that young trio could turn out to be very good, especially Walker, who is one of the top prospects in the game, they have combined for a total of 28 big league starts. As Walker and Paxton head into their first full big league seasons, it wouldn't be a surprise if their innings count was limited. Thus, a veteran who could provide 180-plus innings is probably a necessity.
With four players on the current projected 25-man roster capable of playing center field, the M's could be willing to trade away Michael Saunders (pictured), a 27-year-old who has averaged 16 homers and 17 stolen bases over the past two seasons. He's also under club control through the 2016 season.
Adding Lackey at his bargain rate could also give the M's the capability to make a competitive offer for free-agent Nelson Cruz, who would step in as the starting right fielder with Saunders out of the picture.