Are Atlanta Hawks Still a Playoff Team Without Al Horford?
Use your ← → (arrow) keys to browse more stories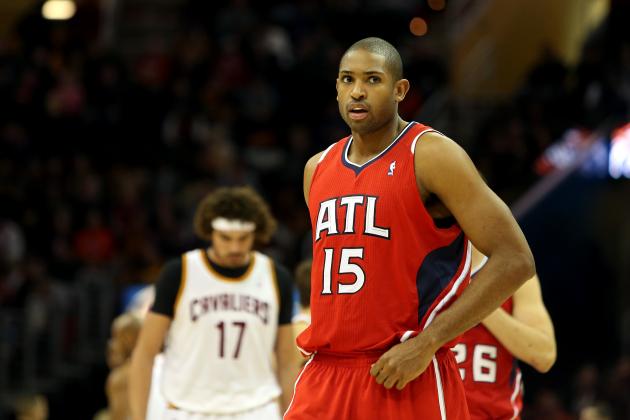 Mike Lawrie/Getty Images

Atlanta Hawks star big man Al Horford reportedly suffered a complete tear of his right pectoral muscle against the Cleveland Cavaliers on Thursday, an injury that puts a serious damper on the Hawks season and playoff aspirations.
Chris Vivlamore of the Atlanta Journal-Constitution broke the news via Twitter:
According to a team source, Al Horford suffered a complete tear of his right pectoral muscle. #ATLHawks

— Chris Vivlamore (@ajchawks) December 27, 2013
This marks the second time in two seasons that Horford has sustained this type of injury. In January 2012, Horford tore his left pectoral muscle in a game against the Indiana Pacers and was expected to miss three-to-four months, per Michael Cunningham of the Atlanta Journal-Constitution.
Horford made his return May 6, in the first round of the 2012 playoffs against the Boston Celtics with his team down 2-1 in the series. He played three playoff games, but the Hawks went on to lose the series in six games.
By assuming the same four-month time frame this time around, Horford would be able to return to the court by late April at the earliest. In other words, his chances of playing in another regular-season game are questionable.
With that said, Horford may not even be back for a potential postseason run. NBA.com's David Aldridge tweeted the following:
Just got a brief text from Al Horford, who says he's "probably not" going to be back for the playoffs this year. That truly stinks.

— David Aldridge (@daldridgetnt) December 28, 2013
So are the Hawks a playoff team without the heart and soul of their squad able to play?
During the 2011-12 season—when Horford went down with the first pectoral tear of his career—the Hawks were 7-4 with the big man and 33-22 without him.
Of course, that was a far different team, and Horford was a far different player.
During that season, the Hawks still had Joe Johnson and Josh Smith on the roster. Each of those guys averaged 18.8 points per game, shouldering the load when Horford was only able to compete in 11 regular-season games.
At the time, Horford said, "Guys are going to have to pick up the slack. The guys are going to have to raise their games. It starts with Josh and Joe," per ESPN.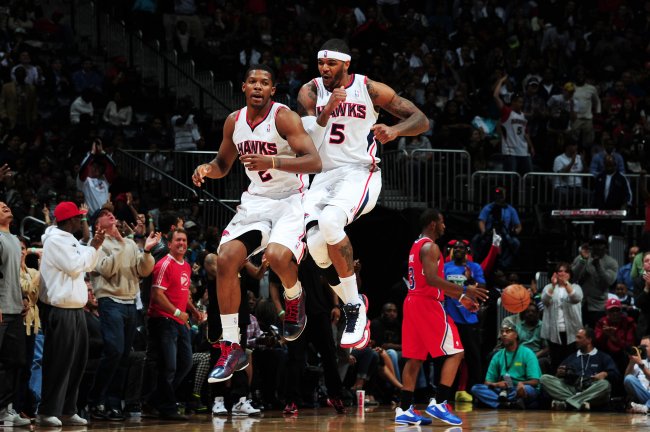 Scott Cunningham/Getty Images
The 2013-14 Hawks don't have a similar luxury.
Paul Millsap and Jeff Teague are each averaging 16.8 points per game, but neither player is as dynamic as Smith or Johnson were two seasons ago.
Scoring will be an issue moving forward considering that Horford was leading the team in points at 18.6 per game. The biggest problem, however, lies on the interior.
The Hawks have already struggled rebounding the ball. They haul in 41.3 boards per contest, which ranks 24th in the league. Now their leading rebounder is out indefinitely and the only viable replacements are the undersized Mike Scott, inexperienced Gustavo Ayon, rookie Pero Antic and aging veteran Elton Brand. Needless to say, that's a pupu platter of options.
Losing Horford will cripple this Hawks team. There's no doubt about his impact on the team not only as a scorer and rebounder, but also as a leader. Nevertheless, it's still up in the air whether or not this Hawks team will miss the playoffs altogether.
Atlanta has a 16-13 record, the third seed in the Eastern Conference and 53 games left to play. There's still plenty of time for other teams in the East to turn their fortunes around, but the conference has been downright dreadful so far.
Will the Atlanta Hawks make the playoffs without Al Horford for the foreseeable future?
The Brooklyn Nets are 10-19 and recently lost center Brook Lopez for the season due to a broken foot. The New York Knicks are 9-20 and have shown no signs of turning things around. The Chicago Bulls, meanwhile, are 11-16 and reeling without Derrick Rose.
With that said, the Hawks are still only four games ahead of the eighth seeded Boston Celtics.
The Hawks are not the third-best team in the East without their best player, but they still have enough talent to sneak into the playoffs following a respectable start.
Millsap and Teague will have to embrace adversity and take their play to another level. That can be seen as a blessing in disguise for Teague, who is shooting just 42.1 percent from the field this season (the lowest since his rookie year).
Additionally, be it Scott, Ayon, Antic or Brand, someone is going to get an opportunity to shine in the frontcourt with more minutes.
Thirteen continues to solidify its standing as an unlucky number because an eclectic group of NBA stars have been cut down by injuries in 2013.
Perhaps the 2014 calendar year will be kinder, but it will be an uphill battle for the Hawks—especially if Horford can't return for the playoffs.