Arsenal vs. West Ham: 6 Things We Learned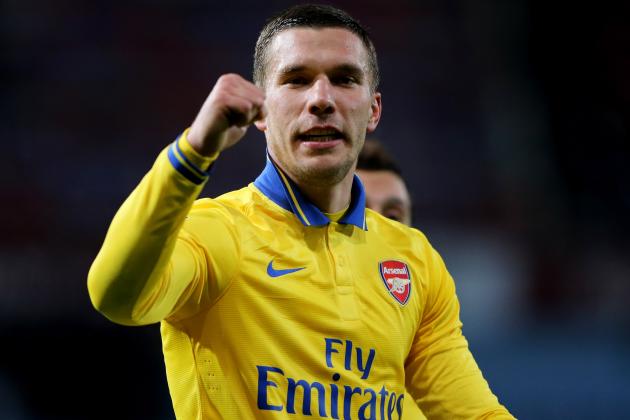 Ian Walton/Getty Images

Arsenal responded to criticism and a West Ham goal by coming back to beat the Hammers 3-1 at Upton Park.
After a goalless first half, both sides started the second period with initiative, creating a very open match.
West Ham took advantage within one minute through Carlton Cole's finish after Wojciech Szczesny spilled a shot in the mouth of goal. For a while, it seemed that Arsenal's pressure would not pay off and the Gunners grew progressively more desperate.
But just as West Ham's goal was the result of good fortune, so was Theo Walcott's. A relatively weak strike seemed to catch Adrian off guard and the ball rolled right over his palms into the net.
Thereafter, Arsenal could not be stopped. Walcott added a second from a header and Lukas Podolski added a sumptuous third on his return from injury. At the end of the match, Arsenal were top of the Premier League.
Let's look at six things we learned from the match.
Begin Slideshow

»
Jamie McDonald/Getty Images

Santi Cazorla is just better in midfield.
He can no doubt be effective on the wing, but can flex his creative talent and shoot more when he slots into midfield. Only Aaron Ramsey's injury and Lukas Podolski's subsequent introduction allowed him to do so.
And while Podolski certainly had a massive impact on the match by himself, perhaps his greatest contribution was allowing Cazorla to spray the ball across the pitch and pull the strings of Arsenal's attack. Mesut Ozil found that task impossible.
If Cazorla can maintain this form, Arsenal will become a much more threatening side. His form has been mediocre all season, but he certainly redeemed himself today.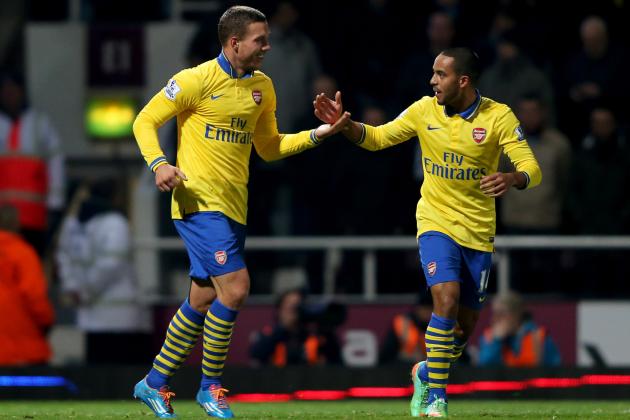 Ian Walton/Getty Images

A strike into the corner of goal with the outside of the boot is certainly one way to reintroduce oneself to the first team after an injury.
And Lukas Podolski's return from a torn hamstring could not come at a more opportune time. Olivier Giroud is still foundering up front despite working extremely hard, and Santi Cazorla has not looked his usual self on the left wing.
When the German replaced the injured Aaron Ramsey, he brought back the directness and width that Arsenal have been missing since he hurt himself months ago.
It is not only important for Arsenal to have someone who has the quality to score from outside the box with the outside of his boot—there must be someone who is willing to make the attempt in the first place. Podolski is that man.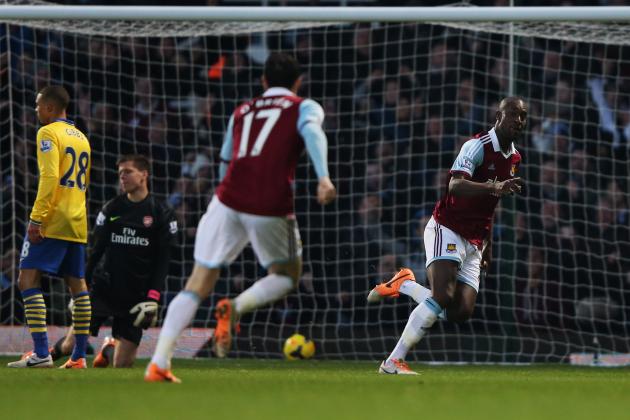 Ian Walton/Getty Images

Thankfully for Arsenal, and unfortunately for West Ham, two goalkeeping blunders canceled themselves out.
Who knows how the match would have turned out if Adrian had not let Theo Walcott's tame, dribbling equalizer roll over his hands? Or if Wojciech Szczesny did not cough up a shot in front of Carlton Cole in the first place?
Both goalkeepers had been having very solid games before their respective miscues, although Adrian's was really a howler.
Yet each switched off for an instant, and one's team ended up losing the momentum and conceding two more times.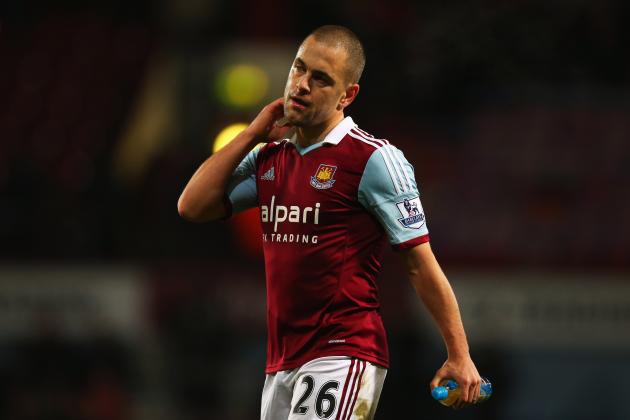 Bryn Lennon/Getty Images

Despite the scoreline and despite Arsenal's dominance for much of the second half, West Ham certainly could have taken all three points from this match.
After Carlton Cole's goal within the first minute of the second half, the Hammers pressed Arsenal extremely hard from all sides and had numerous chances that were just barely squandered.
Headers flashed just wide of the post, Szczesny was forced into saves and Sam Allardyce threw his hands onto his face several times. Yet nothing fell for his team.
It underscores the need to convert what few opportunities one is given in a football match, and, to some extent, highlights Arsenal's ability to weather opponents' pressure and emerge stronger.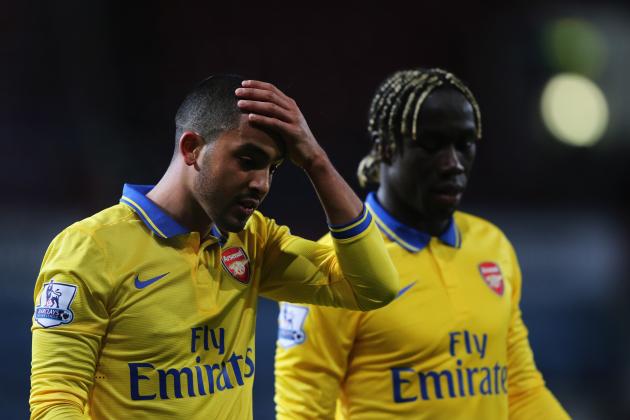 Ian Walton/Getty Images

Opponents know that the best way to stop Arsenal's formidable attacking machine is to prevent the Gunners from creating chances through the middle of the pitch. Without such freedom, it is much more difficult for Mesut Ozil, Aaron Ramsey and co. to operate.
Therefore, Arsenal's wingers and full-backs are required to push forward and support the forwards and midfielders by providing crosses and a valve to release pressure.
The success of Theo Walcott and Lukas Podolski was crucial to breaking down a stubborn West Ham defense. Walcott sliced inside to score Arsenal's first and did the same to head in an excellent Podolski cross. And Podolski popped up again to slice home an emphatic third goal.
Both of their absences have been acutely felt this season, and their presence in the same team should loosen up Arsenal's recently tepid attack.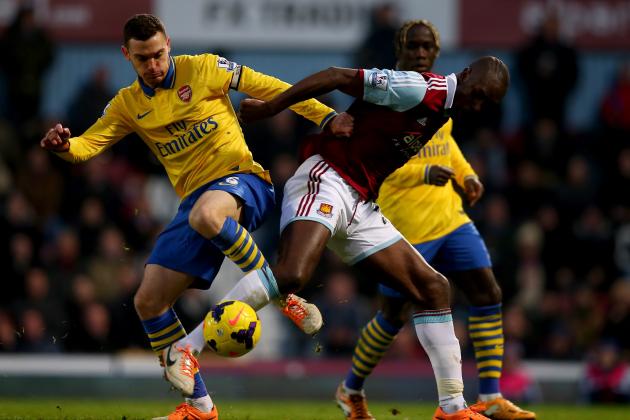 Bryn Lennon/Getty Images

After a horrendous performance against Napoli, many began to lose faith in Mikel Arteta. After a series of defensive mistakes and the success of Laurent Koscielny, many had written off Thomas Vermaelen.
But Arsene Wenger showed faith in the former, who has been his midfield general for over a year, and the latter, who was brought back after Koscielny's knee was gashed.
Both have repaid their manager.
Against West Ham, as in Arsenal's recent tie with Chelsea, Arteta showed that he can still impose himself on a game and shrewdly direct his midfield. Vermaelen has cut out the defensive jitters from his game in both matches, and Arsenal have been no more vulnerable at the back.
Wenger has little reason to start Mathieu Flamini in Arteta's place against Newcastle this weekend. Even if Koscielny recovers, Vermaelen deserves to return, as well.