The title of this article is an attractive receptacle that fails to hold its content because of the holes that let them loose; for although it may have drawn the reader's attention, he or she will see soon that it does not aptly hold the subject it purports to describe.
What, to start with, is the Theo Walcott-Santi Cazorla factor?
It is that potential energy, active, astir, even simmering and then efficacious when applied, that is found in the most effective of people in their different fields. And if this is so, the Walcott-Cazorla factor is surely an inaccurate term for it.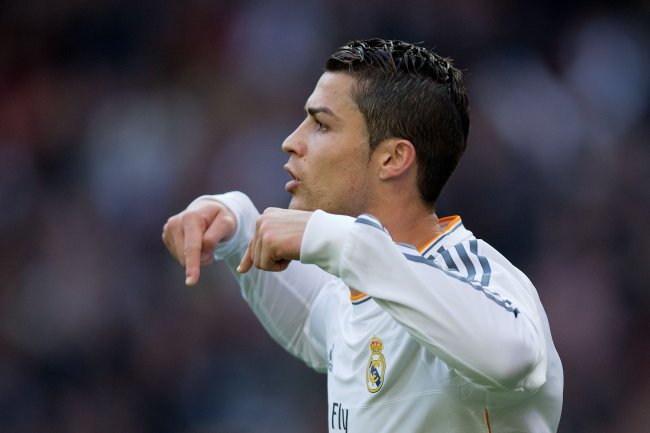 Gonzalo Arroyo Moreno/Getty Images
What I describe is found in Cristiano Ronaldo, an element that might be said to manifest as exceptional self-belief that causes a normally gifted person to rise to the height of genius.
I believe this is the difference between Ronaldo and his rival, Lionel Messi, where the former might be comparable to what Beethoven was to Mozart. For whereas one was an effortless genius, the other rose by the sheer force of his personality to ascend to heights theretofore unknown. (Although I do not mean the analogy to be taken literally in all dimensions.)
The thing I describe manifested of recent in one Gareth Bale, who, before our very eyes, blossomed like a flower in full bloom and is even now taking the tentative steps on this highway called "genius."
And haven't we seen it yet still in its nascent form, peeking out like the sun's rays on a cloudy morning, beautiful, bright, dazzling and much welcome, even if they intermittently disappear, seemingly overcome by the fecund clouds sailing the morning sky, in Arsenal's own Aaron Ramsey?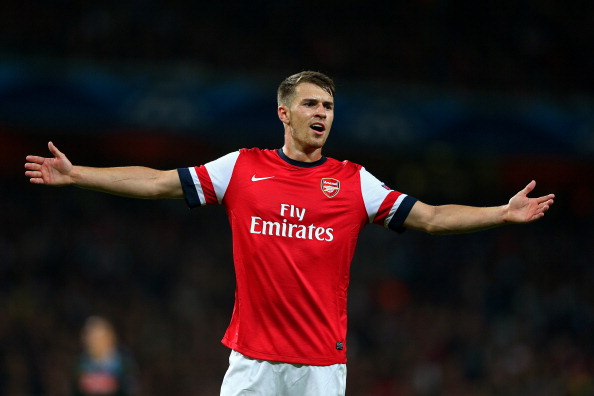 Paul Gilham/Getty Images
That "potential energy, active, astir, even simmering...efficacious" has transformed and lifted an average player to a different level altogether, so much so that fans and pundits alike have been left lost for words as to what has engendered this transformation, a transformation accompanied by a harvest of goals.
It has been a transformation that has left even Arsenal's best players in the dust, a transformation that has seemed single-handedly to carry Arsenal along a propitious season.
And now that this potential energy seems to simmer down, Arsenal's form has followed suit, which is no wonder given the fact that a football manager has said recently that it requires just two of the ten out-field players of a football team to perform below par for the team to have a bad day.
Ramsey seems tired. So does Mesut Ozil, and Santi Cazorla hasn't hit the form that made him Arsenal's best player last season. With the rise of Ramsey and the coming of Ozil, it appears that that extra factor (described in the foregoing) has gone into hibernation in the swift-footed Spaniard.
This is what happens when someone no longer tells himself that "I am No. 1." For excellence, in many instances, flows from personal belief, a belief that convinces the person's psyche that he is truly the best, resulting in an extra effort that would not normally be exercised.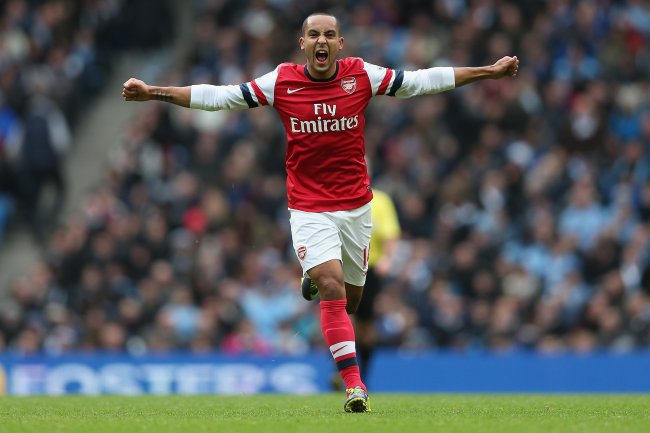 Clive Brunskill/Getty Images
The best tries the most. The best possesses an extra ounce of hope where others would let their heads drop. The best pushes more and takes that difficult shot.
The best covers more ground and believes he can beat his man and even the next man. The best looks tireless and calls for the ball. The best encourages the team and urges it on. The best practices set pieces because, as the best, he must score them with sufficient consistency.
The average player hides behind the best. He does not care to move and push more. He hides when the going gets tough. He doesn't improve from season to season, but rather seems to relapse.
Here's my theory: Cazorla hasn't hit the form of last season not merely because he had an injury problem at the beginning of the season, which has affected him, but because he has ceased to believe that he is Arsenal's best player, and having vanquished that belief, he has ceased to push that little extra.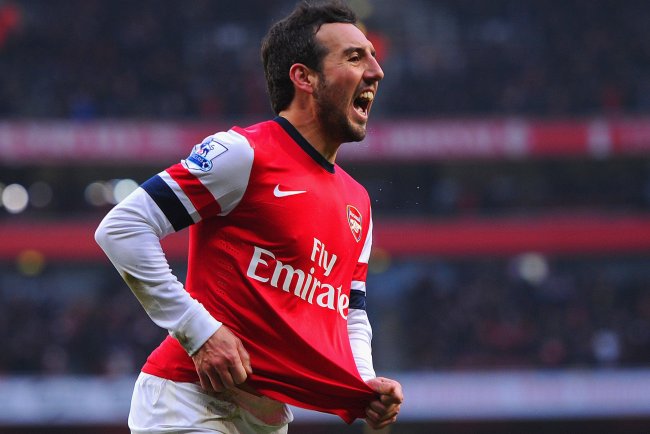 Michael Regan/Getty Images
Don't get me wrong. Cazorla is still a fantastic player, but that is different to saying, "I am the best here." Cristiano Ronaldo isn't the best because he is the most talented player, but because he believes he is the best, and that makes him try that little bit harder.
What I mean by the Walcott-Cazorla factor is that it is their turn to push that little bit harder now that those who carried Arsenal in the first half of the season have tired out.
Cazorla needs to take the mantle from Ramsey and run away with it. And now that Walcott has returned from injury, he needs to step up. He needs to realize how gifted he is, become a leader and ascend to the next level, the level that touches genius.
The Walcott-Cazorla factor means it is their turn to harness the said "potential energy, active, astir, even simmering and then efficacious when applied."