Just six games into his return from a torn Achilles, Kobe Bryant is headed back to the recovery room with a knee injury.
A fractured lateral tibial plateau is expected to keep the 35-year-old on the sidelines for six weeks:
Injury Update: Kobe Bryant has a fracture of the lateral tibial plateau in his left knee. He is expected to miss 6 weeks.

— Los Angeles Lakers (@Lakers) December 19, 2013
The injury is not expected to require surgery, according to Ken Berger of CBS Sports:
Kobe Bryant will not need surgery on his leg fracture, league source tells @CBSSports: "The bone will heal."

— Ken Berger (@KBergCBS) December 19, 2013
This news comes just weeks after the Mamba signed a two-year, $48.5 million contract extension. Despite the fact he will be well paid for his rehab, head coach Mike D'Antoni expressed sympathy for his star.
D'Antoni on Kobe injury: "That's too bad. You hate it for Kobe. He's worked so hard to get back."

— LakersCircle (@LakersCircle) December 19, 2013
As the Los Angeles Times' Eric Pincus details, Bryant injured his knee in the third quarter of the Lakers' 96-92 win over the Memphis Grizzlies. In true Mamba fashion, the legend played the fourth quarter with a broken knee.

In all, he played 33 minutes in that game and scored 21 points on a 9-of-18 shooting night.
Man, hate what happened to @kobebryant. Unbelievable he played 1H w/knee fracture. 1 of sports' all-time greatest warriors

— Chris Broussard (@Chris_Broussard) December 19, 2013
Bryant's ability to play through pain won't be able to keep him from missing time with this injury. Sure, he may be able to return to the court quicker than that six-week prognosis, but there is also the risk he suffers a setback and is out longer.
His body has taken a lot of abuse over the years, and toughness can only overcome so much when a body starts breaking down.
Will the Lakers make the playoffs?
At any rate, this—along with the fact the Lakers don't play in the Eastern Conference—is all terrible news for the Lakers.
The Lakers (12-13) are in 11th place in the Western Conference. They trail the Denver Nuggets by 2.5 games for the eighth and final playoff spot.
Six weeks takes us roughly into the start of February.
The Lakers play 22 games before the calendar will hit February. At that point, their season will be six games past the halfway point.
Since Bryant's returned to the court, the Lakers have gone just 2-4. They lost the first three games of his return as the team adjusted to Bryant's propensity to dominate the ball.
At this point, it was still too early to tell if the Lakers would have enough to make the postseason with a healthy Bryant, but it is not too early to tell they don't have enough to make it without him.
The Lakers have performed admirably with young talent, an ancient Steve Nash and a past-his-prime Pau Gasol. Admirable doesn't cut it in the Western Conference, however.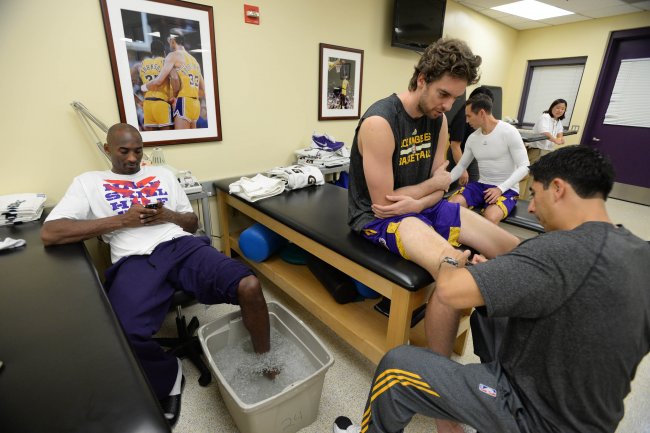 Andrew D. Bernstein/Getty Images
With all the teams battling for the eighth spot, it is reasonable to assume that the team in eighth will maintain a similar winning percentage to the .583 mark the Nuggets currently hold. At the 47-game mark of the season, that would leave the eighth-place team with 24 or 25 wins.
To reach 25 wins in 47 games, the Lakers would have to go 13-9 over the next 22 games. They will not be able to muster 13 wins out of this schedule:
Lakers' Upcoming Schedule

| | |
| --- | --- |
| Date | Opponent |
| Dec 20 | Min |
| Dec 21 | @GS |
| Dec 23 | @Pho |
| Dec 25 | Mia |
| Dec 27 | @Utah |
| Dec 29 | Phi |
| Dec 31 | Mil |
| Jan 3 | Utah |
| Jan 5 | Den |
| Jan 7 | @Dal |
| Jan 8 | @Hou |
| Jan 10 | @LAC |
| Jan 14 | Cle |
| Jan 15 | @Pho |
| Jan 17 | @Bos |
| Jan 19 | @Tor |
| Jan 20 | @Chi |
| Jan 23 | @Mia |
| Jan 24 | @Orl |
| Jan 26 | @NY |
| Jan 28 | Ind |
| Jan 31 | Char |
That schedule encompasses the Lakers' seven-game Grammy road trip in January.
Of course, there will still be nearly half of a season for the Lakers to improve their standing after Bryant's expected return.
At that point, however, the Lakers will have to adjust to life with Bryant once again.
The quality of the Western Conference will not allow for the Lakers to navigate all of this and make the postseason.