There has rarely been a better year to be a group winner in the Champions League. Even before Monday's draw the gulf between the winners and runners-up was evident—and that sense was perhaps even greater for Manchester United and Chelsea, knowing they could not draw Manchester City or Arsenal.
So having come through a potentially tricky pool containing Bayer Leverkusen, Shakhtar Donetsk and Real Sociedad, many United fans are rubbing their hands at the prospect of a double-header against perennial Greek champions Olympiacos, especially as the Old Trafford club have played four, won four against them.
Yet that would be to underestimate Olympiacos' considerable spirit and pedigree. At the time of writing, the men from Piraeus are again clear at the top of the Greek Super League, winning 13 and drawing one of their opening 14 matches.
They have scored 43 and conceded just four in a competition conditioned by the financial struggles of Panathinaikos and the ruin of AEK Athens. It may be hard to judge the true value of their domestic dominance in this context, but Michel's men have already shown their quality in the Champions League.
After enduring a biblical flood in Lisbon that briefly threatened to wash away their hopes, Olympiacos will charge United with being near their best to beat them to a place in the quarter-finals.
Famed across the continent for the atmospheric Georgios Karaiskakis Stadium, they have flourished away from home in this season's Champions League, winning handsomely at Anderlecht and drawing at Benfica and narrowly losing at Paris Saint-Germain.
They are also much more than simply Kostas Mitroglou plus ten, though the importance of the Greece international must be underlined. He is powerful and prolific, having scored 17 goals in 14 club games this season, as well as a crucial brace in the World Cup play-off against Romania.
Yet there is more to the 25-year-old than that. Thought of as tactically naïve and ineffective outside the penalty area by his coaches on his arrival in Greece from German reserve football, he has grown enormously.
That he should hold up the ball effectively is no shock, but he has a surprisingly light touch, as he showed in his role creating Chori Dominguez's fine goal that gave Olympiacos the lead at Benfica.
Those games against Benfica were a tipping point for Michel's side. At the Estadio da Luz, they passed the Europa League finalists off the park until the deluge halted their rhythm, with Mitroglou missing one chance to hit a clinching goal as the ball stuck in the water at point-blank range and he ran straight past it.
They are technically adroit and durable. Dominguez, Javier Saviola and David Fuster provide experience and quality, while Sambou Yatabare and Delvin N'Dinga bring strength in midfield. Captain Giannis Maniatis marshals the team at the back.
Olympiacos' grit was clear in the return, as they weathered a different kind of storm, with the Portuguese giants reacting strongly.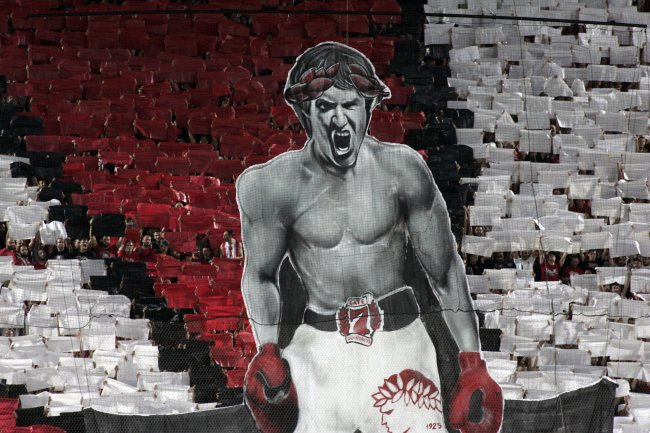 EuroFootball/Getty Images
On that occasion, goalkeeper Roberto stepped up, making a string of extraordinary saves. His time at Benfica had been blighted by high-profile errors, but he has recovered his confidence.
There are a clutch among the second-placed pack who would have suited United better. Zenit always appear jittery and nervous in pressure situations, despite their considerable outlay on players in the last 18 months.
Schalke are perpetually leaky from set-pieces and incredibly vulnerable on the counter-attack. Milan, meanwhile, are lucky to even be in the last 16 after the battering they took from Ajax in the final group match at the San Siro—fortunately for them, without reparation.
David Moyes' side are undisputed favourites—especially given their Champions League results to date—and Olympiacos are simply happy to have such a plum tie, as Michel made clear after the draw (report on the club's website - here). Yet the soul of this team, forged under an atmosphere of immense expectation, is considerable. United must tread carefully.