For three consecutive years, the postseason rumor mill has churned regarding potential destinations for Miami Hurricanes head coach Al Golden.
In 2011, UCLA had Golden on its radar a second time before hiring Jim L. Mora. By 2012, Tennessee was sizing up the second-year Miami coach for a lighter shade of orange.
With legendary coach Mack Brown stepping down at Texas, it's safe to assume Golden-to-Austin rumors will begin percolating in late 2013 when some pie-in-the-sky big names inevitably begin turning the Longhorns down. Dennis Dodd of CBS Sports has already suggested that Golden would "make sense" at Texas.
Before the sports media gets ahead of itself with another episode of As the Coaching World Turns, let's clear the air—Golden isn't leaving the Hurricanes until his rebuild is complete and ultimate success has been achieved.
How long will it take for Al Golden to bring the Miami Hurricanes back to elite status?
The third-year Miami leader signed on for what he knew was a high-risk, high-reward opportunity and will buckle down until the job is done. Maybe even longer, should the Hurricanes go on another stellar run like they did a decade ago.
Golden arrived at Miami three Decembers back, replacing Randy Shannon, who lasted four years and went 28-22 over that span. The New Jersey native made his way to Coral Gables via Philadelphia, where he spent five seasons rebuilding a Temple program recently thrown out of the Big East Conference for being that awful.
Golden became a hot coaching commodity, making his way onto several short lists after the miraculous Temple turnaround. The Owls went 1-11 in his first season and 9-4 in his fourth season, resulting in the program's third bowl game ever and first in three decades.
Weeks before that historic 2009 postseason appearance, Cincinnati was in search of someone to replace Notre Dame-bound Brian Kelly. Golden declined, remaining in Philadelphia, as neither the timing nor the opportunity was in line with his long-term career path.
Two years prior, Golden turned down UCLA a first time—"flattered" to be a candidate, but staying put, telling the Los Angeles Times, "[W]e are on the brink of something truly special here at Temple." His second-year Owls squad was 5-19 with him in charge at the time.
The word "commitment" doesn't always mean much in the sports world. Coaches pledge to stay. Owners swear not to sell. Players give their word and then flip-flop.
Yet with Golden, the 44-year-old's character and word have proven stronger at each new sign of adversity.
With an NCAA investigation underway and Miami wrapping up a 6-6 season in 2011, Golden could've easily bailed. Instead, he pledged his allegiance and agreed to a four-year contract extension. His contract now goes through February 2020.
"My family loves it in South Florida, we have embraced the community and we could not be more excited about the future of the Miami Hurricanes football team," Golden said in a university-released statement days after Year 1 wrapped.
UCLA, Tennessee and Texas—all are big-time programs, all boast top-notch facilities, and all have mad money to throw around. That said, Los Angeles, Knoxville or Austin don't mesh with New Jersey like South Florida—home of countless transplants from the Northeast. Miami is a diverse city and UM is a unique place, always in search of that "special fit" coach.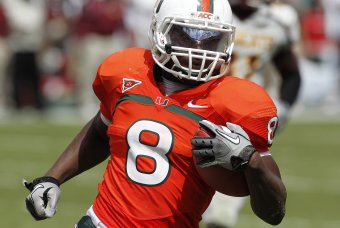 Robert Mayer-USA TODAY Sports
Golden knows there are few opportunities across the nation that compare to the one he currently has, which is why he hit the ground running and has not looked back.
Win at "The U" and you're instantly one of the hottest commodities in the business. Fail and it can result in what amounts to coaching purgatory.
Look at Miami's coaching tree the past three decades for proof.
On one branch sit Howard Schnellenberger, Jimmy Johnson, Dennis Erickson and Butch Davis. All left for (seemingly) greener pastures, next-level opportunities and big time paydays, having succeeded at the University of Miami.
On the other side are Larry Coker and the aforementioned Shannon. The former now heads up the University of Texas-San Antonio's football program, while the latter is coaching up linebackers in Arkansas.
Timing is everything—as is location. When The U landed Golden, the program was in dire need of a makeover, and the then-Temple coach knew what he had under the hood. The restoration project was worth it, and he drove that point home during his initial press conference in December 2010:
The most recognizable brand in college football. Again, I go back to the former players that are here, the five national championships, 20 national award winners, countless All-Americans, incredible tradition. It's a dream job. It's a tremendous opportunity for my family and I to build championships here.
At Miami, top-flight talent has always been the name of the game. It's been the key ingredient for decades of success and numerous title-game runs, especially for the 2001 squad Davis assembled.
The Hurricanes' fifth national championship squad is heralded as the best college football team in history. Seventeen players from the team were eventually taken in the first round of the NFL draft.
While that perfect storm of timing, talent, development, depth and player chemistry arguably won't happen again, the University of Miami—and its surrounding local talent—is one of the few places where that type of success could repeat itself.
Schnellenberger referred to it as "The State of Miami"—keeping the best players from Dade, Broward and Palm Beach counties home, while taking the rest of Florida's best, as well as landing some national superstars.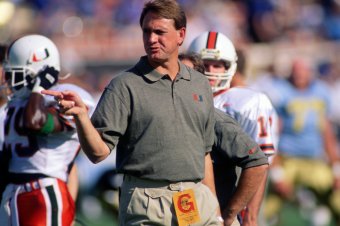 Stephen Dunn/Getty Images
Davis built a powerhouse with this approach, and Golden is attempting to following suit. Of Miami's current 28-player, third-ranked class for 2014, 20 are from the Sunshine State, and the majority of those come from Schnellenberger's coveted tri-county region.
Golden arrived at The U with a 300-page orange and green binder titled, "Deserve Victory"—his blueprint for revamping the Miami program.

Eight months later, he was blindsided by an NCAA investigation that took place over 26 of the 36 months he's been the Hurricanes' head coach. The result: negative recruiting tactics by rivals while top South Florida talent ran the other direction.
Miami also lost 36 players between 2010 and 2012 due to transfer or internal housecleaning, crippling the roster and creating depth woes that were felt up through this year's 9-3 campaign.
Better days that were once well down the road are close enough for this Miami program to taste. This coaching staff planted seeds, mended fences on the local recruiting front and has proven to be a determined, patient and resilient group.
The U took the NCAA's best punch and is ready to deliver some blows of its own these next few seasons.
Rebuild somewhere like Austin, or forge ahead unshackled in Coral Gables? It's not even up for debate.
After all Golden has endured, sticking around to reap the fruits of his labor at The U is the only logical option for the man with the long-term plan.
Follow Chris Bello on Twitter @allCanesBlog.