When the New York Knicks bid Jeremy Lin a final, awkward adieu in the summer of 2012, they did so with one contingency plan squarely in mind: bringing back Raymond Felton.
Given the team's cash-strapped prospects and fragile makeup, the move made more than a little bit of sense. In Felton, the Knicks were reacquiring a point guard who, for all his faults and drawbacks, could at least be counted upon to effectively manage the offense.
But after a rebound year in which he helped lead the Knicks to 54 wins and an appearance in the second round of the playoffs, Felton's play on both ends of the floor has fallen off a cliff, forcing the Knicks to scramble for an upgrade.
The timing couldn't be worse for New York, lacking as they are the kind of positional depth that helped propel them to the league's third-most efficient and least turnover-prone offense a season ago.
Just how bad has he been? Through 16 games, Felton is charting the following career-worst numbers: player efficiency rating (11.7), true shooting percentage (46.4 percent), assist percentage (25.9 percent) and three point shooting (27.9 percent). Meanwhile, his defensive rating (111) would be tied for the second worst of Felton's eight-year NBA career.
What a difference a year makes

| | | | | |
| --- | --- | --- | --- | --- |
| | player efficiency | 3P% | TS% | DRtg |
| 2012-13 | 15.2 | .360 | .505 | 108 |
| 2013-14 | 11.7 | .279 | .464 | 111 |
| | | | | |
www.basketball-reference.com
All this for a player who—at 29 years old and playing a position most take years to master—should be in his prime.
Things only got worse when Felton sustained a left hamstring strain during a recent loss to the Cleveland Cavaliers, an injury doctors project will keep him out at least 2-3 weeks.
Pablo honey
In Felton's stead stepped Pablo Prigioni, the 36-year-old Argentine whom the Knicks brought back for a fresh three-year tender following an impressive rookie campaign a season ago.
The two couldn't cut a more disparate picture: Felton with his bowling ball build and "bulldog" reputation, the lanky Prigioni with his poised, professorial persona; Felton's fiery heart-on-sleeve demonstrability, Prigioni's cool calm and warm candor.
But for 298 minutes last season, Felton and Prigioni combined to form one of the NBA's most effective—and most unlikely—dynamic duos.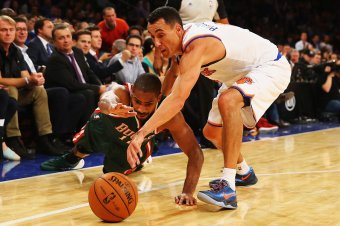 Al Bello/Getty Images
Of the 46 two-man lineups that logged 250 minutes or more for 2012-13 Knicks, the Felton-Prigioni combo tallied both the highest offensive efficiency (a torrid 119.4) and a net rating (16.3) that was second only to the unit of Tyson Chandler and Prigioni (17.1).
Heading into the 2013-14 season, it was believed that head coach Mike Woodson—who stumbled upon his vaunted two-point guard attack almost by accident—would look to duplicate the previous year's unorthodox success.
Sadly, that hasn't been the case: Thus far, the Prigion-Felton tandem has amassed only 76 minutes, in which the two's net rating has been a virtual wash (minus 0.1). Woodson might well be willing to give the duo more of a spin once Felton returns and if—a big if, for anyone who's watched the Knicks this year—the team can somehow manage to make up ground.
Until then, expect more of the same: Big lineups wielded more out of fear than actual facts.
Having it both ways
It's that very line of thinking that would compel a coach of Woodson's caliber to simply bury Prigioni when Felton returns. Even if the stats demand the opposite.
Prigioni has registered a plus/minus of plus-28 in the three games he's started in place of Felton—a span in which the Knicks have gone 2-1 and appear to be forging something resembling an offensive identity.
It's better than where the team was during Felton's last prolonged absence, a dismal road stretch from Nov. 19-25 that saw the Knicks drop four straight on the road with veteran Beno Udrih manning the starting slot. (They would lose their next three with Felton as well, for a grand total of nine straight Losses.)
But offense isn't the only area in which Prigioni has proven more effective than his younger, stouter backcourt mate. On defense, Prigioni is besting Felton in a number of critical categories, including: defensive rating (107 to Felton's 111), steals per 36 minutes (2.3 to 1.0) and defensive win shares (0.3 to 0.1).
The importance of Prigioni's defense (particularly as it compares to Felton's) cannot be overstated. Whereas Felton's brand of half-measured hedging on opponent pick-and-rolls has been the source of too many rotational breakdowns to count, Prigioni—who is no Alvin Robertson—at least manages to fight through or over screens quickly enough to disrupt the other team's flow.
Felton advocates might point to his relatively low fouls per-36-minuted mark (2.8, compared to 4.2 for Prigioni) as evidence of the his more disciplined defensive approach.
Only, that's not the right way of looking at it. Indeed, it's through Prigioni's pesky brand of opportunism—steals, deflections and smart situational fouls—that the Knicks' defense manages to hold down a much tighter fort when he's on the floor.
The argument here isn't that a healthy Felton should be summarily benched. Rather, it would simply behoove Woodson to revisit what worked so wonderfully a year ago: a two-point guard configuration that encourages ball movement and smarter defense.
A salvageable mess
During the three-and-a-half months between November 2010 and early February 2011, Raymond Felton played arguably the best basketball of his NBA career, having escaped the doldrums of Charlotte for New York and Mike D'Antoni's up-tempo, eminently point guard-friendly system.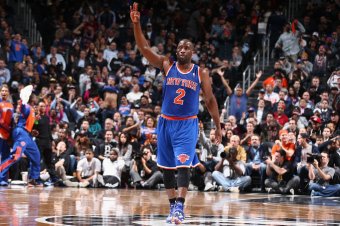 Nathaniel S. Butler/Getty Images
Then, on February 12, out came the rug from beneath his feet, as Felton—along with Danilo Gallinari, Wilson Chandler and Timofey Mozgov—was traded to the Denver Nuggets in exchange for Carmelo Anthony.
The next 18 months would see Felton flounder in a basketball funk—first with the Nuggets, then with the Portland Trailblazers, whose notoriously rabid fans still consider him public enemy number one.
On July 16, 2012, Felton finally found redemption when the Blazers traded him to the Knicks for a pair of prospects and a second-round draft pick.
General manager Glen Grunwald was hoping to get the same Ray Felton who, along with Amar'e Stoudemire, helped spearhead a Knicks renaissance.
Instead, a rash of nagging injuries and maddeningly inconsistent, inefficient play have compelled owner James Dolan to explore ways to parlay Felton into a two-way upgrade like Kyle Lowry.
Positing Felton as the chief culprit behind New York's lackluster start would be equal parts misguided and hyperbolic. Firing Grunwald, parting with three draft picks for Andrea Bargnani, taking the route of Big Three or Bust—any and all of these could qualify as far more crippling to a franchise's fortunes than bringing back a middling point guard.
Given his reasonable salary and, presumably, tradeable contract, Felton could be benched or jettisoned without it amounting to another in a long line of Knicks disasters. Then again, short of the aging Prigioni and Udrih, the Knicks don't exactly have a long-term backup plan in place.
Which, when it comes to this franchise, is pretty much par for the course.
*All stats courtesy of NBA.com and current as of Dec. 15.