5 Changes the Cubs Should Make Before Spring Training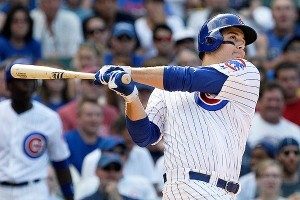 Denis Poroy/Getty Images
Anthony Rizzo is one Cub that isn't going anywhere anytime soon.
With the 29th annual Cubs Convention just around the corner and Spring Training on the horizon, there are still some things the Cubs need to get figured out before they break camp.
It's clear that the Cubs aren't going to get big players on the free-agent market, but there are subtle moves both on and off the field that need to be made by late February.
This is a look at five changes the Cubs need to make in order to make 2014, and more importantly the future, more successful.
Begin Slideshow

»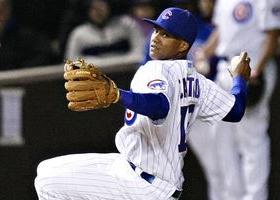 Charles Arbogast/AP
Starlin Castro seems primed for a bounce back season in 2014.
The member of the Cubs who most notably struggled last season was Starlin Castro. Already a two-time All-Star at the ripe old age of 23, Castro has high expectations for good reason. He fell well short of those expectations in 2013 by hitting just .245 as opposed to .307 in 2011 and .283 in 2012.
At his age and this early in his career, Castro is allowed to have a down year. A lot of his struggles a season ago, and really over the course of his career, have been based on the mental aspect of his game. Having several different hitting coaches and managers in his ear telling him how to tweak his swing certainly did him no favors.
Now, the Cubs have Spanish-speaking Rick Renteria as their manager, and he should go a long way toward making Castro more comfortable. That is, after all, a key reason why he was hired in the first place. Add on top of that the fact that the Cubs have said they're just going to let Castro do his own thing at the plate this year; it should be a bounce-back year for the young shortstop.
In order to get the new manager and one of the key building blocks of the franchise on the same page, both should really sit down and talk through things before camp breaks this spring.
This would give Renteria a chance to let Castro know that he and the organization still believe in him. That would go a long way with a young player who struggles with confidence at times.
Giving this important relationship understanding from the get-go will go a long way toward helping Castro rebound his career and continue to be a key piece of the Cubs' puzzle as they move forward with their rebuilding process.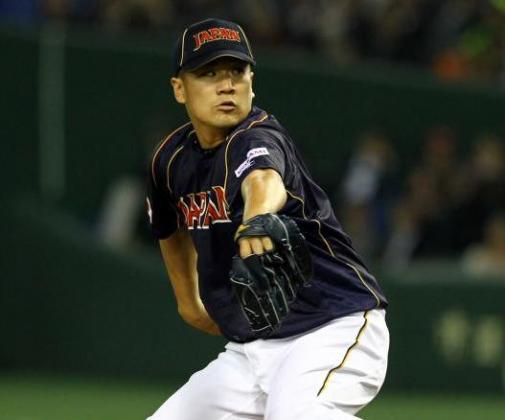 Koji Watanabe/Getty Images
Masahiro Tanaka is potentially the prize of the 2014 pitching free agent class.
While the Cubs' pitching staff isn't bad, it could easily get much better. Even if bringing in another arm just to foster competition is what the club decides to do, that would be better than not bringing in anybody at all.
Where free agency is right now in terms of pitchers, there are two pitchers that could be solid additions to the Cubs's rotation, and there is one that could add some healthy competition to the back end of the rotation.
Option No. 1: Masahiro Tanaka
If this Japanese pitcher even ends up leaving Japan for the MLB this season, he could be the one big-name free agent the Cubs decide to add this offseason.
The price would be high, especially considering the posting fee that would be required to negotiate with him, but Tanaka seems like the real deal. In Japan last season, Tanaka went 24-0 with a 1.27 ERA. In the past three seasons, Tanaka hasn't had an ERA above 3.00 once.
Albeit he's put up those numbers in a league with a lower level of competition, but the impressiveness of Tanaka's numbers can't be denied. On top of his numbers, Tanaka is only 25 years old, which is the prime age for Japanese pitching stars to make the switch to the MLB.
As an example, Yu Darvish came over when he was 25, and Hideo Nomo and Daisuke Matsuzaka both came over when they were 26.
Tanaka would do more than foster competition in the Cubs' rotation, he would be the No. 1 or 2 pitcher out of camp.
Option No. 2: Bronson Arroyo
A familiar foe to the Cubs, Bronson Arroyo pitched effectively for the division-rival Reds for eight seasons. Arroyo will be 37 by spring training and could still give the Cubs effective innings pitching out of the back of the rotation.
At the very least, the former World Series champion—as a member of the Red Sox—could provide competition for the back end of the rotation, which includes Chris Rusin and Jake Arrieta as of right now.
This also seems like a potential move the Cubs' front office would like to make because he could be sold high at the trade deadline. Trading him at the deadline would, of course, hinge on Arroyo's performance during the season.
While the rotation isn't a major area of need, a team can never have too many arms. Arroyo would be a solid one to add cheaply.
Option No. 3: Jason Hammel
While it has been reported that the Orioles have interest in re-signing Hammel, he could be another solid option to provide competition at the back end of the rotation.
Hammel's ERA ballooned to 4.97 last season and appears to be a buy-low player who could be appealing to the Cubs' front office. Shown by acquisitions of pitchers such as Scott Baker and Arrieta, the Cubs' front office prefers players who are undervalued.
Unfortunately, Hammel is 31 and doesn't have a whole lot of upside, but pushing current Cubs Rusin and Arrieta could make Hammel worth the relatively low price tag he should command.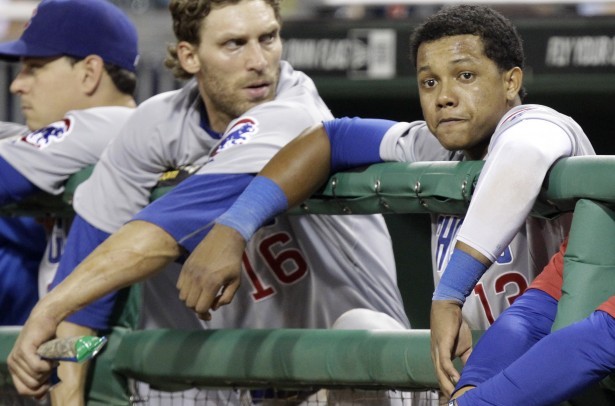 Gene Puskar/AP
Even if the results in 2014 don't change, the team's attitude has to.
As the Cubs have slowly rebuilt over the past couple of seasons, they've piled up a whole lot of losses. The constant losing can start to become a culture for the team, and in a way, some of the team's young players have come to expect to lose more than they'll win.
In years when they will likely fail no matter what, that mindset isn't much of a hindrance, but if it lingers, it could seriously stifle the team's development.
Especially for players like Castro and Rizzo who have both played multiple seasons for the team, the culture of losing needs to change quickly starting this season. Even though 2014 is likely to be another 90-plus loss year, the Cubs' young players have to start expecting to win.
Eventually, as the Cubs' top prospects begin to enter the big leagues this year and next, they are going to look to mainstays Castro and Rizzo for guidance. If those two can foster a winning attitude starting this season, it would go a long way toward reversing the culture of Cubs baseball as it currently exists.
Being the master motivator that he is, Theo Epstein is more than capable of creating an initiative that emphasizes the importance of a winning culture in the locker room. It may be hard to sell at first, but as the team slowly progresses, it could catch on quickly.
Epstein's World Series champion Red Sox had one of the loosest locker rooms in baseball, and that fostered winning. If Epstein can strike a chord with the nucleus of the Cubs' young talent, it could make for a similar result in time.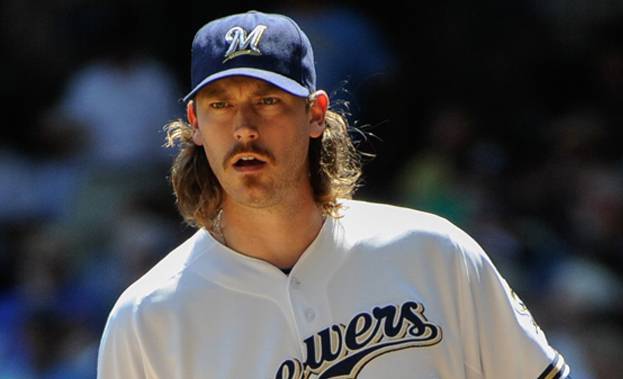 Benny Sieu/US Presswire
John Axford would fit nicely into the back end of the Cubs' bullpen.
Adding another lefty to the bullpen with the signing of Wesley Wright was a step in the right direction for the Cubs, but they shouldn't be done. While their bullpen should be much improved, there are still plenty of relief pitchers yet to be signed.
Pitchers such as J.P. Howell and John Axford would be two solid options.
J.P. Howell would give the Cubs a third lefty available out of the bullpen, which would give them even more flexibility in the bullpen than they already have. Additionally, Howell has a lot of experience pitching in the back-end of the bullpen and would fit nicely into the set-up role for the Cubs.
While he's a smaller name than Howell, Axford would be a solid addition to the Cubs' bullpen as well. Unlike Howell, Axford has been linked to the Cubs according to CBS Sports.
After being traded to the Cardinals last season from the Brewers, Axford improved upon his disappointing 2013 season. Formerly a shut-down closer in Milwaukee, Axford appears a nicer fit as a seventh or eighth inning guy.
The Cubs' front office has claimed that adding power arms is essential to a strong bullpen, and Howell or Axford would give the Cubs another one to use late in games.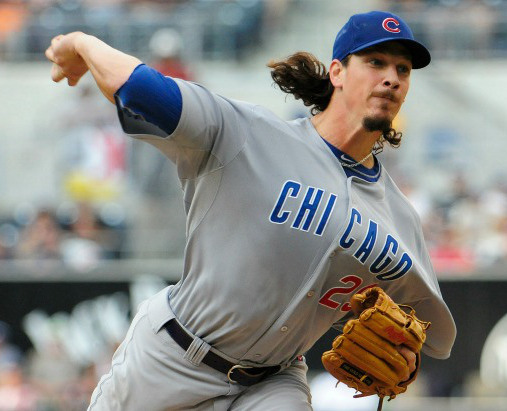 Denis Poroy/Getty Images
Jeff Samardzija's days in Chicago may be numbered.
In a perfect world, Jeff Samardzija would have just signed a five-year contract extension with the Cubs, and there would be much more clarity in the pitching rotation. However, Samardzija left the 5-year extension offer on the table.
While Samardzija would like a somewhat larger paycheck, it appears that his bigger problem is with the development of the team's young talent. With a lack of willingness to commit to a long-term deal until the team shows signs of improvement, the Cubs may have to deal Samardzija.
It's unclear when the Cubs will show signs of improvement, and it's unlikely that drastic improvement will take place in 2014. So, the chances that Samardzija will be encouraged about the future by this season is unlikely.
With that in mind, the Cubs need to trade Samardzija while he's at a high value. After this season, Samardzija only has a year left on his contract. By trading him with two years left on his deal, Samardzija's trade value is much higher.
Reported by Cubbies Crib, the Atlanta Braves are now the frontrunners to land the right-hander. According to the same report, the Braves are reluctant to give up top-level pitching talent but may be able to put together a solid package of mid-level prospects capable of luring Samardzija from Chicago.
While dealing Samardzija by the trade deadline would also be effective, getting a solid return on him now and getting rid of the contract drama would add some clarity to the team's future.
Ideally, Samardzija would be a lifetime Cub, but as time goes on, that seems less and less likely.