Breaking Down LA Lakers' Ideal 5-Man Lineup so Far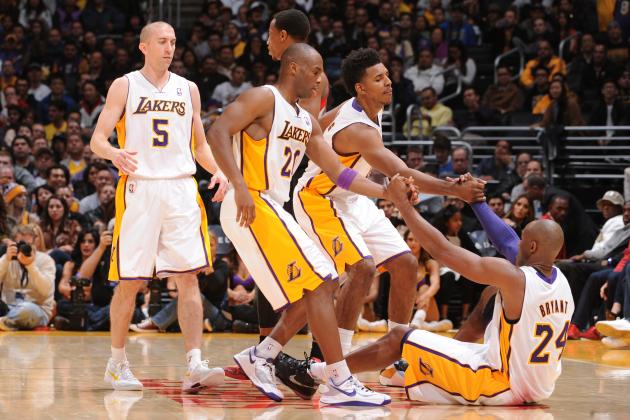 Andrew D. Bernstein/Getty Images
The L.A. Lakers
The Los Angeles Lakers have played numerous combinations of five-man lineups during the 2013-14 campaign and thus, one can only wonder which unit is the most ideal.
We will have a look at the best statistical groupings and determine whether to expect them to hold course, improve or possibly regress. Also, given that we are roughly a quarter through the regular season, we will only look at quintets that have played a minimum of 20 minutes together.
The sample size is relatively small, which is why the 20-minute cutoff was better suited. We do not want to focus on any five-man units that played a low amount of minutes against potentially garbage-time (at the end of games when the contest is all but decided because of the scoring margin) lineups.
One last tidbit of note: Kobe Bryant will not factor into these lineups given that the time he has spent on the floor does not meet the time criteria listed above.
Begin Slideshow

»
Stephen Dunn/Getty Images
Wesley Johnson and Jordan Farmar of the L.A. Lakers
This group lacks some playmaking chops, which in turn makes it the worst scoring bunch in the rankings. Jordan Farmar is the only player in this lineup who looks to set up his teammates and yet, he is still a shoot-first point guard.
The four other players are all guys who want to get shots up regardless of the type of look they manufacture. It's practically the equivalent of having four J.R. Smiths on the floor (I'd pay a hefty sum to watch that team play, by the way).
Defensively, these Lakers can hold their own, but they simply do not score enough to make this unit worth playing. If Nick Young ever decided to use his ball-handling skills to create for others, the Purple and Gold could unleash this lineup more frequently. However, that seems like a bit of a long shot.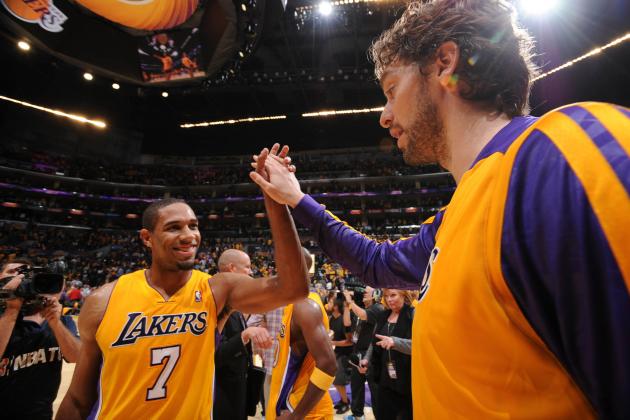 Andrew D. Bernstein/Getty Images
Xavier Henry and Pau Gasol of the L.A. Lakers
This unit sports the third-worst defensive efficiency, but there is reason to believe that the figure might be a product of a small sample size (26 minutes played together).
Xavier Henry and Shawne Williams have complemented each other well defensively, and that has to translate to the other three players at some point. The tandem has shared the floor for 197 minutes and allowed points at roughly the same rate as the league-leading Indiana Pacers.
They play good position defense and bail out teammates whenever they get beat. The coaching staff might want to give this quintet more time together, especially considering the fact it scores at better than a league-average rate.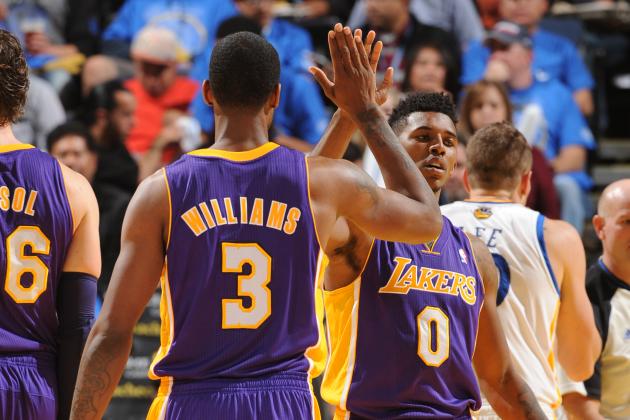 Andrew D. Bernstein/Getty Images
Shawne Williams and Nick Young of the L.A. Lakers
If we project this five-man unit's 42 minutes of playing time over the course of the season, it would lead the league in offensive efficiency. The combination of shooting and playmaking makes them a lethal scoring bunch.
Shawne Williams pulls out opposing power forwards and gives his comrades room to drive and kick. Also, Pau Gasol gets opportunities to attack the low post against single coverage.
With that said, the minutes must be kept to a minimum because these five players surrender by far the most points of any other group in these rankings. The problems lie with Jodie Meeks and Nick Young.
Both are somewhat undersized and struggle with defensive positioning. A defense can get away with having one of them on the floor but not both. Indeed, in the 222 minutes they have played together, the duo yields more points per 100 possessions than the league-worst Utah Jazz.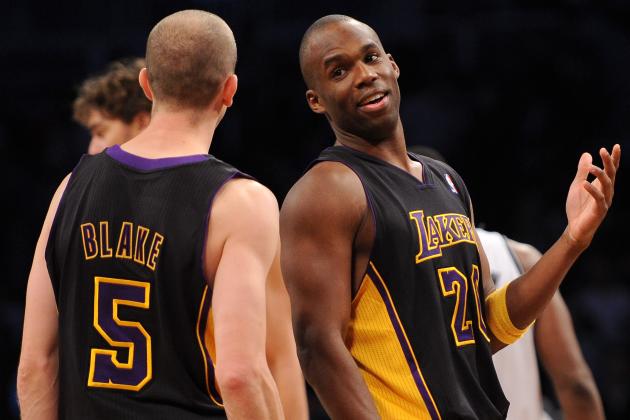 Maddie Meyer/Getty Images
Steve Blake and Jodie Meeks of the L.A. Lakers
This quintet scores practically at a top-10 rate because of the playmaking abilities of Steve Blake, Nick Young and Pau Gasol. When pressed for point production, Mike D'Antoni can turn to these guys, but the defense suffers.
In the 28 minutes they have played together, the defense has simply been horrible. The Lakers are not a great defensive team, and this unit illustrates this perfectly.
Jordan Hill offers some rim protection and also is decent at providing interior resistance, but when paired with Gasol, the Purple and Gold just cannot stop teams. The tandem has shared the court for 225 minutes and surrenders 109.7 points per 100 possessions.
The Lakers can use this five in small doses and probably get away with it because of the offense. However, if used in big stretches, the team might dig itself a big hole.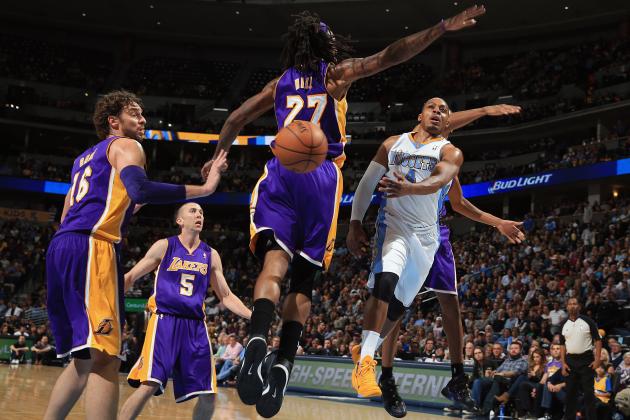 Doug Pensinger/Getty Images
The L.A. Lakers try to play defense.
Mike D'Antoni has used this lineup more than any other and yet, the results have not been entirely positive. They have played 152 minutes together (which is three times as many minutes as the second-most used grouping) and have been outscored by 7.3 points per 100 possessions.
For the sake of context, opponents outscore the Brooklyn Nets by 7.7 points per 100 possessions. These five Lakers are average on offense, whereas the defense is simply porous.
Given the substantial sample size in this instance, it's probably prudent for the Lakers to avoid playing these guys together unless they can simply dominate the opposing team on the interior. Dominating the boards and the paint will probably mitigate their defensive shortcomings.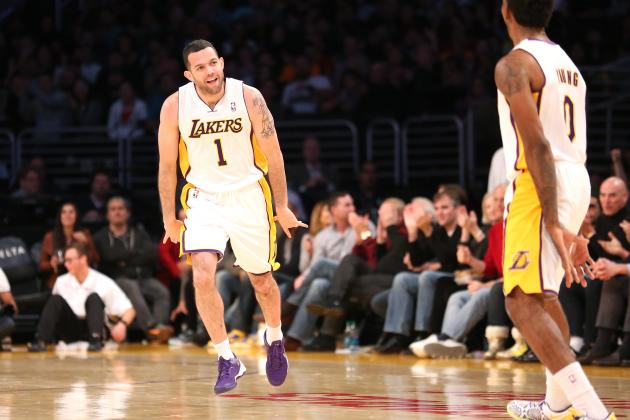 Stephen Dunn/Getty Images
Nick Young is clearly influential.
One would assume this lineup would score at a relatively decent clip, but that is, in fact, inaccurate. It offers some drive-and-kick potential, but Chris Kaman's presence alters those plans.
The former Los Angeles Clipper is limited as a passer, and he needs post touches to be effective. His usage rate is similar to Dwyane Wade's and yet, the results are nowhere near similar.
This group's scoring efficiency when projected over the course of the season would be the worst in the league, but there is still hope. The coaching staff should consider modifying Kaman's role on some level so that he does not end up being the focal point of the offense.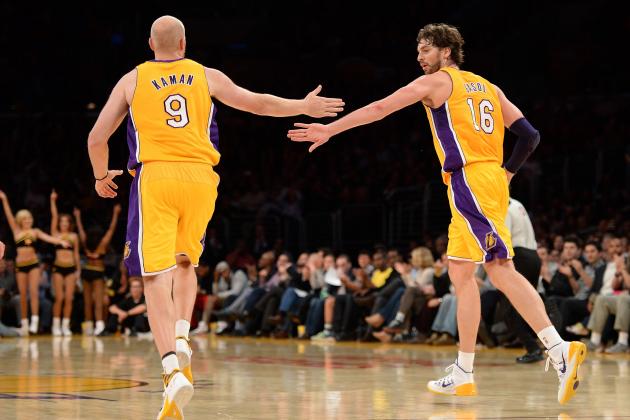 Harry How/Getty Images
Chris Kaman and Pau Gasol of the L.A. Lakers
This unit is surprisingly good defensively despite the absence of a stopper. Chris Kaman is typically slow in his rotations, but he and Pau Gasol share an almost telepathic bond that allows them to pick each other up at both ends.
This lineup defends at a top-five rate, but things get tricky on offense. Despite sharing the court for 44 minutes, this is not one of Mike D'Antoni's favorite philosophical choices because of the lack of spacing.
The clogged paint combined with the absence of an aggressive slashing player makes this unit a little one-dimensional, which limits their scoring opportunities. With that said, there is still an opportunity for this quintet to put up points efficiently, provided that Steve Nash emerges once again as a borderline great point guard.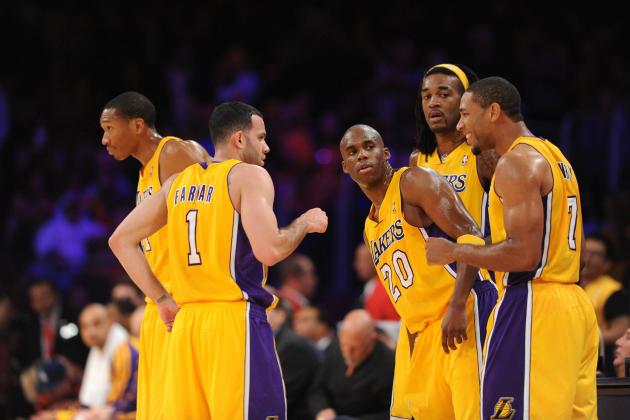 Noah Graham/Getty Images
These five Lakers are better than anticipated.
This grouping initially appears to be a selfish one because of the shoot-first guys that compose it. However, in their 49 minutes together, they have scored 112.8 points per 100 possessions.
The offense produces at a high rate mostly because of the drive-and-kick nature of this lineup. Indeed, Jodie Meeks and Wesley Johnson are willing long-range shooters, while Jordan Farmar and Xavier Henry enjoy beating defenders off the bounce.
Mixed together, they complement each other surprisingly well. Henry is an explosive finisher at the rim and forces defenses to honor his drives. Hence, he will draw attention and kick out to players who will then burn out-of-position defenders for drives or jump shots.
Farmar offers a similar dynamic and consequently, his teammates get high-percentage scoring opportunities. This group is a mess defensively, though, because its athletes do not operate well collectively. Indeed, the players get out of position and surrender scores at one of the worst rates in the league.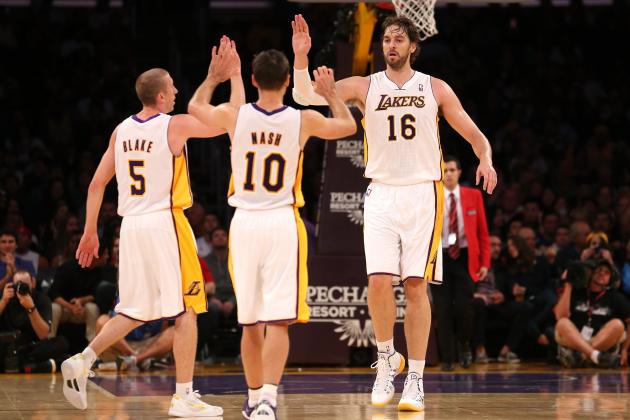 Stephen Dunn/Getty Images
Steve Blake, Steve Nash and Pau Gasol of the L.A. Lakers
This should be one of the best shooting lineups of the Lakers, but that has not been the case so far early in the season. All four perimeter players have range from downtown and, in addition, Steve Nash and Nick Young bring some creativity off the bounce.
In 23 minutes this season, they have only produced 90.1 points per 100 possessions, which is actually inferior to the league-worst Milwaukee Bucks. Still, the trio of Steve Blake, Pau Gasol and Nash provide stellar playmaking, thus it stands to reason the offense will pick up during the course of the season.
Moreover, this quintet has defended at a top-five league rate, although that is probably fool's gold. Nash and Young have not been great on this end and, with added minutes that will probably be reflected in the data.
It's still interesting to observe if their collective synergy will allow them to thrive collectively on defense.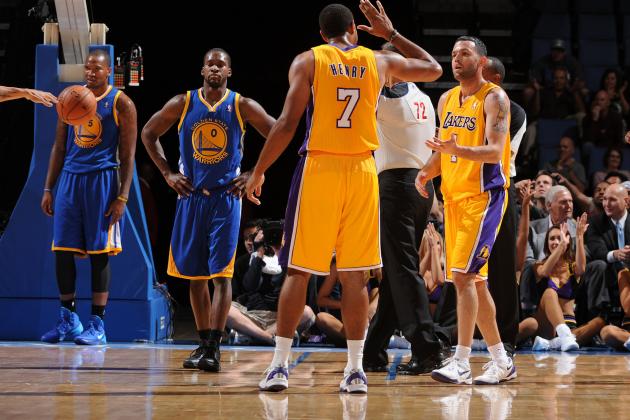 Noah Graham/Getty Images
Xavier Henry and Jordan Farmar of the L.A. Lakers
This group is the best Lakers statistical five-man unit per NBA.com. In their 38 minutes together this season, they have outscored teams by 14.3 points per 100 possessions.
That essentially amounts to a blowout. Its success stems from the fact that they are an almost perfect mixture of slashing, shooting and interior play. Nick Young and Shawne Williams provide floor spacing, while Jordan Farmar and Xavier Henry attack the painted area with aggression.
Furthermore, Williams is perhaps the Lakers' best team defender. Hence, playing him alongside Jordan Hill provides great resistance given that Hill does a respectable job of protecting the basket area.
These five players have functioned well together, but one might worry about using them against big physical front lines. Williams can stay with stretch power forwards, but interior players will give him some fits.
All data used was obtained from NBA.com and is accurate as of December 10, 2013.