What Makes Brian Hartline the Dolphins' Most Reliable Receiver?
December 10, 2013

Brad Penner-USA TODAY Sports
Steady, consistent. Those are the two words that first come to mind when thinking of Dolphins wide receiver Brian Hartline.
His play is defining those words with each week: He has an active streak of five games with at least five receptions. One more would tie him for the most by a Dolphins receiver since 1998, when O.J. McDuffie set a team record with eight straight games of five catches or more.
Hartline signed a contract just over half the value of Mike Wallace, but to this point, he's been the more productive and more valuable player for the offense.
Top receivers, Miami Dolphins
Player
Tgt
Rec
Cth %
Yds
YPR
TD
INT
DP
Tgt rate
Brian Hartline
106
67
63.2
855
12.8
4
4
4
85.2
Mike Wallace
106
58
54.7
762
13.1
3
6
11
63.5
Charles Clay
83
60
72.3
678
11.3
6
1
6
115.4
Brandon Gibson*
43
30
69.8
326
10.9
3
2
3
95.7
Rishard Matthews
45
31
68.9
317
10.2
2
1
0
94.4
Pro Football Focus (* = injured reserve)
He has emerged as much for his ability as for his dependability and, as a result, he leads the team in both receptions and receiving yards. He also has more touchdowns this season than the past three seasons combined (three) and he's on pace for a career high in receptions (previously 74, set in 2012).
Let's go to the tape to get a feel for Hartline's strengths as a player and what has led to his strong campaign in 2013.
Quickness
Hartline ran a 6.65-second three-cone drill at the 2009 NFL Scouting Combine, according to NFLDraftScout.com, so his quickness should come as no surprise.

He has used that quickness to quite literally run circles around defensive backs, as we see here on this 17-yard reception against the New York Jets.

NFL Game Rewind
The Dolphins set up the play-action fake, which was not well-executed by the back, and really had no effect on how wide open the middle of the field was. Hartline on the outside, working against cornerback Dee Milliner in man coverage, took one step forward before planting and breaking slightly inside to get away from the physical Milliner.

NFL Game Rewind
Ryan Tannehill was able to anticipate Hartline's move, starting his throwing motion before the receiver had entered his break. With the rookie cornerback in tow, Hartline broke off the post route, slanting over the middle of the field. 
The subtle move at the line of scrimmage was what allowed him to get open and stay open for the entire play. Hartline probably had any number of options at the top of his route—he might have curled or broke toward the sideline, depending on the coverage—but he was able to get the bigger play on the slant because Milliner was constantly playing catch-up and had already taken the outside. 
NFL Game Rewind
He put his quickness to work again later in the same game on a 31-yard touchdown reception against the Jets' best cornerback, Antonio Cromartie, on a simple slant route over the middle.
Hartline took just one step forward before he broke toward the middle of the field, and by his second step, he had already won inside leverage on Cromartie. The lanky Jets cornerback does not do well against quicker receivers, so it made sense for the Dolphins to attack him with this route.
What didn't make sense, however, was the complete lack of desire by anyone on the Jets defense to tackle Hartline on his way to the end zone. Linebacker Demario Davis and safety Ed Reed both had a shot at him, but Hartline ran right through Davis' arm tackle and Reed took a bad angle as Hartline quickly cut back to the outside.
Hartline doesn't make a ton of yards after catch by juking his way through defenders, but he knows how to use his quickness to get open and that makes him particularly quarterback-friendly, especially on quick throws like the ones above.
Speed
There is nothing "deceptive" about Brian Hartline's speed. With a 4.52 40-yard dash at the combine in 2009 and a 4.49 at his Pro Day, his long speed has long been known.
It's how he uses that speed that can, at times, be considered "deceptive."

NFL Game Rewind
Against the Browns in Week 1, Hartline caught a 34-yard touchdown pass by using a combination of speed and the aforementioned quickness. He lined up on the outside and ran an out-and-up double-move that caught Browns cornerback Buster Skrine off guard.

NFL Game Rewind
Hartline sold the out beautifully, turning his hips to the sideline as if he was committing to running that direction. At the last possible moment, he turned upfield and hit the gas; by that point, Skrine had already committed to the out route, and Hartline scooted past him before tracking the ball downfield and making the over-the-shoulder catch for the touchdown, like a true boundary receiver. 
It's inaccurate to say Hartline is a "deep threat"—he has caught just five passes this year that traveled 20 yards or more through the air, and just 16 dating back to last season—but he knows how and when to use his speed to make big plays. 
Hands
Dolphins pass-catchers have dropped a total of 28 passes this year, but with just four drops this season so far, at a rate of one drop for every 16 catchable passes, Hartline is proving to be one of the more reliable targets on the Dolphins roster. In fact, he's one of the more reliable targets in the league.
According to Pro Football Focus (subscription required), Hartline's rate of a drop on 5.6 percent of catchable balls is the 11th-best in the league among primary receivers (42 that qualify). He was third best of 34 qualifying receivers in drop rate last year.
Hartline may be hauling in only 60.9 percent of the passes thrown in his direction, but as long as he is catching the ones that hit him in the hands, he'll remain one of Tannehill's favorite and most trusted targets.
Footwork
Leaping ability is nice, but it's not the only way a receiver can extend the target radius for his quarterback. Over the years, Hartline has become particularly adept with his footwork and keeping his feet in bounds on difficult receptions.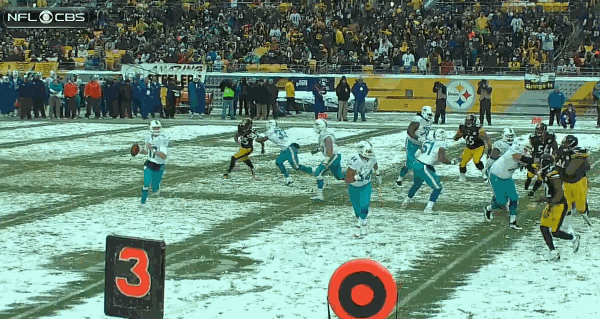 NFL Game Rewind
That skill was on full display against the Steelers, as Hartline channeled his inner Santonio Holmes to make this physics-defying reception. 
Tannehill rolled to his right, with Hartline breaking free against the coverage as he worked his way toward the front pylon. At the last possible moment, Tannehill threw the pass and Hartline reached as far as he could to haul it in.

NFL Game Rewind
What's particularly impressive is how he not only keeps his feet in bounds, but he also extends his arms over his head to make the catch. Hartline couldn't have been any more stretched out if he were on an old-style torture rack.
According to NFL.com, Hartline "had an arm span of 32 inches and a hand span of 10 inches at the combine." That helps explain not only his great hands, as mentioned above, but also his ability to sprawl out and make those tiptoe catches on the sideline. Add that wing span to a 6'2" frame, and you have a player that provides a bigger target than he's given credit for.
It's about time Hartline gets the recognition he deserves for helping Tannehill's growth. Besides, how could you not love someone who loves cats?
Erik Frenz is also a Patriots/AFC East writer for Boston.com. Unless otherwise noted, all quotes obtained firsthand or via team news releases.