The chase was on all afternoon, and none of the drivers could catch the dominant Chase Elliott, who led 233 of the 300 laps of the 46th Snowball Derby at Five Flags Speedway. Yet the effort was not rewarded as he failed post-race inspection and Erik Jones was declared the winner.
Jones never led a lap, but became just the third driver to win the prestigious short track race in back-to-back years, joining an exclusive club that includes just Augie Grill (2007-2008) and Rich Bickle (1998-1999 and 1990-1991).
It's official. Erik Jones is the third driver in #SnowballDerby history to get back 2 back wins pic.twitter.com/9ZRCNftNPN

— Erik Jones (@erik_jones) December 9, 2013
Elliott was the dominant force all week at the Pensacola, Fla. racetrack, winning the pole for both the Snowflake 100 and the Snowball Derby. On Saturday night, Elliott won a record third Snowflake 100. He was the defending champion and won in 2010.
On Sunday in the Snowball Derby, he jumped out to the early lead and led the first 77 laps, led from Laps 106-223 and again from Laps 256-274 when he pitted to change two tires.
It did not take long for Elliott to run down leader Grant Enfinger after his final pit stop with fresh tires, grabbing the lead again at Lap 282 and taking the checkered flag. Enfinger stayed out on the track when most pitted for four tires. Elliot got the jump out of the pits with a two-tire change.
Once Elliot grabbed the lead back, he started to pull away, and the outcome was not really in doubt over the last 18 laps.
While none of his fellow drivers could catch him, head technical inspector Ricky Brooks did. Elliott's car was discovered to have a piece of tungsten in the race car:
#SnowballDerby: Another team alerted officials of Elliott's tungsten. More details from tech: http://t.co/8UafQvPkoD

— Speed51.com (@speed51dotcom) December 9, 2013
According to Speed51.com, the reason officials have a "no tungsten" rule is "because tungsten is considerably more expensive than lead. Tracks, series and events enforce this rule in order to keep costs as low as possible for teams."
The driver with best shot of beating Elliott actually was Donnie Wilson, who started 36th. He worked his way up to the front of the pack quickly where he was sitting fourth at Lap 127. He stayed in contention, moving up as close as second, but was bumped on Lap 283 and he dropped back through the field to 11th. He finished 10th.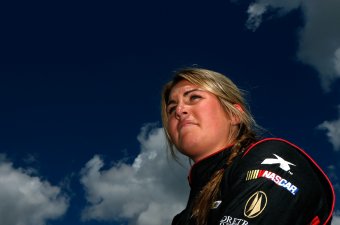 Chris Trotman/Getty Images
Bubba Pollard, who qualified second, had a strong car all afternoon and was running third at Lap 221. During the second competition caution, he broke his left rear axle, which ended his day.
Two-time Snowball Derby champion Augie Grill never got his day started. He stopped on Turn 3 during one of the pace laps with a broken axle.
Local favorite Johanna Long, who won the 2010 Snowball Derby, never threatened this year and checked in 16th.
Official Snowball Derby Finishing Order
1. Erik Jones
2. Grant Enfinger
3. Austin Theriault
4. Hunter Robbins
5. John Hunter Nemechek
6. David Rogers
7. Kyle Benjamin
8. Ross Kenseth
9. Derek Thorn
10. Donnie Wilson
11. Landon Cassill
12. Ben Kennedy
13. Chad Finley
14. Cale Gale
15. Casey Smith
16. Johanna Long
17. Paul Shafer Jr.
18. Jeremy Pate
19. Clay Rogers
20. Daniel Hemric
21. Stephen Nasse
22. Josh Hamner
23. Mason Massey
24. Spencer Davis
25. Anderson Bowen
26. Logan Boyett
27. Zac Hausler
28. David Ragan
29. Mason Mingus
30. Bubba Pollard
31. Preston Peltier
32. Chris Davidson
33. T.J. Reaid
34. Boris Jurkovic
35. Mike Garvey
36. Augie Grill
DQ Chase Elliott
Official order courtesy of Five Flags Speedway.