On Saturday night, Sporting KC defeated Real Salt Lake in the MLS Cup final. After 120 minutes, the teams remained tied at 1-1 and Sporting outlasted RSL 7-6 in 10 rounds of penalties to claim the title.
Sporting KC is one of the class organizations of Major League Soccer. They have a terrific stadium, a terrific fanbase, one of the best coaches in the league and a bevy of top-class players. But, were they lucky to win the title on Saturday night?
Should Aurelien Collin Even Have Been on the Field for His Goal?
On Saturday, with Sporting KC trailing 1-0 in the 76th minute, Sporting center-back Aurelien Collin scored the tying goal, forcing the game into extra time.
Collin was huge for Sporting throughout their playoff run, scoring three goals in their five playoff games. But, should he even have been on the field to score his goal against RSL?
All match long, Collin was engaged in a battle with RSL forward Robbie Findley. Findley's pace caused Collin problems, which Collin handled on multiple occasions by simply taking Findley out.
In the 22nd minute, Collin tackled Findley hard and from behind, but there was no call on the play. The only possible explanation was that center official Hilario Grajeda thought Collin got the ball on the play, but replays clearly showed Collin caught Findley's ankle.
In the 35th minute, Collin fouled Findley again, this time as Findley pushed the ball past Collin. Although Collin wasn't technically the last defender—center-back Matt Besler was half a step behind Collin—Findley would have been in on goal. This time, Collin was called for the foul and cautioned.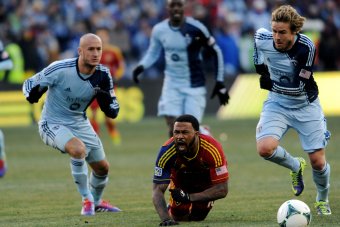 Denny Medley-USA TODAY Sports
Then in the 69th minute, just seven minutes before Collin would score his game-tying goal, he fouled Findley again when he stabbed for the ball as Findley pushed past him in Sporting's defensive third. It was clearly a foul and took away a good opportunity for RSL to open up Sporting's defense. While it wasn't what one what typically call a "professional foul"—meaning it didn't look to be on purpose—it was certainly the type of foul that can draw a caution.
Instead, Grajeda, apparently not wanting his call to have such a large impact on the match, did not issue a second caution to Collin, but simply talked to him as Collin angelically put his hands together begging for mercy. After the game, Findley commented, "I definitely thought it was a second yellow."
One has to respect Grajeda's desire to let the players decide the game on the field, however, the combination of his earlier missed call and his decision not to book Collin on this second foul, left Collin on the field to help decide the game.
In fact, not only did Collin score the game-tying goal, but it was his penalty in the shootout that sealed the victory for Kansas City.
RSL Was Inches Away from Four Other Goals
Jimmy Nielsen, Sporting KC's goalkeeper, was absolutely abysmal on Saturday night. Throughout the match, Nielsen looked terrible, moving slowly and struggling to handle back passes and balls served into his area. It appeared the combination of cold weather and Nielsen's age had turned his blood into molasses (after the game it was revealed he was playing with broken ribs).
OMFG PLEASE SOMEONE MAKE A GIF OF NIELSEN LOOKING LIKE AN 86 YEAR OLD MAN SHOVELING HIS DRIVEWAY #MLSCup

— Matty Jollie (@MattyJollie) December 7, 2013
In the 29th minute, Nielsen punched a service straight into the air, where it fell to Findley who found himself all alone on the back post. Findley somehow missed the empty-netter, putting it off the post and Nielsen collected the rebound.
Then, in the 73rd minute, just moments before Sporting would equalize, a chip by Javier Morales went past Nielsen and somehow went off the post, across the face of the net and out of bounds. It was the second time RSL hit the post with Kyle Beckerman smashing one off the opposite post from distance just 10 minutes earlier in the 62nd minute.
Finally, in the 105th minute of play, RSL striker Alvaro Saborio scored what looked to be his second goal of the game and the potential match-winner, before he was adjudged to be offsides (replays showed he was just behind the last defender when the ball was served).
So, Did Sporting KC Get Lucky?
Regardless of the result, games like the 2013 MLS Cup, full of close calls, brilliant goals and missed chances are what lead fans to love the game as they do. Those moments, whether they benefit or hurt the club one is cheering for, are exactly what make the game exciting.
After the match, despite the bitter loss and controversy involved, even RSL goalkeeper Nick Rimando was full of class, Tweeting his congratulations to Sporting KC.
Worst way to lose, great way to win, congrats to KC. Heads are high but time to drowned our tears in some beers.

— Nick Rimando (@NickRimando) December 8, 2013
One adage that fully applies to games like this is "You make your own luck." While RSL can certainly feel aggrieved about the missed call(s) on Collin, it is part of the game. So is hitting the post. And it's tough to take anything away from Sporting KC, who has been one of the best teams in Major League Soccer for each of the past three seasons. They didn't get to the MLS Cup because they are lucky. They got there because they are full of class—throughout their entire organization.
In the end, while both teams would have been worthy champions, Sporting KC found a way to win—and that's all that matters.
Follow me on Twitter @JohnDHalloran
Follow me on Facebook www.facebook.com/AmericanTouchline