As he trudged off the Adelaide Oval in the opening minutes of the fourth day of the Second Ashes Test, it was hard to shake the feeling that Alastair Cook is a man running on empty.
If the manner of his dismissal—tamely skying a hook shot from a Mitchell Johnson bouncer—wasn't enough evidence, the forlorn figure he cut as he left the field was a reflection of a man that has been to the well on too many occasions.
Indeed, relentless run scoring eventually takes its toll, on both body and mind. The expenditure of energy and emotion in one of world sport's most uncompromising arenas will always reach an inevitable conclusion.
Ricky Ponting discovered as much during the final years of his career, finding out that an engine with a declining fuel source was too much for even the most agile of bodies. The same can be said for Rahul Dravid, too. Even the mighty Sachin Tendulkar fell victim to the curse that plagues far lesser mortals.
Of course, Cook is at a very different point in his story than those men were when the runs departed. At 28, the England captain can perhaps be considered just halfway through his cricketing journey.
Yet Cook's relatively young age covers up the miles his career has covered. The added burden of leading one's side, whilst also opening the innings, only serves to hasten that process.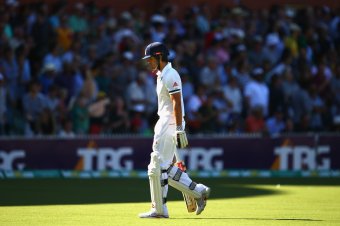 Ryan Pierse/Getty Images
Certainly, Cook's career is well from finished; cricket's most precious commodity—time—still sits handsomely on his side. But it can't be ignored that the England captain is now entering a defining phase of his career.
Until now, Cook's quest has been a steady rise, which culminated in a breathtaking exhibition in Australia in 2010-11. But the prolific left-hander has never faced the adversity he currently finds himself suddenly staring at.
The youngest man in history to reach 7,000 Test runs may have proved his skill to the world, but it's his response to the current predicament that may well prove the strength of his will.
However, determining the origins of his present form—or lack thereof—is somewhat tricky.
It would be easy to suggest that Cook's struggles are simply the result of Australia's recent recapture of hostility among their bowling ranks. The return to form of Mitchell Johnson, combined with the probing and unrelenting methods of Ryan Harris and Peter Siddle, is a concoction that is certainly hindering the England captain. But on closer inspection, the roots of his problems run deeper.
A quick look at Cook's record across all series since the 2010-11 Ashes triumph reveals a steady decline since the visit of Sri Lanka in 2012; the heroics in India representing an outlier, rather than the norm.
Year
Opponent
H/A
Mat
Inns
Runs
HS
Ave
2010-11
Australia
Away
5
7
766
235*
127.66
2011

Sri

Lanka

Home
3
4
390
133
97.50
2011
India
Home
4
6
348
294
58.00
2012
Pakistan
Away
3
6
159
94
26.50
2012

Sri

Lanka

Away
2
4
157
94
52.33
2012
West Indies
Home
3
5
176
79
44.00
2012
South Africa
Home
3
6
195
115
32.50
2012
India
Away
4
8
562
190
80.28
2013
New Zealand
Away
3
5
190
116
38.00
2013
New Zealand
Home
2
4
217
130
54.25
2013
Australia
Home
5
10
277
62
27.70
2013-14
Australia
Away
2*
4*
82
65
20.50
Having reached the pinnacle of the sport, it was only a matter of time before opposing teams deciphered the riddle that has guarded his treasured wicket.
One of the finest exponents of back-foot play the game has seen, opponents are now preying on his reluctance to commit himself forward. The opportunities to cut, pull and hook have dried up, with an incessant barrage of full deliveries now being hurled in Cook's direction.
It was during the infancy of his Test career in Australia in 2006-07 that Cook's susceptibility to balls pitched up outside the off-stump became obvious; his lack of confidence regarding the whereabouts of his off-peg continually bringing about his downfall.
That inherent weakness, despite the glut of runs since, has remained.
The working out of the England captain by opposing teams is most evident in Cook's strike rate. During his famous hammering of 766 runs in Australia in 2010-11, Cook scored at a rate of 53.26 runs per 100 balls.
Eighteen months later at home to South Africa, that figure dropped to 40.28. In seven matches against Australia in 2013, that number stands at 35.76.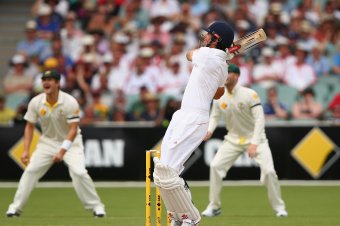 Robert Cianflone/Getty Images
With opposing attacks focussing on a consistently full length, Cook has been dried up, unable to flay the world's bowlers from the comfort and safety that exists inside his own crease.
Already in this Ashes campaign Johnson has uprooted his off-stump, while Harris found his edge in the first innings at the 'Gabba. A review of the previous series against Australia this summer also shows a similar, persistent trend.
Of course, even the very best own small areas of deficiency. Cook is certainly not alone in that sense. Yet, the great ones find a way to compensate, identifying a method that can cover up their lone vulnerability. The England captain has reached the point where he must locate that method, for Johnson, Harris and Siddle aren't about to prepare a hearty serving of deliciously short-pitched offerings for Cook to devour.
Instead, England's leader must summon the strength of mind to overcome the glitch that exists in his game.
Positively, his weakness outside off-stump is perhaps one of cricket's easier difficulties to overcome, with small shifts in one's guard and footwork capable of eradicating the concern.
But the technical issue that pervades his current presence at the crease is just part of his malaise. The physical and mental toll of playing 99 Tests—not to mention countless limited overs matches—in the space of just seven years appears to be weighing heavily upon Cook; leading the side that plays more Tests than all others, in addition to coming in at the top, simply draining his fuel source.
The thirst for runs has declined in the same way as the energy and the fire in his play; an Ashes hammering now looking likely for an almost ambushed captain.
How Cook responds will undoubtedly determine his legacy.