A loss in Cincinnati wasn't a completely unexpected result for the Indianapolis Colts. After all, they were blown out by the St. Louis Rams and Arizona Cardinals in recent weeks, with lackluster performances against the Tennessee Titans mixed in.
The Bengals defense has been one of the league's best this season, while the Colts offense has struggled to move the ball since losing wide receiver Reggie Wayne to injury. It seemed like a disaster-in-the-making for their offense.
Turns out, the offense found a reason to be optimistic in wide receivers Da'Rick Rogers and LaVon Brazill. On the other side, however, the Colts defense was as bad as ever, allowing the Bengals to pick up 430 total yards and 42 points.
On one hand, the offensive optimism is a welcome sign for Colts fans, who have been forced to watch some very ugly football for the last five weeks.
Colts' Offense Before and After Bye

| | | | | |
| --- | --- | --- | --- | --- |
| Time | Avg DVOA | Points/Gm | Turnovers/gm | 3rd Down Conv. |
| Pre-Bye | 15.3% | 26.7 | 0.86 | 42.7% |
| Post-Bye | -12.9% | 19.6 | 1.17 | 35.3% |
Football Outsiders and Pro-Football-Reference
The Colts were able to score 28 points against a very good Bengals defense, something they've struggled to do previously. What changed for Indianapolis?
The emergence of young receivers LaVon Brazill and Da'Rick Rogers. Both receivers were physical, gaining significant yards after contact, combining for nine catches for 160 yards and all four of the Colts' touchdowns.
Not only did the two receivers show significant skills after the catch as well as dependable hands, but they showed some chemistry with Andrew Luck, which has been sorely lacking since Wayne left. With Darrius Heyward-Bey continuing to drop passes (he had another on third down on Sunday), the Colts needed somebody to be a true threat opposite T.Y. Hilton to draw attention away from the explosive second-year receiver.
It helped that moving OL Joe Reitz into the starting lineup at left guard resulted in better pass protection for Luck, but the emergence of Rogers is the much bigger story.
Heyward-Bey is not that threat and hasn't been for weeks. After benching him last week, Rogers saw significant snaps against the Bengals and responded by leading the Colts in receptions (6) and yards (107). Rogers is raw, but he has the size and speed to be a star on the outside. Even if this progress doesn't translate into consistent offensive production this season (Colts still just 2-10 on third down), it's a great sign for the future.
What isn't a good sign for the future is the Colts defense continuing to struggle. The defense has allowed over 30 points per game since the bye, for various reasons.
Colts defense has mostly played uninspired since DEN game despite being relatively healthy. Just listless. Fair to blame coaches there.

— Collin McCollough (@cmccollo) December 8, 2013
One of those reasons is coaching, which has the defense unprepared every week. The Colts have gotten in big holes in five of the last six weeks in part because of poor defensive play. Against the Bengals, the defense allowed an 83-yard touchdown drive on Cincinnati's first possession of the game. Then you have questionable play-calling, like consistent blitzing against the Bengals despite big play after big play.
Another reason for the defensive struggles is the poor run defense, which is inexcusable at this stage of the season. While the offense has faced massive injury losses, the defense has not. The Colts paid top dollar to bring in run-stoppers this offseason, like LB Erik Walden, S LaRon Landry, DL Ricky Jean Francois and NT Aubrayo Franklin. But the Colts still allow over 130 rushing yards per game, fourth-most in the league. Against the Bengals, the Colts allowed running backs to rush for 147 yards on 29 carries, an average of over five yards per carry.
Then you have pass defense, which has struggled to be consistent all season. The secondary has been inconsistent all year, and they have not been helped by the injury to CB Greg Toler, who has missed the last seven games with a groin injury.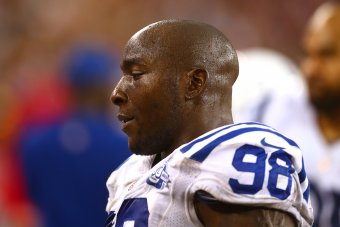 Mark J. Rebilas-USA TODAY Sports
But the real culprit when it comes to pass defense is the lack of pass rush. Robert Mathis is phenomenal, but the Colts have nobody else to rush the passer. When Mathis is shut out, like he was against the Bengals, the opponent has all day to throw. As a result, they're incredibly efficient.
That's the biggest issue for Indianapolis going forward. The Indy offense struggled, but they have potential, both with players currently injured (TE Dwayne Allen, LG Donald Thomas) and players like Rogers, Brazill, Fleener, etc. If they can improve their offensive line going into the playoffs, they should be able to put up points.
The defense, on the other hand, inspires little optimism. The Colts have the players they wanted to run their system and it's still awful. It speaks to poor coaching along with poor talent evaluation, both of which are crucial to the Colts' long-term goals.
Jim Irsay may want a defensive powerhouse so as to not lean on Luck like he did Peyton Manning, but it looks like he may not have a choice.