And just like that, they were gone.
CNN's Aaron Smith reports commercial spots for the 2014 Super Bowl have already been filled. Any companies hoping to snag 30-second segments for the going rate of $4.5 million are now out of luck.
They will instead have to sit back and enjoy watching them play out in February like the rest of us.
With Black Friday and Cyber Monday having just passed, it seems the news is conveniently topical this week. Unfortunately, we don't have video of advertisers clamoring through doors fighting over the remaining spots.
The timing, however, is the most interesting aspect of the report. According to the Fox news release (via Smith), ad space sold out a month and a half earlier than last year.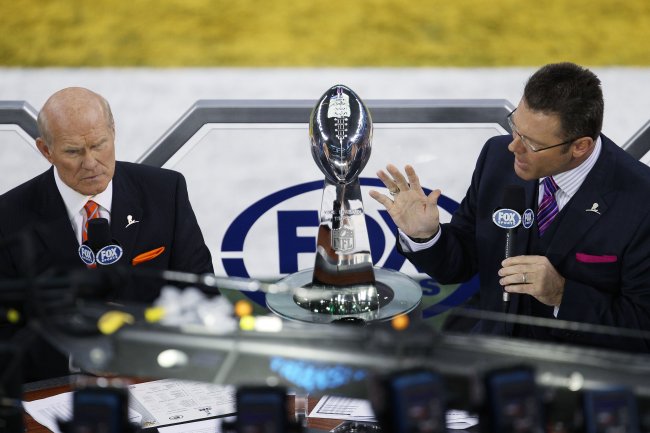 Jonathan Daniel/Getty Images
The grand total comes to 43 advertisers that bought space ranging from 30 seconds to two minutes. To reiterate, the report states the highest mark was $4.5 million per 30-second spot, usurping last year's mark of $4 million for the same amount of time.
All of this is to say, Fox just made a whole lot of money.
While we are waxing obvious, we might as well point out that the NFL is a popular sport. Smith writes:
Brad Adgate, research director for Horizon Media and an expert in media advertising, said the price for the spots is driven by an increase in NFL ratings this season and the fact that Super Bowl has averaged more than 100 million viewers over the past four years.
Key to advertisers any time of the year is getting eyeballs to watch their ads. There is hardly a bigger and more captivated audience than that of Super Bowl denizens who are drinking beer, chowing down on hot dogs and waiting to offer their opinion on the year's cavalcade of commercials.
The New York Times' Stuart Elliott spoke with Fox Sports' executive vice president for sales, Neil Mulcahy, who gave a glimpse of what we can expect in a couple of months.
"Certainly, the autos embraced it. All the car companies are back, and G.M. is back," Mulcahy teased.
Elliott reports we will get more than just car commercials while watching what we assume will be one cold Super Bowl:

Mr. Mulcahy declined to list specific advertisers beyond that, citing the tradition that it is left to the buyers of commercial time to discuss their purchases rather than to the sellers. The other automakers that have said so far that they plan to advertise during Super Bowl XLVIII are Hyundai, Jaguar and Kia.

The advertisers in other categories that have announced they are buying commercials include Anheuser-Busch InBev, Butterfinger, Dannon Oikos yogurt, Doritos, GoDaddy, Intuit, SodaStream and Wonderful pistachios.
While it's shocking that the "sold out" sign is already hanging, Elliott does point out that the network has been hinting that space was extremely limited for months.
The extra push, in Elliott's estimation, is the inclusion of social media into the mix and the coordination that needs to take place behind the scenes.
What has become very apparent is ads pop up earlier and earlier every year. Like hearing Christmas music in October, commercials seem to hit the Internet well ahead of the big game.
When companies pay over $4 million for a relatively short window, you can't blame them for assuring they get as much social-media bang for their buck as possible.
The Super Bowl might not be able to boast a "premiere" stage for commercials, because many ads will have been seen beforehand.
According to the reports, however, that hasn't hurt the game's value to advertisers one bit.
Hit me up on Twitter: