When Stephen Curry and Klay Thompson are on the court, don't make the mistake of counting the Golden State Warriors out.
Not when they've lost five of six, as they'd done to close November. And not when they're down 27 points.
The Toronto Raptors found that out the hard way in a 112-103 loss to the Dubs.
No big deal. Just a 36-point swing in 24 minutes.
Thanks to a 42-15 fourth quarter, the Warriors stormed their way back into the game behind the sharpshooting of the Splash Brothers, posting a 207 offensive rating in the process.
In the 4th quarter, the Warriors' offensive rating was 207. Two Hundred and Seven. Over two points per possession...

— Kevin Draper (@kevinmdraper) December 4, 2013
That's a virtually unheard-of number, especially when a team is struggling to claw its way back into a game after a rough first half. But then again, these are two of the greatest shooting guards (I mean that in the letting-the-ball-fly sense, not the positional sense) of all time we're talking about.
As Andrew Lynch wrote on Hardwood Paroxysm:
The Raptors would literally have been more effective on defense if they'd simply allowed Golden State to make their way to the rim unabated in the fourth quarter. At least that way, they'd only have surrendered two points per possession.
And even that may not have been the most impressive stat of the night:
Maybe the night's most amazing stat: Not a single defensive rebound for the Raptors in the fourth quarter.

— Geoff Lepper (@geofflepper) December 4, 2013
Apparently the Raptors had never heard two of basketball's most important axioms:
Hand down, man down.
Don't leave a shooter.
The results weren't pretty for Toronto, as Curry and Thompson just exploded.
Warriors end game on 64-28 run to erase 27-pt deficit, beat Raptors. BOX SCORE: http://t.co/JZeQjuZTuj pic.twitter.com/PMP4Z5HVlH

— NBA on ESPN (@ESPNNBA) December 4, 2013
During that 64-28 run (also known as the second half), Thompson dropped 15 points and two assists, hitting five triples on just nine attempts (and a missed two-point attempt). And his output paled in comparison to his backcourt mate, as Curry went 6-of-9 from the field, 3-of-5 beyond the arc and 8-of-10 at the stripe en route to 23 points and six dimes after the intermission.
Thompson told the Associated Press via ESPN, "We're shooters. It just happened to be a night where we were all missing at the same time, and then it turned out we were hitting at the same time."
And hit is exactly what they did.
ESPN wrote the following about the comeback in the "Around the Association" portion of its game recap:
Steph Curry [was the MVP]. The world's best shooter lived up to that billing in the fourth quarter, scoring 14 points with three 3-pointers to lead his team to victory. Just as important were his five assists in the same period. Curry was simply sensational down the stretch.
Plus, passes like this aren't even fair (h/t CBS Sports' Matt Moore).
For the mathematically challenged out there, Curry and Thompson combined for 38 points and eight assists in the second half on only 19 shots from the field.
Here's how good the Warriors offense was: the Raptors would've been better off hacking Curry—a 90% FTer–every singe play.

— Kevin Draper (@kevinmdraper) December 4, 2013
If you aren't laughing at this point, you should be.
@fromal09 did the exact same thing. About three seconds after absurd step back over Gay. Took that long to process the silliness.

— Grant Hughes (@g30three) December 4, 2013
Those are silly numbers. They're the ones that you can put up when you play as an All-Star team against the Utah Jazz on NBA 2K14 and then turn the difficulty all the way down. And they might still be tough to produce.
In fact, the Warriors didn't shoot a single mid-range shot like the one below during the fourth quarter. They took eight attempts at the rim and went 8-of-11 beyond the arc.
Needless to stay, Curry left Twitter in a state of shock. Here's a nice little sampling:
Curry shoots one million percent after faking a guy into the stands, according to science.

— Ethan Strauss (@SherwoodStrauss) December 4, 2013
I'm here eating donut holes, drinking milk, and watching Steph Curry shoot flames. This is how life should be.

— Ian Dougherty (@_IanDougherty) December 4, 2013
I want my own Steph Curry for Christmas.

— Tyler Lashbrook (@lashy) December 4, 2013
Curry.

— Marcus Thompson (@ThompsonScribe) December 4, 2013
I <3 Steph Curry. #RTZ

— Christopher Walder (@WalderSports) December 4, 2013
That last tweet? It's from a Toronto fan.
The rest of the Western Conference needs to look out. Even though it's tough to draw too many overarching conclusions based on one half against a mediocre team in the weak Eastern Conference, that's exactly what we're going to do.
It's hard enough to produce a 64-28 run at any point during an NBA season, much less while fighting back into a game. And it's the mark of a resilient team to do so, especially while trying to escape a bit of a funk and still missing Andre Iguodala as he recovers from his hamstring injury.
Everyone in the West can't afford to do what the Raptors did. They can't write off the Warriors just because they opened with a relatively slow start.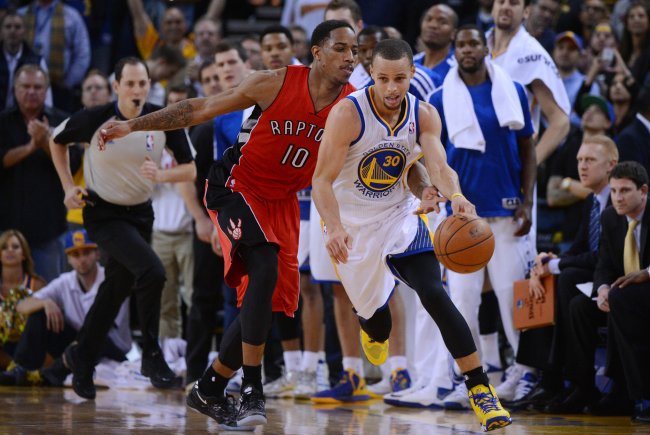 Kyle Terada-USA TODAY Sports
If the playoffs started right after the comeback victory, Golden State would have the No. 8 seed. With an 11-8 record, they haven't earned anything more, and they still trail the
Portland Trail Blazers
,
San Antonio Spurs
,
Oklahoma City Thunder
,
Los Angeles Clippers
,
Houston Rockets
,
Denver Nuggets
and
Dallas Mavericks
.
This is a team that was mired in plenty of uncertainty just a few days ago.
Warriors are doing that 4th quarter thing where they slow the tempo and chuck bad contested 2s.

— Ethan Strauss (@SherwoodStrauss) November 30, 2013
Well, so much for that. The Dubs suddenly turned everything around, and that could be all the impetus needed to make a change on a larger scale. The upper echelon of the West isn't too far away, after all.
For all the brilliance of the backcourt's shooting display, it also overshadowed the defensive development of this team. It's easy to get caught up in the gaudy offensive numbers, but don't overlook the fact that Golden State held Toronto to 38 second-half points. That's only two more than DeMar DeRozan, Rudy Gay et al. scored in the first quarter.
When the going got tough, the tough buckled down and stopped allowing easy points. And in this case, "the tough" would be the Warriors.
Again, this was without Iguodala.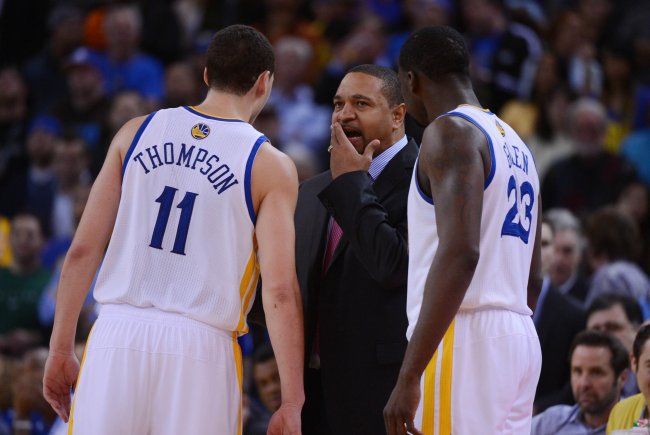 Kyle Terada-USA TODAY Sports
While the swingman was in the lineup, Mark Jackson had steered this team into the upper echelon of defensive squads. Without him, they've struggled to stop points as effectively but have shown flashes of elite potential.
There were more than just flashes in the comeback victory.
Going into Tuesday night's game, the Warriors ranked No. 12 in offensive rating (105.6 points per 100 possessions) and No. 7 in defensive rating (102.2), according to Basketball-Reference.com. Those numbers shouldn't change much based on the result against Toronto, and it reflects just how elite this team can be.
Are the Warriors capable of winning a title?
It's possible to win games at a high level with a top-notch offense. It's also possible to do so with one of the league's best defenses.
Well, when you have both, it's almost embarrassing not to win games at a high level. And the Dubs have both.
They showed exactly that during the seventh-largest comeback in NBA history (per ESPN). Now just imagine if they don't have to wipe away a 27-point deficit and get to start with a tabula rasa.