Analyzing the Transformation of Per Mertesacker's Arsenal Career
Use your ← → (arrow) keys to browse more stories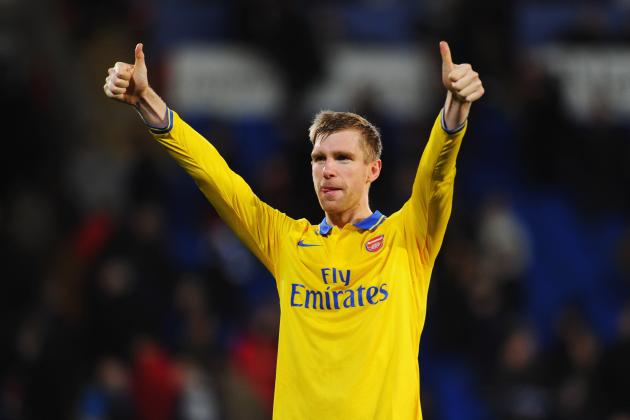 Mike Hewitt/Getty Images

Amid Arsenal's thumping start to the season, there are many characters within the squad who have performed remarkable turnarounds. Naturally, Aaron Ramsey will take the headlines—and rightly so, given how influential he has been to the Gunners this season.
One man who can also place himself in that category is the now-influential Per Mertesacker. The German international has now gone full circle in his Arsenal career, and the club are reportedly ready to reward him with a new contract, per Jeremy Wilson of the Telegraph:
Arsenal have already opened negotiations with Mertesacker about his future and, having formed an increasingly impressive centre-back partnership with Laurent Koscielny, [he] is keen to stay at the club well into his 30s.
After joining the club in August 2011, Mertesacker has gone from the scapegoat of the Gunners side to one of its most consistent and key performers. In his earliest days at the club, Mertesacker was routinely criticized for a variety of reasons, most notably his lack of pace, leading many to say he would never cut it in the Premier League.
Whilst he is clearly not blessed with blistering acceleration, his naysayers overlooked a key trait that foreign players need when adapting to the Premier League—time. It is difficult for players to simply jump across the continent and play in a league where the football is played at a completely different pace—especially for a central defender.
Mertesacker has done his time and has now utilized his skills and abilities to turn him into one of the most revered defenders in the league. Despite his lack of pace, his reading of the game is second to none. He cleans up at the back on a frequent basis and is an incredibly intelligent footballer. The fact that he is a regular of the German national side would back up that point pretty convincingly, too.
Mertesacker has also integrated himself into the Arsenal system by being an excellent passer of a football. A season average of 90 percent passing accuracy puts him up there with the very best players in the division, and his record at Cardiff yesterday was absolutely outstanding—54 passes completed from an attempted 56 is a statistic that represents a huge transformation in the German's fortunes with Arsenal.
Per Mertesacker & Laurent Koscielny were in fine form for Arsenal on the ball today. pic.twitter.com/qCHb86aDSK

— Squawka Football (@Squawka) November 30, 2013
And whilst he has no doubt adapted to the pace and style of the English game, Mertesacker has also been blessed with the people at the club who have invested in his development. The towering German cites Wenger's consistent faith in him as a big reason for his development into one of the Premier League's best defenders, again per Wilson:
The manager always trusted me. I went through a lot of mistakes maybe at the beginning but he always said, 'you will go through that because you are intelligent and a good player'.
As well as Wenger, there is also another key figure in Mertesacker's transformation. When Pat Rice was replaced by Steve Bould as the Gunners' assistant manager at the start of last season, many found the decision puzzling. However, Bould was a similar defender to Mertesacker in many ways—tough, uncompromising and with the same key weakness as Mertesacker, a lack of pace.
The presence of Bould on the training ground every day has no doubt played a key role in Per Mertesacker becoming one of Arsenal's most influential players. His pairing with Koscielny has become the best in the division without doubt—being part of a settled back four is also another trait that leads to better defending.
Arsenal are unbeaten in each of the last 24 league games in which both Per Mertesacker and Laurent Koscielny have completed the 90 minutes

— Josh James (@JoshJJames78) November 30, 2013
If Arsenal do go on to lift the Premier League at the end of this season, the likes of Aaron Ramsey, Mesut Ozil and Santi Cazorla will be at the forethought of most people's minds as the key indicators of the success—and perhaps rightly so. Don't forget the transformation of Mertesacker, though, who has gone from routine scapegoat to outright cult hero.