The Green Bay Packers defense hit rock bottom in Thursday's 40-10 loss to the Detroit Lions. By giving up 561 yards of total offense to the Lions, the Packers simply couldn't do anything right on the defensive side of the football in this game.
After the game, there is only one question that needs to be answered: Should the Packers consider replacing defensive coordinator Dom Capers?
While that may seem like a ridiculous question with only four games remaining in the season, it's one that the front office in Green Bay needs to start considering immediately. The reason for this is because the correct answer to the question is that Capers needs to go right now. There is no profit in having Capers coach the defense in Week 14.
Let's take a look at why the Packers need to move on from Capers and who could potentially replace him.
What Twitter Says
While Twitter obviously isn't the final say for anything, it's quite telling when so many analysts and experts have the same opinion concerning Capers.
Mike Tunison of Kissing Suzy Kobler joked about the Packers wanting to send Capers home early for Thanksgiving:
Packers beg Dom Capers to go home and eat dinner at halftime.

— Mike Tunison (@xmasape) November 28, 2013
Bleacher Report's Detroit Lions Featured Columnist Jeff Risdon realized that Capers has worn out his welcome in Green Bay:
How do you not cover Calvin Johnson on 3rd & 10? It's time for Dom Capers to move along #GBvsDET

— Jeff Risdon (@JeffRisdon) November 28, 2013
If you thought that only football writers realized how bad Capers have been this year, look at what MLB.com writer Adam McCalvy had to say:
Good luck to Dom Capers and Matt Flynn in their future endeavors.

— Adam McCalvy (@AdamMcCalvy) November 28, 2013
Finally, Tom Pelissero of USA Today pointed out that even when Capers throws everything he has at an offense, he still can't come up with a stop:
Dom Capers threw everything he had at Matthew Stafford that drive. No matter. Calvin runs over Burnett for a 20-yard TD. #Lions up 24-10.

— Tom Pelissero (@TomPelissero) November 28, 2013
Generally, when so many fans and members of the media all agree on the same thing, they are onto something. In this case, they are completely correct that Capers is no longer an effective defensive coordinator and that it's time for him to go.
What the Statistics Say
Heading into Thursday's game, the Packers were giving up an average of 24.1 points per game and 359.6 total yards per game. Both of those numbers will obviously rise quite a bit after this week's loss.
And that's the real issue with the defense for the Packers this year: It seems that with each week that passes, the defense looks worse and worse.
For example, it wasn't too long ago that Green Bay had one of the best run defenses in the league. However, the Packers' ranking has dropped each of the past five weeks. They were giving up 115.5 rushing yards a game before giving up a whopping 241 rushing yards to Detroit, so their ranking should drop again heading into Week 14.
The Packers total defense has also been on a steady decline the second half of the season. Just take a look at where Pro Football Focus (subscription required) has this defense graded in the chart below:
Packers' Defensive Rankings Per Pro Football Focus

| | | |
| --- | --- | --- |
| Category | Grade | NFL Rank |
| Run Defense | -13.0 | 24th |
| Pass Rush | -16.9 | 28th |
| Pass Coverage | -29.9 | 26th |
| Overall Defense | -44.9 | 25th |
Via Pro Football Focus
Simply put, the Packers don't have a positive grade in any aspect of their overall defense. There are only six other NFL defenses in the league who also don't have any positive grades on the defensive side of the ball.
After Thursday's game, all those numbers from Pro Football Focus will continue to plummet towards the bottom of the league. Whichever way you slice the statistics, the results are all the same: Capers needs to go.
Potential Candidates to Replace Capers
This all depends on when the Packers decide to fire Capers. Obviously, if they wait until the end of the season, they would have more options to go after.
If they were to replace Capers now, which is the correct decision considering how poorly the defense has been playing, the Packers would likely need to look in-house for a replacement.
The best in-house candidate would probably be linebackers coach Kevin Greene. This is due to the fact that Greene's linebackers have been the most consistent unit for Green Bay this year.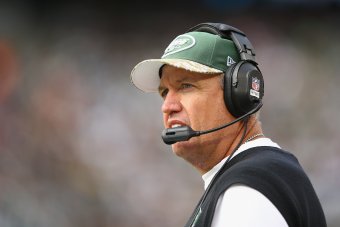 Al Bello/Getty Images
If the Packers waited until the end of the season, there are a few names that would get Packers fans excited for the future. Bob Diaco, the defensive coordinator for the Notre Dame Fighting Irish, is a talented and young coach. So is Derek Mason from Stanford.
Both of these college coaches have a great understanding of defensive schemes and know how to handle talent. While it may take them some time to get used to the NFL game, there is no doubt that they'd be successful in this league.
Another interesting option, and one that would be difficult to get, would be Rex Ryan. Sure, Ryan is currently the head coach of the New York Jets, but there is a definite possibility that he won't make it past this season.
Ryan is one of the premier defensive minds in the league, and bringing him to Green Bay would guarantee instant success for the Packers defense in the 2014 season.
Conclusion
Should the Packers replace Dom Capers?
While it's impossible for anyone outside of the Packers front office to know what is going to happen to Capers this season or in the offseason, it is absolutely clear that he needs to go sooner rather than later.
The fans know it, the media knows it and the statistics clearly point to the fact that Capers has worn out his welcome in Green Bay. With the defense getting worse with each game that passes, it's hard to imagine where this team will be if Capers sticks around until Week 17.
However, if Capers is replaced, which needs to happen, it could give the Packers defense the change that they need to salvage the 2013 season and make a late run towards the playoffs.