Way-Too-Early 2014 NASCAR Sprint Cup Title Odds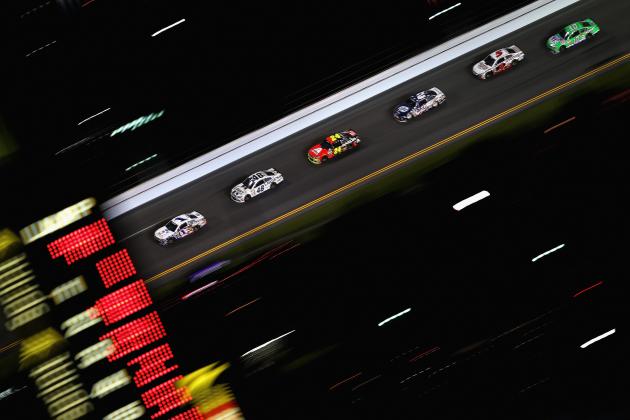 Mike Ehrmann/Getty Images
What drivers have an early line on taking the 2013 NASCAR Sprint Cup title?
The 2013 NASCAR Sprint Cup Series season wrapped up just days ago, but you better believe every team is already preparing for 2014. It wouldn't be a shock if the Chad Knaus, the crew chief on Jimmie Johnson's six-championships, made a beeline back from television and media appearances to commemorate the newest title in a bid to get a jump on 2014 preparations.
In the betting world, oddsmaker William Hill has already published championship odds for NASCAR's 2014 season—originally published by Sporting News. Find out who is ahead of the curve, and in line for another title come 2014, according to those who make a living predicting this sort of thing.
Begin Slideshow

»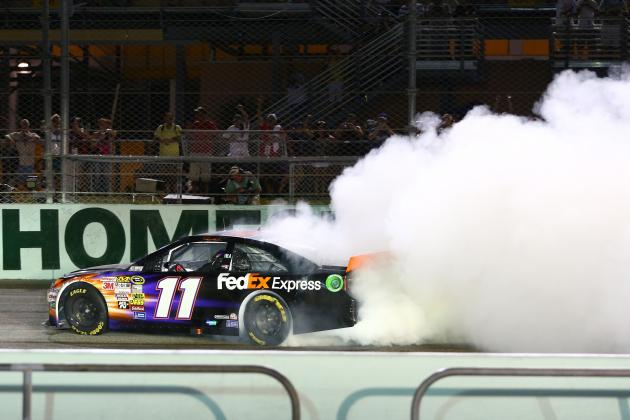 Mark J. Rebilas-USA TODAY Sports
Denny Hamlin might score a few more of these in 2014.
Odds: 15-1
Denny Hamlin was NASCAR's Mr. Experiment to finish the 2013 season, a year that he had marred by an early-season back injury. With Hamlin delineated beyond the Chase, Joe Gibbs Racing made his No. 11 a rolling science project. Often, that meant Hamlin's car was just horrible.
However, Hamlin was a consensus pick to vie for the 2013 title before his injury. The strength of JGR beyond Hamlin in 2013 indicates he might not have a tall-road to climb in order to return to his desperately-sought competitive ways.
He may just be undervalued as a title favorite going in to 2013.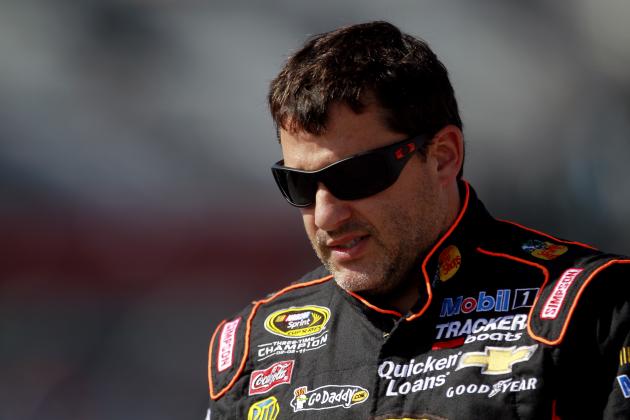 Sean Gardner/Getty Images
Tony Stewart hopes to have a seamless 2014 return.
Odds: 15-1
These odds may wind up being too high for Tony Stewart, or wildly too low. It's hard to guess how well Smoke will return from his substantial leg injury that will keep him sidelined until at least right before February's Daytona 500.
He's certainly got the noted ability to perform at his best when the odds are most against him, but Stewart will be trying to regain pace and confidence after one of the longest breaks from a race car in his career.
And don't lose sight of the fourth addition to the Stewart-Haas Racing team. Danica Patrick's arrival in 2013 played havoc on early season car development—the team appeared stretched too thin—and the addition of Kurt Busch to SHR could cause similar results, negatively impacting Stewart.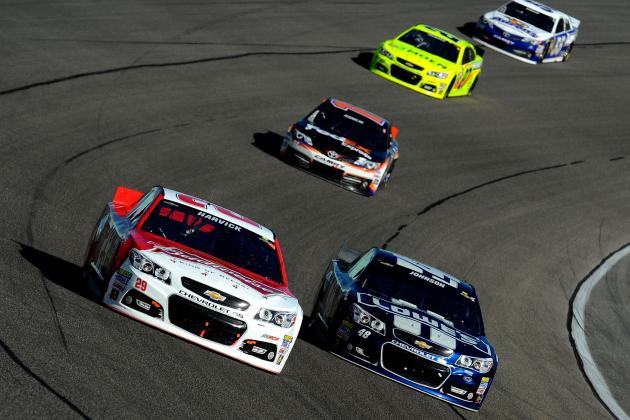 Jared C. Tilton/Getty Images
Running at the front would ease the transition in 2014 for Kevin Harvick.
Odds: 15-1
Kevin Harvick had a banner year in his final go with Richard Childress Racing, but it remains a wonder if the combination he'll launch with at Daytona can duplicate or improve on that success.
Harvick will have to look for inspiration in the shift from Matt Kenseth, who so artfully made the jump to Roush-Fenway Racing and tallied seven wins in his first year. There's just one big difference: Kenseth's new team, Joe Gibbs Racing, didn't have to grow and he had been previously used to the team's size and needs as a three-car operation.
On the other hand, in the span of two seasons Stewart-Hass Racing has jumped from two to four full-time Cup cars. Can they handle that and make cars perform early in the year? We'll have to wait and see.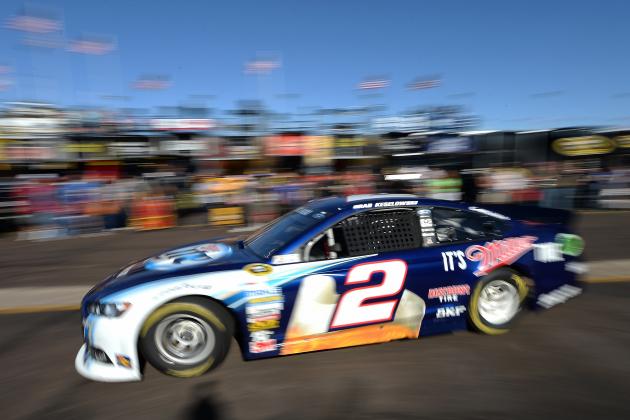 Harry How/Getty Images
Brad Keselowski grew more comfortable in his Ford as the season moved along.
Odds: 15-1
The Penske Racing driver became the first defending champion in the 10-season history of the Chase for the Sprint Cup to not qualify in the following season, but that doesn't mean you should be down on Brad Keselowski for 2014.
Keselowski finally broke into Victory Lane at Charlotte in October, and signs at the close of his season pointed toward a return to top-flight competition in 2014. It didn't hurt, either, that teammate Joey Logano was a Chase participant this year. Simply, the Penske Fords aren't too far off.
Keselowski won't be a favorite for the title—the odds make that clear—but he figures to improve a 14.9 average finish from 2013.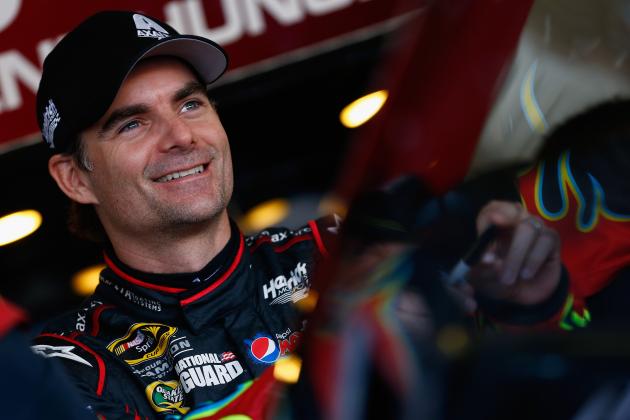 Tom Pennington/Getty Images
Jeff Gordon wants No. 5 in 2014.
Odds: 10-1
Jeff Gordon, thanks to the generosity of NASCAR CEO Brian France, actually climbed his way into the championship discussion with three races remaining in the 2013 Chase. It all fell apart when Gordon's tire fell apart, and he smacked the wall in the early laps at Texas.
But Gordon did score a win in the 2013 Chase and ultimately showed heavy improvement in the back half of the recently wrapped-up campaign. Will that be enough to launch him into a successful 2014?
Well, it depends on your definition successful. Gordon figures to be a contender for the Chase, but he's never showed the week-to-week speed that matches teammate Jimmie Johnson. It's hard to see why that could change in 2014.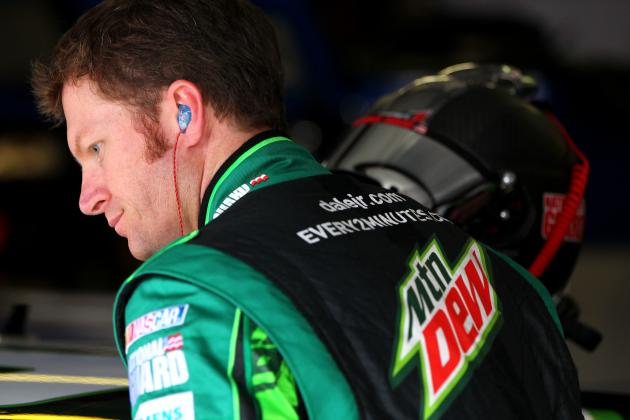 Jonathan Ferrey/Getty Images
Dale Earnhardt Jr. is coming off one his best seasons to date.
Odds: 7-1
Where will Dale Earnhardt Jr. wind up in 2014, a year removed from one of his best seasons ever in Sprint Cup? Well, his odds say pretty close to the top.
That's not much of a surprise given that Earnhardt and crew chief Steve Letarte finally have the No. 88 team performing at least on the same page as his shop teammate Jimmie Johnson. To back that up, Earnhardt recorded a career-high 22 top-10 finishes in 2013.
Earnhardt will have to win more than one or two races in 2014 to be in the Chase running, but after his 2013, it's hard to see how that wouldn't happen.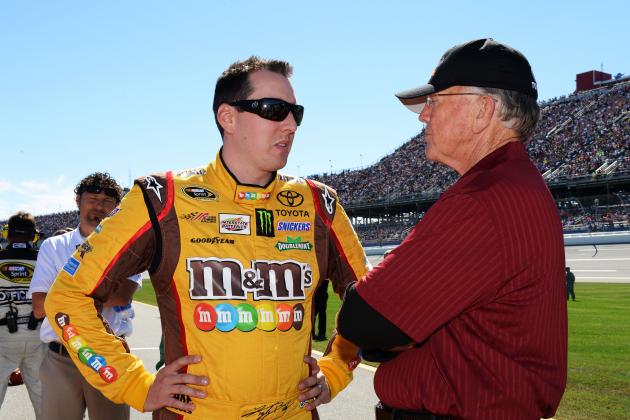 John Harrelson/Getty Images
Kyle Busch is seeking his first Sprint Cup title.
Odds: 13-2
Kyle Busch remains a tantalizing pick for the 2014 Sprint Cup title.
We know how fast he can be, we know how he can win races and in 2013 we know how he went a long way in proving an improved mental maturity on track when the pressure of the Chase reached its highest levels. Busch ultimately had one key stumbling block—the tricky race track at Kansas Speedway—but otherwise was strong.
Busch is a driver getting better with age, and at some point he will break through. Could 2014 be the year?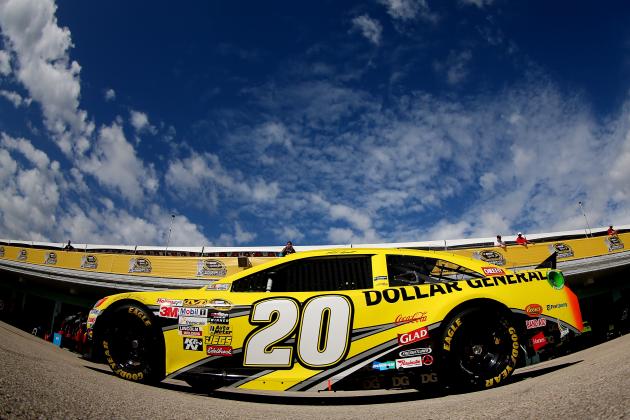 Mike Ehrmann/Getty Images
Matt Kenseth gave Jimmie Johnson his toughest challenge in 2013.
Odds: 11-1
Matt Kenseth taught us all some big lessons in 2013. Namely: don't undervalue his talent behind the steering wheel, and do realize how well he could mesh with a new (and fast!) team.
Kenseth proved to be Johnson's staunchest competition through the entire season, even scoring seven race-wins to Johnson's six. Without a miserable outing at Phoenix in the season's second-to-last season, Kenseth would have been right there in Homestead battling Johnson for the title.
Those results seem to make it a given that Kenseth will track along the same path in 2014. It might be even better, too, with a whole year of experience at Joe Gibbs Racing under his belt.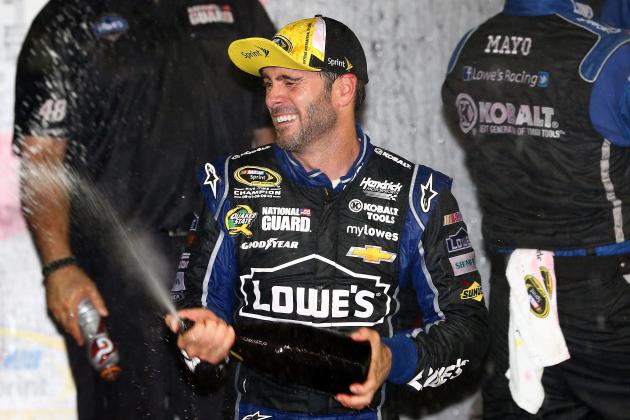 Tom Pennington/Getty Images
Jimmie Johnson has the inside line to the 2014 title.
Odds: 3-1
It's frankly surprising that Jimmie Johnson, now a six-time NASCAR Sprint Cup champion, doesn't have better odds than 3-1. At what point does a betting house just go with what can be presumed—another Johnson championship in 2014—and make it a 1-1 bet?
There's little evidence that Johnson is going to take a step back in 2014. He has no discernible crew changes to face, no massive shifts in the current car planned (at least for now) and he just wrapped a season where no less than four race wins were left on the table via mistakes.
Sure, something unforeseen and unlucky can happen in the 2014 Chase. But don't forget, since 2005 that's happened a total of twice. Six other times Johnson has rolled to the title.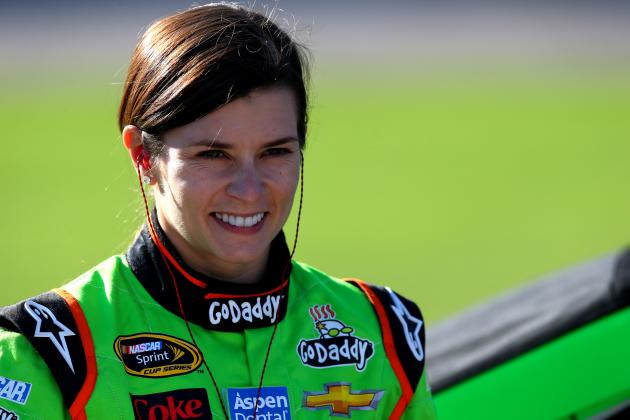 Ronald Martinez/Getty Images
Early odds aren't high on Danica Patrick.
More odds for the 2014 title:
20-1 Clint Bowyer
20-1 Joey Logano
30-1 Martin Truex Jr.
30-1 Kurt Busch
40-1 Greg Biffle
40-1 Ryan Newman
50-1 Jamie McMurray
75-1 Aric Almirola
75-1 Ricky Stenhouse Jr.
75-1 Paul Menard
75-1 Auston Dillon
100-1 Marcos Ambrose
100-1 Brian Vickers
150-1 Kyle Larson
150-1 AJ Allmendinger
250-1 Danica Patrick
75-1 Field