Steve Nash is in a lot of pain. So much pain that he's been forced to consider retiring from the NBA.
According to Peter Vecsey, formerly of the New York Post, Nash is contemplating whether or not to call it a career:
I'm hearing Nash's pain is forcing him 2 seriously consider calling it a career. He'd still get $ this yr & next & LA'd get cap relief next

— Peter Vecsey (@PeterVecsey1) November 19, 2013
Ramona Shelburne of ESPN Los Angeles, however, says that Nash is working diligently with his trainer and is "absolutely trying" to come back:
DAntoni said Nash is working with his Canadian trainer again and is absolutely trying to come back

— Ramona Shelburne (@ramonashelburne) November 19, 2013
Mark Medina of the Los Angeles Daily News spoke to a source who also debunked the notion that Nash would retire.
Source close to Steve Nash & familiar with his thinking said it's "premature" about whether he will retire

— Mark Medina (@MarkG_Medina) November 19, 2013
Nerve damage in his back has limited the point guard to just six games this season. The pain became so severe that he sat out the second half of a loss to the Minnesota Timberwolves. That was the last time he played.
Afterward, an emotional Nash expressed frustration over his current health situation, per the Los Angeles Times' Melissa Rohlin:
I hesitate to even talk about it now because it's probably not a good time, I'm feeling a little emotional, but it's hard. I really want to play and I really want to play the way I'm accustomed to playing, and to be so limited is frustrating. And also to not know where a clean-ish bill of health is is a little daunting too.

...

I'm trying to play through it, but at the same time be smart and overcome what I can. But it's taken a bit of a turn for the worse, and I'm just going to see the [doctor] tomorrow and see what he advises.
Before joining the Los Angeles Lakers, Nash was the standard for durability. He had missed more than 10 games just three times in 16 seasons and had never been absent for more than 26. But in his only season with the Lakers, he missed a career-high 32 contests.
Still searching for his first championship, you have to imagine the two-time MVP must be in unbearable pain for him to consider walking away. Pushing 40, retirement must have been in the back of his mind—just not like this.
Previously, he indicated that he planned to finish out his current contract, and that retirement wasn't an imminent option.
"No," he told CBS Sports' Ken Berger. "I'm not there yet. No."
Lakers head coach Mike D'Antoni has also been operating under the assumption that Nash isn't going anywhere. He wouldn't even entertain the idea of Nash hanging his kicks up early.
D'Antoni on Nash: "He's going to try and do everything he can to come back. Whether he can get over this, we'll see. We think he can."

— Ramona Shelburne (@ramonashelburne) November 19, 2013
"There's always going to be a debate but we're not going to debate it, talk about it," he said, via the Times' Mike Bresnahan.
Magic Mike, Nash and the Lakers may not have a choice. The ageless point guard once tasked with leading the Lakers toward a 17th title is already a shadow of his former self. Next , he could find this current , mangled version of himself removed from the game entirely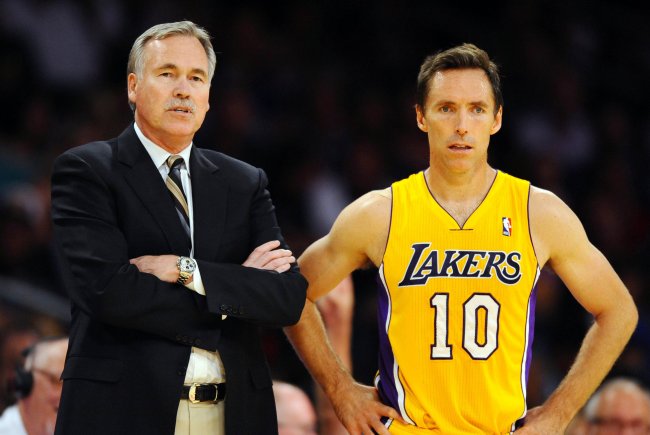 Christopher Hanewinckel-USA TODA
If injuries force Nash to retire, he would still receive the roughly $19 million owed to him through next season. Difference is, the Lakers would receive cap relief heading into 2014-15. Without his $9.7 million salary counting against their already barren ledger, they would have even more money to spend on free agents this coming summer.
Do you think Steve Nash should retire?
But this isn't only about money. It's about Nash. About his career potentially hanging in the balance.
"I've known him forever," said D'Antoni, who coached Nash with the Phoenix Suns, via Rohlin. "When he looks like that, I know he's trying to battle through something."
For almost two decades, Nash has successfully fought back. This time, he may be unable to keep fighting.