Jimmie Johnson joined the ranks of NASCAR's legendary names such as Dale Earnhardt and Richard Petty on Sunday by capturing his sixth Sprint Cup championship.
Johnson finished ninth at Homestead-Miami Speedway, but 19 points ahead of Matt Kenseth in the 2013 Chase for the Sprint Cup standings.
Jeff Gluck of USA Today captured the special moment:
Jimmie holds the trophy up as the fireworks go off (center of pic). #nascar pic.twitter.com/0YQUt81Rfz

— Jeff Gluck (@jeff_gluck) November 17, 2013
As SportsCenter details, Johnson is just the third driver in history to win six or more titles:
BREAKING: Jimmie Johnson clinches 6th Cup Series Championship, 3rd to win 6 or more NSCS titles, joining Dale Earnhardt & Richard Petty.

— SportsCenter (@SportsCenter) November 17, 2013
Johnson was adamant after the race he did not want to be compared to greats such as Earnhardt and Petty, per Fox Sports:
.@JimmieJohnson says people should wait until he hangs up the helmet before comparing him to Dale Sr. & Richard Petty. #NASCAR

— FOX SPORTS: NASCAR (@NASCARONFOX) November 17, 2013
At least not yet.
Johnson's gritty performance at Homestead-Miami Speedway goes down as a great feather in his cap. Kenseth finished seven spots in front of Johnson after starting from the pole position. Denny Hamlin finished first, but it was Johnson who stole the show.
Damage to his left front fender after evasive maneuvers dropped Johnson to No. 23—the minimum finishing spot he needed to secure the championship if Kenseth would have won the race.
Johnson fought back in a big way to eliminate any doubt about title No. 6, though.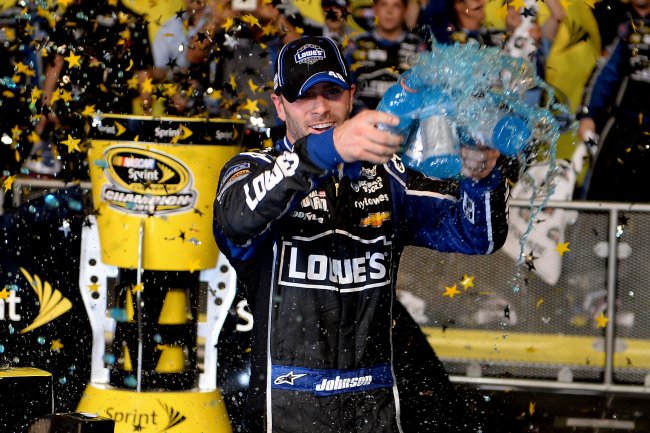 Robert Laberge/Getty Images
Is Jimmie Johnson the best ever?
His reign of dominance is well documented. Allied with crew chief Chad Knaus, Johnson won his first title in 2006 and made it five in a row for good measure—a feat no one has matched.
This year, all Johnson did before winning his sixth title was win six races and record 23 top-10 finishes. He has now won the title six times in eight seasons.
Does the sixth make Johnson the best ever? Probably not—Earnhardt and Petty still have one more than the modern dominant force.
Is the all-time record out of reach? Absolutely not. This achievement is notable, but it's hard to imagine he's close to being done.