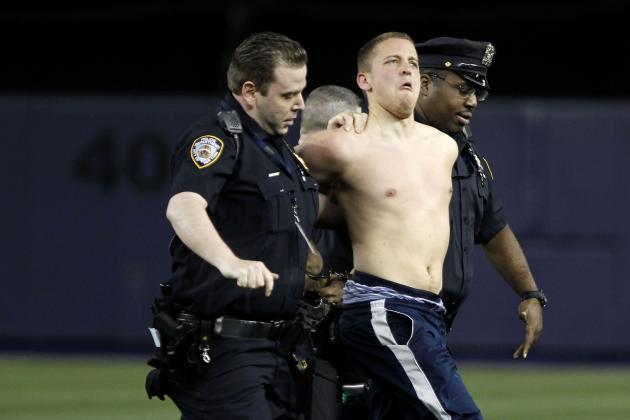 The Star-Ledger-USA TODAY Sports

While I've pointed out a few times when fans have clearly had too much to drink and rushed the field—only to get leveled by cops or a player—when spectators actually attack, things go from funny to scary.
Most of us remember that incident in Chicago about 10 years ago when a Royals coach got taken out by a father and son, but some of these other ones might not be as fresh in your memory.
So here are a few more times when fans went way too far in their support for a team and forgot one underlying rule—it's only a game.
Begin Slideshow

»
Sure, it's typically no fans intention to hurt an athlete, but when it happens, it technically counts as attacking, right?
Since I'm compiling this article, I certainly say it does—as humiliating as it might be for Olympic champion Ryan Lochte, who got taken out by a teenage girl.
Sometimes, that just comes with the territory, I suppose.
This one might actually be the athlete attacking the fan, but in this case, I think it was warranted, considering cyclist Alberto Contador had no idea what the oddly dressed guy was doing.
It's Contador's job to try and win the race, not worry about what some loony might be thinking while running beside him.
I probably would have done the same thing.
There have been plenty of famous streakers in the world of sports—ones who are much better than this guy at doing it—and we'll continue to see fans strip down to their skivvies as a way to divert attention away from the game.
Although the dude in this video didn't actually make his way onto the field, he did receive what he was going for—attention and the chance to distract the players.
Fans always seem to feel safe behind extra security, such as using a computer screen to bash an athlete or hiding behind a piece of glass to taunt during a game.
Never does it occur to them that, for some odd reason, should the protection let them down, they're left face-to-face with an athlete who, thanks to the heckling, is pretty pissed off.
If that ever happens, good luck winning that battle.
As a Cleveland fan, I'll admit that I hated LeBron James for the way he left the Cavs back in 2010, but I can't necessarily fault him for his decision to take his talents to South Beach.
Maybe I'm just being soft because I clearly wasn't as crazed as these fans who decided that burning James' Cavs jersey would be the best way to show what they truly thought of Bron Bron.
Seeing that jerseys go for about $75, it seems it was the fans who actually got burned here.
How dare a fan actually spear a mascot—let alone one that won the Canadian Mascot of the Year Award.
In all honesty, if you're someone who would attack your team's mascot over a game of musical chairs in between periods at a hockey game, you're probably the same type of person who typically got in trouble during middle school for being a huge prick to other kids.
Seriously, what kind of anger issues does this bro have?
This one might not be a physical attack on a player, but it probably hurts more than a pro athlete would want to admit—or, in some cases, isn't shy to rant about, like then Chiefs lineman Eric Winston did in support of his former quarterback.
I'll admit I have a problem being too competitive, but that's only against myself, not in things I have no control over.
Booing a guy when he's on the turf is absolutely an uncool move.
There are plenty of instances when fans can blame the ref for blowing a call and boo him, but it gets real when someone actually rushes the field and tries to take them out.
Thankfully this instance ended with the crazy dude being wrapped up by security before flailing his vuvuzela at the ref's head, otherwise it could have been really ugly.
There's a saying that goes, "Sticks and bones may break my bones, but words will never hurt me."
Well that holds true for anything flung from the stands at players, coaches and officials because being hit by something thrown by a fan can't feel too great.
There have been a number of times fans let their emotions get out of control enough to toss crap onto the field, one of which actually resulted in the last MLB game to be forfeited.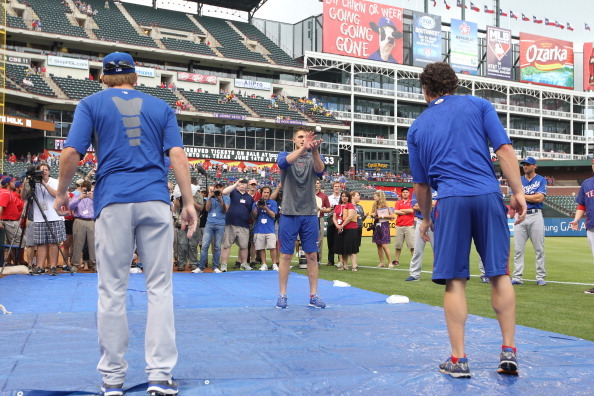 Rick Yeatts/Getty Images

I remember a number of times when my friends and I snuck out of the house in middle or high school to egg someone's house, avoiding getting busted by both parents and the cops.
Apparently the fun of tossing eggs 15 years ago wasn't enough to get it out of some people's systems, because sports fans have done it to either intimidate opposing teams or just to show their hatred for another team.
I talked earlier about how fans will sometimes feel a level of protection in bashing an athlete over the Internet or behind a wall of security because it makes them feel safe, but sometimes fans themselves just want to show how much they dislike an athlete.
Take this whack job who actually went after WWE superstar Randy Orton not too long ago.
If you're going to pick any fight worth winning, doing it against a jacked-up wrestler doesn't seem like the ideal place to start.
While that dude who blindsided Randy Orton made a bush-league move, this piece of work who sprinted onto the pitch during a Sheffield-Leeds United match last year is probably a bit worse.
Unlike the Orton fan, who looked like he actually wanted to take on the wrestler, this Leeds fan was out for one purpose—to injure goalie Chris Kirkland.
When someone has nothing to lose in an attempt to beat another person up, there's no telling how nuts they are.
It takes a pretty sick human being to suggest that offing an athlete due to their poor play would be an option, but leave it to someone to actually do it.
Unfortunately for one Houston Texans fan, he wasn't shy in showing off his hatred for the struggling Matt Schaub a few weeks ago, driving around with a mannequin sticking out of his car with the quarterback's jersey draped over it.
All this for throwing a few picks? Being an NFL signal-caller is tough business.
Arguably the most famous example of this came in 2003 when Cubs fans verbally abused and threw anything they had around them at Steve Bartman, but there have been plenty of other instances where fans get into it, thanks to a variety of reasons.
Whether it's a drunken fight where fists actually get thrown or just a slice of pizza hitting someone else for interfering with the game, fans attacking each other has no place in sports.
This is actually pretty scary when you stop to think about it because, well, it could actually blind someone!
I had a teacher in middle school who had a laser pointer and often used it to point at kids who were raising their hands. He got fired.
Any fan who brings a laser pointer to a sporting event has no good intentions for shooting it toward a player.
Really? You honestly think that trashing your city is the best way to prove that you care about sports?
I'd beg to differ.
Yes, losing totally sucks—remember, I'm a Cleveland fan, so it's all I know—but it's definitely not something that should cause fans to go wild by setting ablaze everything they see coming out of the stadium, standing up to cops and acting as if the sporting event was war.
Tisk, tisk to those who do, though.