Russell Westbrook fired up the Oklahoma City Thunder by getting ejected, and Kevin Durant coolly iced the Washington Wizards down the stretch, notching a 106-105 overtime victory that couldn't have happened without the combined effect of OKC's mismatched superstars.
With 3:18 remaining in the game and the Wizards up by 10 points, Westbrook barreled into Al Harrington, committing a charge and getting tangled up with the Wizards vet in the process. Nene gave Westbrook a shove, perhaps in an effort to disentangle him from the toppled Harrington.
Westbrook lost his footing, sprawling to the floor.
But he was up in a split-second, shoving Nene back and picking up his second technical foul of the game in the process.
OKC would have to finish the game without the physical presence of its second-best player, but the emotional tone set by Westbrook's shove lingered throughout the fourth quarter and into overtime.
An Emotional Boost
Westbrook was mired in yet another difficult shooting night, of the variety that have plagued him since his surprisingly early return from knee surgery. When he hit the showers, he had made just 4-of-16 shots and logged more turnovers (five) than assists (four).
But his impact on the game lingered after his departure.
Per Randy Renner of NBA.com, OKC head coach Scott Brooks said: "That never-quit mentality we've always had, that's what got the win for us tonight. We just played inspired basketball when we were down 10."
Maybe the Thunder have always had a never-quit mentality as Brooks says. But that attitude lay dormant until Westbrook woke it up. If the way the Thunder played after his exit was any indication, Westbrook's ejection might have been his biggest contribution to OKC's cause.
The Thunder rallied after his outburst, coming alive as a group and finally finding the intensity they'd been missing throughout the game. Suddenly on their heels, all the Wizards could do was watch as Oklahoma City went on a stunning late-game run.
9-0 Thunder run... Wizards can't answer with jumper after jumper attempt... another timeout. This slippage on Wittman. 92-91 Wiz, 1:10 left.

— Kyle Weidie (@Truth_About_It) November 11, 2013
An Odd Mixture
We learned during last year's playoffs that the Thunder needed both Westbrook and Durant in order to compete with the league's elite teams. After Westbrook went down with a torn meniscus, OKC handled the not-quite-ready Houston Rockets, but got beaten to a pulp by the Memphis Grizzlies.
Durant found himself the singular focus of Memphis' brutal defensive attack, and after hitting 42 percent of his shots and averaging 4.4 turnovers per game against the Grizzlies, nobody could question Westbrook's on-court worth in OKC.
But after what we saw against the Wizards, it's clear Westbrook's value to the team is as much emotional as it is physical.
Durant is no less competitive than Westbrook, but he lacks the live-wire, loose-cannon lunacy Westbrook provides. For all of his immense skill, it's impossible to imagine KD doing what Westbrook did to Nene. Durant's value is in his unflappable, ice-cold approach to the game.
Instead, KD just ignores common sense and cans a 3 to tie it up. Because he's KD.

— Royce Young (@royceyoung) November 11, 2013
Westbrook brings the fire.
Hacky metaphors aside, the Thunder fed off Westbrook's intensity. The impressive run after his ejection might not have happened if not for the wakeup call his shoving match inspired. And as the rest of the Thunder found a spark, Durant retained his calm in a way that allowed him to coolly take his team home.
What Westbrook said after the game helped explain why he and Durant can get along with such different personalities: They both care about the same thing.
Via Darnell Mayberry of The Oklahoman:
Westbrook after the game declined to discuss the two dust-ups with Nene.

"Did we win?" he asked. "All right."
Neither KD nor Russ cares about how the Thunder get the job done. They both just want to win.
Dual Necessity
The Thunder could never survive with Westbrook as their sole leader. He's too impetuous and unpredictable to set the tone for a successful team. But it would also be tough for them to get very far with only the relaxed, nonplussed demeanor of Durant as their guide.
The marriage works.
If you're not into psychoanalysis, I guess you could chalk this game's result up to both the Thunder and Wizards regressing to the mean. OKC is a great team, a championship contender with tons of big-game experience. Washington, on the other hand, is trying to prove it belongs in the playoff discussion. It was relying on 20-year-old Bradley Beal to keep it in the game, for Pete's sake.
Perhaps the result was inevitable. Maybe the Thunder would have won without Westbrook's outburst.
But it's hard to deny that the tone of the game changed when Westbrook blew up, and OKC had the clear advantage in intensity from that point on.
Unconventionally Effective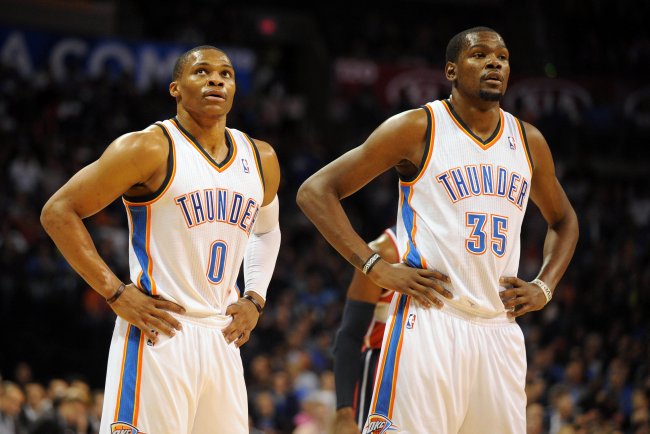 Mark D. Smith-USA TODAY Sports
It's not like the Thunder need Westbrook to get tossed out of games in order to feel the boost his demeanor provides. Let's make one thing clear: the relationship between Westbrook's ejection and the Thunder's impressive finish isn't a direct correlation. Instead, it's more of a symbolic representation of how his personality mixes perfectly with Durant's to create success.
Next time, Westbrook's emotional contribution won't be a two-handed shove that gets him ejected. It'll be a full-court, one-on-four sprint that results in a dunk—the kind of headstrong, reckless play he's known for. And Durant will always be there to ice the situation, the good cop to Russ' bad one, the yin to his yang, the Hall to his Oates.
The Thunder need both of their stars and their polar-opposite personalities. The mixture has worked well so far, and we saw against Washington that the Westbrook-Durant personality pairing will continue to be as unconventionally effective as ever.