James Dolan Reportedly Tells NY Knicks Staff He 'Expects' to Win 2013-14 Title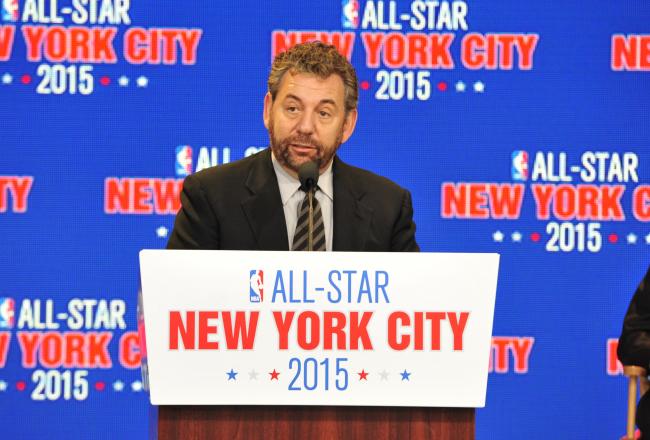 (Photo by David Dow/NBAE via Getty Images)
James Dolan slays me.
When he's not mysteriously firing competent general managers or falling asleep during New York Knicks playoff games, he's setting absurd expectations for his team.
A source told ESPN New York's Ian Begley that while in a meeting with some of New York's coaching staff and executives, Dolan expressed his belief that the Knicks would win a title this season:
In a recent meeting with the Knicks coaching staff and some team executives, Dolan said that he believes that the team has enough talent to win an NBA title and he expects them to do so this season, league sources with knowledge of the owner's message during the meeting confirmed.

He told them he believes they have enough talent to win it all, one source said, and he expects it to happen this year.
Standing ovations would usually follow comments of that nature. Owners showing faith in their team is simply the best. It gets a rise out of the fanbase and instills a further sense of purpose into the season.
But this is Dolan. I cannot, and will not, applaud his optimism. History has taught me that he probably has an ulterior motive.
When the Knicks don't win the championship, look to these remarks. Purported conviction will become a means to dismiss coaches and players, to shake up the roster for the worse and make unrealistic demands.
Dolan "expects" the Knicks to win a title. Not hopes, "expects." There's a difference. And with him, the slightest differences matter.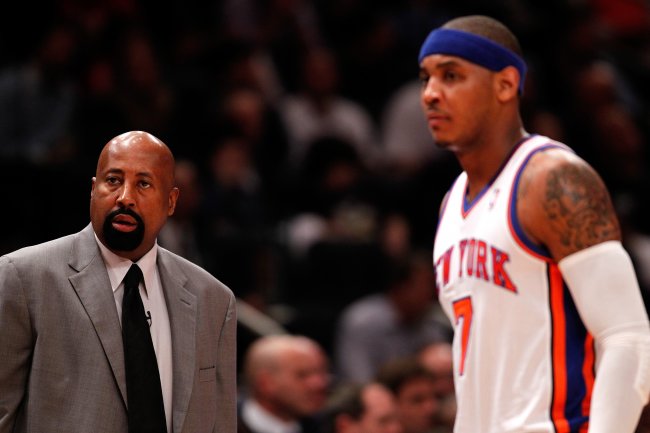 /Getty Images
If there was ever a time for such an intrepid prediction, it was last season, when the Knicks manhandled the Miami Heat during the regular season, Derrick Rose and Rajon Rondo were out, the Indiana Pacers were half-contender, half-their-own-worst enemy and the Brooklyn Nets never really threatened to win the Atlantic Division.
Leave it to Dolan to host a lionhearted party and show up late.
How far do you think the Knicks will go in the playoffs this season?
So don't be surprised if Mike Woodson is fired after this year because New York didn't emerge victorious from the NBA Finals. Or when he demands Iman Shumpert be traded for not averaging 20-plus points per game in said finals. Or when he cans Steve Mills for not landing LeBron James on the veteran's minimum in 2014 after the Knicks—wait for it—fail to win a title.
Ideally, I'm wrong. That sometimes happens. Once, I even predicted that Dolan wouldn't interfere with Donnie Walsh's ability to do his job. Boy, was I naive.
Perhaps this is one of those times. Dolan's closed-door speech may not be a mandate; it could just be him, trumpeting the potential of his team.
Too bad we know better, and are thus more inclined to look at this as less a sign of prosperity and more a harbinger of future doom.
This article is
What is the duplicate article?
Why is this article offensive?
Where is this article plagiarized from?
Why is this article poorly edited?

New York Knicks: Like this team?