Oldie's NBA Mock Draft 2009 Edition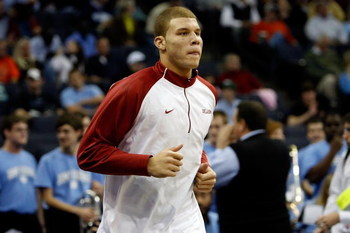 The 2009 NBA Draft has one to three possible superstars!
Many of these picks may seem a little strange but the NBA draft is anything but predictable.
I believe that even though the Kings where bumped to spot No. 4, they can still come out feeling the best about their draft. Let's face it: a great draft can make or break a club for years.
I feel bad for the Clippers, and if I were their GM, I would trade out of the pick. Yes, Griffin is great, but they are loaded on the frontcourt and remember: DeAndre Jordan was once seen as a late lottery pick last year.
**NOTE**This doesn't necessarily show where these player will be selected, but it gives a good idea of their values and there stock.
Blake Griffin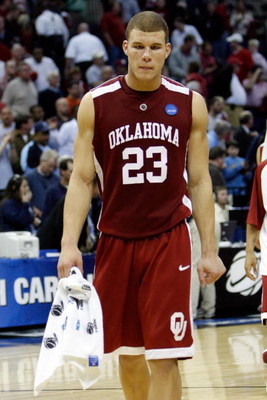 1. LA Clippers—Blake Griffin, PF, Oklahoma
This is the easiest pick in the draft. Griffin is one of the only elite level prospects in this weak draft. Puzzling selection though considering they had five other serviceable big men on the team already.
Hasheem Thabeet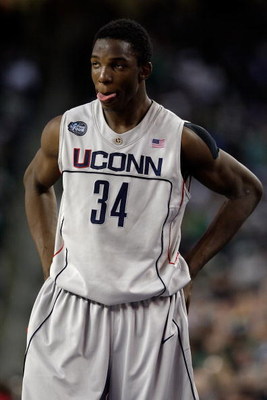 2. Memphis Grizzlies—Hasheem Thabeet, C, UConn
Let's break this down; the Grizzlies don't seem sold on Mike Conley, so Rubio's a possibility.
Though the Grizzlies want to win now, Marc Gasol is fine for the team, but he leaves a lot to be desired from that position. Him and Thabeet could form and intriguing center rotation.
Also figure in Rubio's stock has ever slightly fallen due to his questionable shooting and his very young age.
(May need two to three years to adjust to the NBA).
James Harden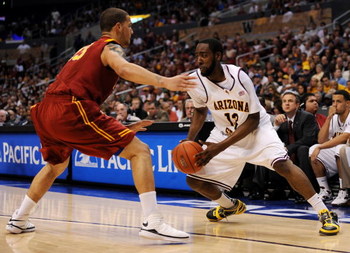 3. Oklahoma City Thunder—James Harden, SG, Arizona St.
Do you hear that noise? It's the sound of the Thunder's hearts breaking as the Grizzlies select Hasheem Thabeet.
Everyone would say Rubio here, but Russell Westbrook is about the same type of player as Rubio and he is a better shooter. I think they stay away from Rubio and select the high-scoring abilities of James Harden.
Jordan Hill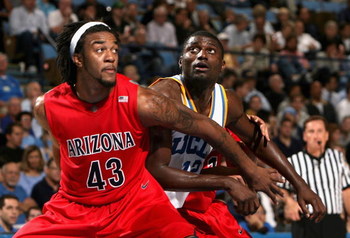 4. Sacremento Kings—Jordan Hill, PF, Arizona
Now everyone will probably be saying what the heck; what about Rubio?
The fact is, Rubio will probably be selected here due to the Kings' need of a point guard. Yet like the Grizzlies, the Kings want to win now!
Hill, in my mind, is the second best player in the draft and only slightly lower than Blake Griffin. I believe the Kings go for the less sexy pick and select the talented big man from Arizona.
Ricky Rubio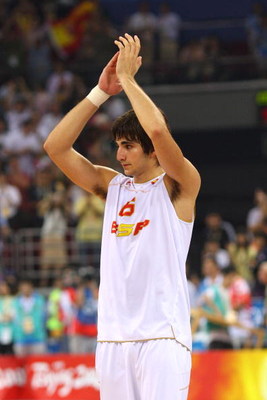 Washington Wizards—Ricky Rubio, PG, Spain
So you are probably saying, "finally, he's off the board!"
The talented PG from Spain can learn a year behind Gilbert Arenas. The following year, switch Arenas to his more natural two guard position and let Rubio take the PG position over.
This may turn out to be one of the biggest steals of the draft, but Rubio, in my mind, has the biggest potential to flop in the NBA.
Brandon Jennings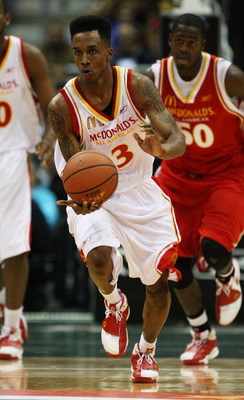 6. Minnesota Timberwolves—Brandon Jennings, PG, Intl.
Randy Foye played very well last year at the SG position. So this year, they select the ultra-talented PG Jennings to take over for the slacking PG Telfair.
This is an instant upgrade and gives the T-Wolves a deadly backcourt.
Jonny Flynn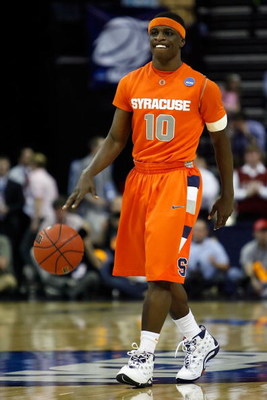 7. Golden State Warriors—Jonny Flynn, PG, Syracuse
This may be the biggest surprise for fans.
GS needs a point guard, and the lightning quick Flynn fits their PG need better than any other prospect, I believe.
This selection allows Monta Ellis to slide over to his more natural SG position. If Jennings is available, I believe that they will select him, but if he's off the board, I believe they target Flynn.
Stephen Curry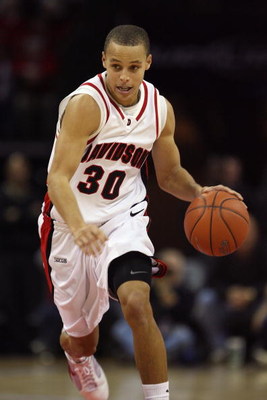 New York Knicks—Stephen Curry, PG/SG, Davidson
Besides the selection of Blake Griffin, this is the most obvious selection of the draft. Curry fits D'Antoni's scheme in every way and brings a lot to the table. He could team with Nate Robinson to form a scary backcourt.
Note—This may be surprising to some with the likes of Tyreke Evans and DeMar DeRozan on the board, yet the fact remain that the Knicks have loved Curry since the day he declared.
Tyreke Evans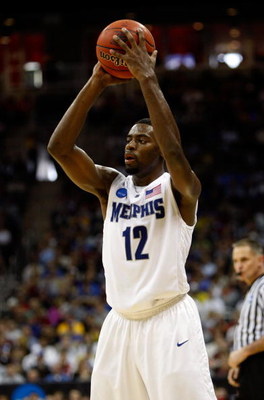 Toronto Raptors—Tyreke Evans, PG/SG, Memphis
With the departure of Anthony Parker at SG, the Raptors should select the very underrated Evans.
He posses all the tools to turn into and elite-level player.
This selection may come down to Evans, DeRozan, and Henderson from Duke. I believe that Evans has more upside than any of the three others.
DeMar DeRozan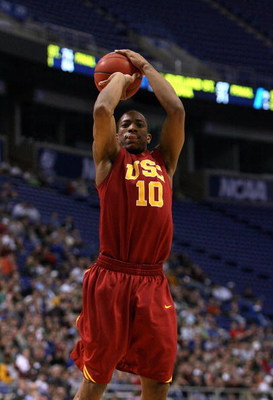 10. Milwaukee Bucks—DeMar DeRozan, SG, USC
The Bucks get a real bargain here.
DeRozan could turn out to be the biggest steal of the draft. He could step in and play or he could sit behind Richard Jefferson for a year or two.
The Bucks could also select the more polished Duke prospect, Henderson, if they feel he fits their scheme better.
Earl Clark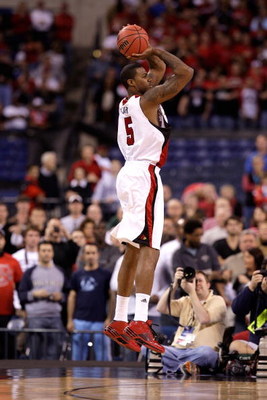 11. New Jersey Nets—Earl Clark, SF, Louisville
The Nets are severely lacking at the SF position and Clark could come in a contribute immediately.
This selection hinges mainly on how they feel about Chris Douglas Roberts, who really came on at the end of last year.
Gerald Henderson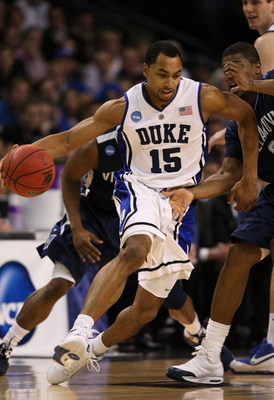 12. Charlotte Bobcats—Gerald Henderson, SG, Duke
With he departure of Jason Richardson last year, the SG position has been a real liability.
Henderson could come in and learn from Raja Bell and turn into the best SG prospect in this draft.
Chase Budinger is also a major possibility here.
Eric Maynor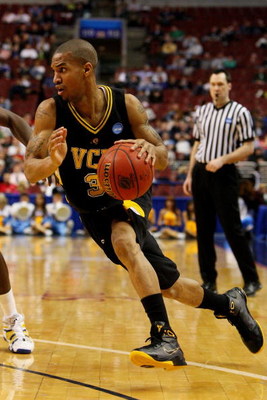 13. Indiana Pacers—Eric Maynor, PG, VCU
The Pacers definitely need help at the PG position and T.J. Ford leaves much to be desired.
Maynor comes in and can immediately contribute to this team. As a senior in this young draft, Maynor is one of the more polished prospects in this year's draft.
Lawson and Holiday are also major possibilities.
Ty Lawson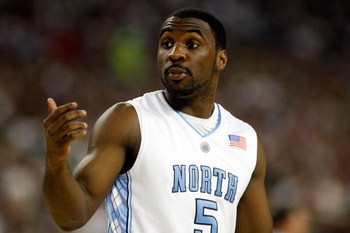 14. Phoenix Suns—Ty Lawson, PG, North Carolina
It's sad; it really is, to imagine Steve Nash no longer a Sun anymore.
Yet what once seemed like an impossibility seems more like a reality now. The Suns need quick PG help and the polished, underrated PG Lawson is that help.
Lawson can immediately take the reins of an already stacked team and lead them for the next 10 years. Lawson has as much upside as any point guard in the draft, including Rubio.
Chase Budinger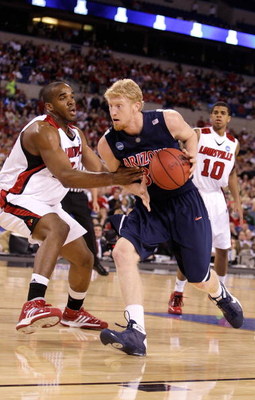 15. Detriot Pistons—Chase Budinger, SF/SG, Arizona
Rumors surround the departure of Tayshaun Price from the Pistons this year.
Though they are only rumor, it doesn't hurt to add depth. Even if Price remain with the team, I believe Budinger will remain the pick. He can add quality depth and within a few years could turn into a solid player.
Wayne Ellington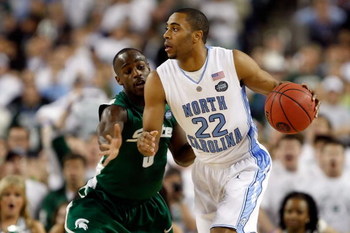 16. Chicago Bulls—Wayne Ellington, SG, North Carolina
Ben Gordon doesn't appear to want to be a Bull next year. If this is the case, then they will need a polished replacement.
Ellington may have many questions surrounding him but, he could develop into a solid two guard.
This could be a real value pick hear as well due to the fact that Ellington has been viewed as a late lottery pick.
Patrick Mills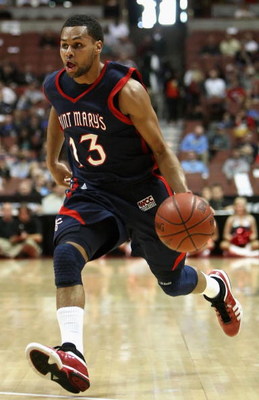 17. Philadelphia 76ers—Patrick Mills, PG, St. Mary's
It looks as if the 76ers may need a PG this upcoming season and the explosive Mills really fits the mold of the PG they need.
With many questions surrounding Mills this pick may be seen as somewhat of a reach. The 76ers may look other directions to.
The selection of James Johnson and Jrue Holiday may be better suited, but I believe that Mills is the direction they go.
B.J. Mullens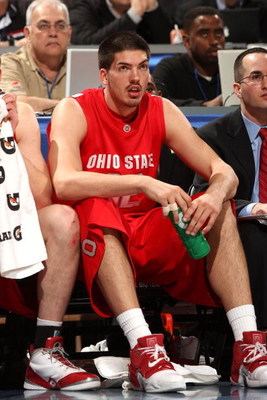 18. Minnesota Timberwolves—B.J. Mullens, C, Ohio State
Mullens was said to be the next Greg Oden at Ohio State, but he produced a less-than-mediocre season with the Buckeyes.
This selection is on potential alone. This selection allows them to kick Al Jefferson to his better suited PF position and gives them a massive frontcourt, though Mullens probably will need time to adjust and learn.
Jeff Teague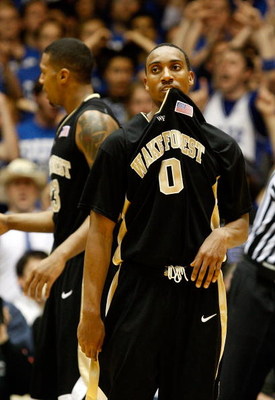 19. Atlanta Hawks—Jeff Teague, PG, Wake Forest
Mike Bibby has been solid, not great, but very solid. he can be upgraded, and Jeff Teague may be the man for the job.
The Hawks would have loved to have had B.J. Mullens but Mullens is gone here. If they could have gotten Mullens, they could have kicked Al Horford to the PF.
They may still reach for a player like Gani Lawal to boost their front court.
DeJuan Blair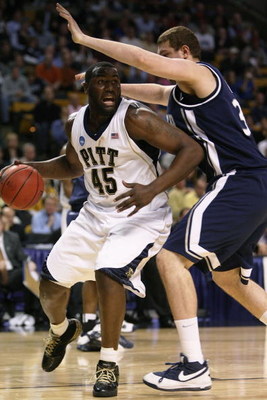 20. Utah Jazz—DeJuan Blair, PF, Pittsburgh
Carlos Boozer seems set on leaving Utah and if they cannot retain Paul Millsap, a replacement will be needed.
Blair is a little undersized, but his massive 7'3" wingspan allows him to play huge. If he was two inches taller, he would be a early lottery pick, but due to size he falls.
Blair will be a major pickup for the Jazz.
Gani Lawal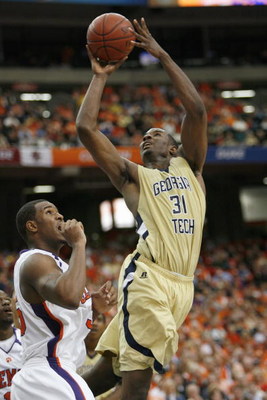 21. New Orleans Hornets—Gani Lawal, PF, Georgia Tech
David West is an All Star, but the lack of backup is a major concern. Gani Lawal can be more than a backup. Early, he will be a rotational player, but in the future he may challenge West for the starting spot.
Terrence Williams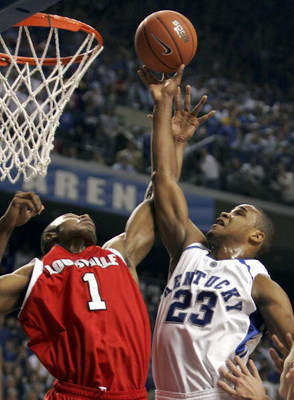 22. Dallas Mavericks—Terrence Williams, SG/SF, Louisville
Jason Terry has had a great career but he will be 32 next season, and his career will start to turn to the downward.
Terrence Williams gives them great depth and a great developmental prospect to groom behind Terry.
Jrue Holiday may be a possibility here but they seem to like Jose Berra a lot.
Jrue Holliday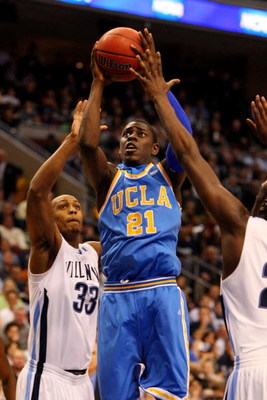 23. Sacramento—Jrue Holiday, PG, UCLA
This is an awesome pick for the Kings because they passed on Rubio. They still come out feeling as if they still got a great PG at great value.
Holiday can come in immediately and contribute and could become the best PG in this draft and at 23 is a real steal.
Sam Young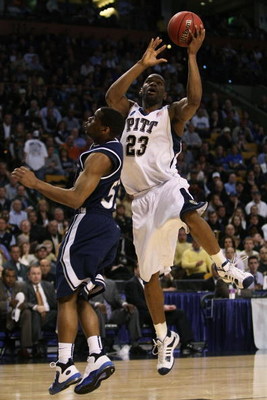 24. Portland Trailblazers—Sam Young, SF, Pittsburgh
The Trailblazers really are set all-around. The only position with the need to be upgraded is the SF.
With the selection of Young, the Blazers get lottery talent at the end of the first round.
Young falls because of his age, 24, which allows him a smaller learning curve. Darren Collison is a major possibility here and if Jrue Holiday is here, they will snatch him up as well.
James Johnson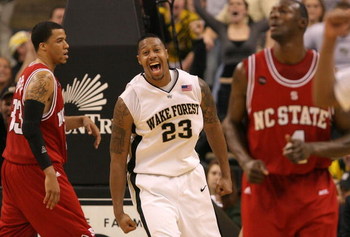 25. Oklahoma City Thunder—James Johnson, SF, Wake Forest
Johnson falls due to the fact that he has many questions.
He could go earlier but if he is here, the Thunder could pick him up to be a great rotational player behind Durant.
Taj Gibson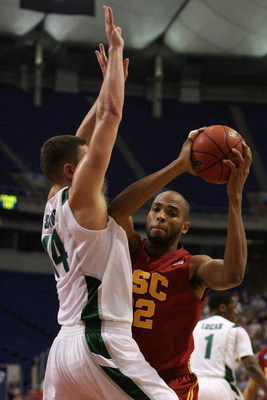 26. Chicago Bulls—Taj Gibson, PF, USC
Tyrus Thomas hasn't lived up to billing. He may only have a year or so left to develop.
Gibson brings experience and insurance to a very inexperienced team. If Thomas were to falter, Gibson could challenge him for the starting job.
DeJuan Summers
27. Memphis Grizzlies—DeJuan Summers, SF, Georgetown
The Grizzlies have little insurance behind Rudy Gay. Like a lot of players, Summers has not lived up to expectations and is riding on potential alone. He can contribute off the bench immediately.
28. Minnesota Timberwolves- Omri Casspi SF Israel- Bench role player that could develope into more.
Darren Collison
29. L.A. Lakers—Darren Collison, PG, UCLA
Where to start with the Lakers?
The only thing that they could use would be role players. Derrick Fisher is a million years old, and they need to groom a replacement. Collison is great value at the bottom of round one.
Tyler Hansbrough
30. Cleveland Cavaliers—Tyler hansbrough, PF, North Carolina
A winner to a winning team. Hansbrough's game most likely won't transfer to the NBA, but he could surprise.
He has the athleticism of a bench player and the heart of a Hall of Famer. I want this guy on my team; no matter what, he will get the job done. That is his game.
Keep Reading