Jamaal Charles: Chiefs RB Wows with Olympic Speed, Athleticism on Sport Science
October 25, 2013

U.S. Presswire
If you consider yourself athletic, enjoy the last five minutes of your ego.
The Kansas City Chiefs stand atop the NFL touting a flawless 7-0 record. After watching ESPN's Sport Science, it's obviously because their backfield houses one of the X-Men. 
Jamaal Charles is fast. Like makes-you-want-to-grow-a-Jheri-curl-and-rewrite-"Super Freak's"-chorus fast. If he dared step foot on a jogging trail, he'd be cuffed for conspiracy to commit a forest fire.
Kansas City's fleet-footed arsonist joined host John Brenkus to measure his blinding speed and ankle-breaking agility, but those two traits don't even produce the most freakishly athletic highlight of the segment.
First things first, though.
Every football fan is cognizant of the halfback's blurring acceleration and supersonic sixth gear. But it's one thing to witness it through your flat screen; it's another to frame it into context. 
As the following GIF shows, Charles surges up to 80 percent of his top speed by the time he hits his fourth stride. 
And that top speed? Well, as Brenkus notes, "To really put the fast feet of Jamaal Charles in perspective, consider this: His best time in the 100-meter dash, 10.18 seconds, is a time that could've qualified for the 2004 Olympic finals."
I'll take it a step further. Charles' 10.18-second 100-meter dash would've earned him a silver medal behind Carl Lewis at the 1984 Games. If you do the math, that equates to 22 miles per hour. And remember, that's his base speed—as opposed to his top—and not on a treadmill.
Charles could be pulled over in his neighborhood and ticketed mid-jog. 
The Chiefs running back then dipped and dodged his way through Sport Science's pole challenge in 1.20 seconds, which Brenkus claimed was the fastest recorded time that his team has ever measured. 
But the next excerpt doubles as the most implausible: Jamaal Charles is a double-dutch prodigy. 
Brenkus explains:
To put Charles' agility and foot speed to the test, we challenged him to jump rope—double-dutch style.

Double dutch requires both speed and timing. If the ropes are moving at 30 miles an hour, they travel more than four feet in a tenth of a second. 
To put that into perspective, in his prime, Ricky Hatton, the professional boxer who fought Floyd Mayweather, unleashed punches that generally topped out at 25 miles per hour. 
In double dutch, the ropes are whipping five miles per hour quicker than that, and by jumping between their orbits, you're practically daring them to smack the stupid out of you for trying.
The first time a rope cracks me in the face like I paused when it asked "Am I a pretty girl?" in a drunken stupor? I'm out. I'm packing my gym bag, leaving the set in a four-lettered hullabaloo and posting Brenkus' number in a Craigslist ad for Bieber tickets.
Charles, of course, jumps in like it's his second job. According to the researchers, one of the rapid bursts that his feet trigger is capable of generating up to 2,000 watts of power. "That's enough to light up a lighthouse."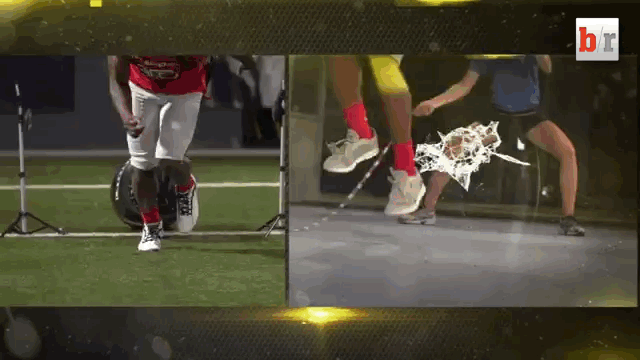 At this point, your ego's probably flatter than a Surge in a Hoarders finale.
So, Charles does what any kind, considerate person would do: transitions into clapping push-ups. While double-dutching.
After seeing this, two things entered my thought process. One: What evolutionary stage did this guy just uncover? Two: Why is Eminem's "Love the Way You Lie" ringing in my head.
You can stop now, Jamaal.
We get it. 
Follow Brett on Twitter: Follow @BrettGering

Email: gering.brett@gmail.com