Tom Brady has been victimized by poor receiver play this season—including 25 drops after Week 7—but his performance has been far from beyond reproach. Brady himself agreed during his postgame press conference, courtesy of the team's official website: "The balls have to be better thrown. Everyone has to look at themselves and do a better job, because what we're doing right now isn't good enough."
According to ESPN Stats & Information, Brady connected on just four of his 20 passes that traveled 10 or more yards in the air and had 24 total incompletions.
One play in particular highlighted how Brady has played this year. It illustrates his ability to manipulate defenses, recognize coverages and find open receivers. However, it also shows his inability to connect with those same receivers down the field.
The scene was 1st-and-10 on the 33-yard line with 1:21 left in the fourth quarter. The drive ended with a field goal, but the New England Patriots would have loved to score the go-ahead touchdown.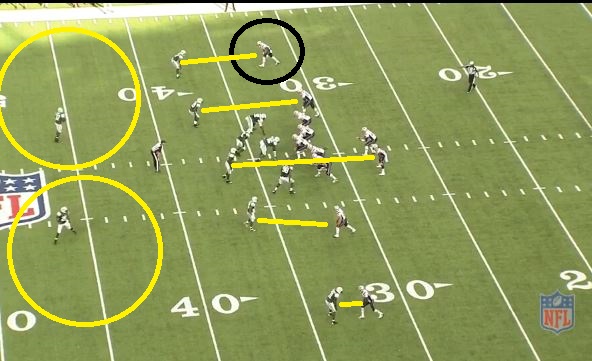 The New York Jets are showing a Cover 2 look with man coverage underneath. The safeties are splitting the field in half. Aaron Dobson is lined up at the "X" receiver position with rookie Dee Milliner across from him.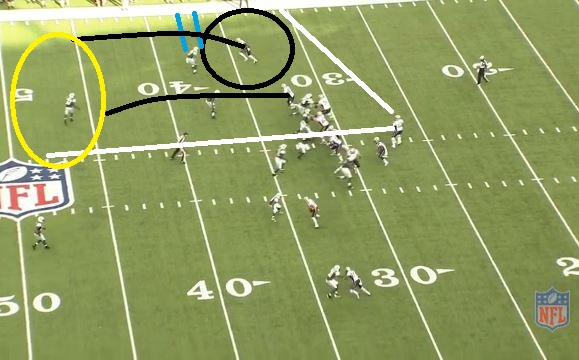 After the snap, the Cover 2 man under look is confirmed. Brady looks to be reading the right half of the field, with Rob Gronkowski inside and Dobson outside. Dobson needs to get by Milliner without getting too close to the sideline, where Milliner will use it as a second defender.
The Jets safety here is reading the patterns of Gronkowski and Dobson, while keeping an eye on where Brady is looking.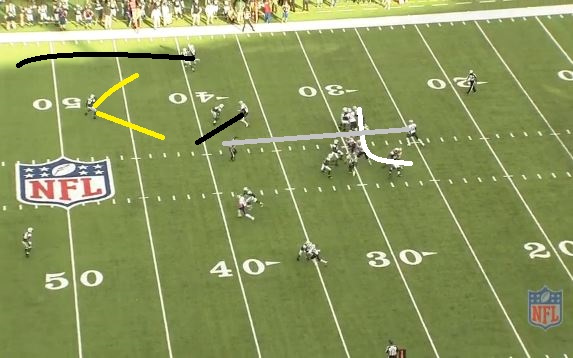 Brady has all the time in the world with a clean pocket in front of him. Dobson is already passing Milliner on the outside, while Gronkowski is about to cross the face of his defender. The safety is in a very difficult position here.
Brady wants to go to Dobson here, but he keeps his discipline. He gives Gronkowski another quick glance inside.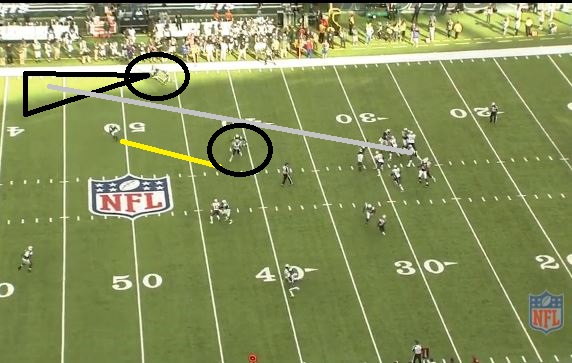 That subtle look from Brady causes the safety to flip his hips and commit to the seam route. Meanwhile, Dobson is a step clear of Milliner and pulling away. He has given Brady enough space to work with on the sideline, and this should be an easy throw.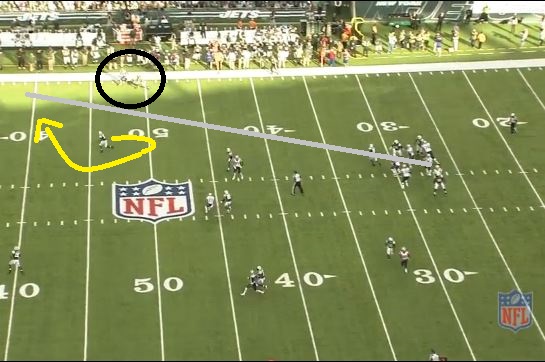 The ball is now in the air, and the safety is toast. Milliner is over a yard back and has no chance to break up the play. Any ball in the field of play in front of Dobson is going to go for big yardage, if not a touchdown.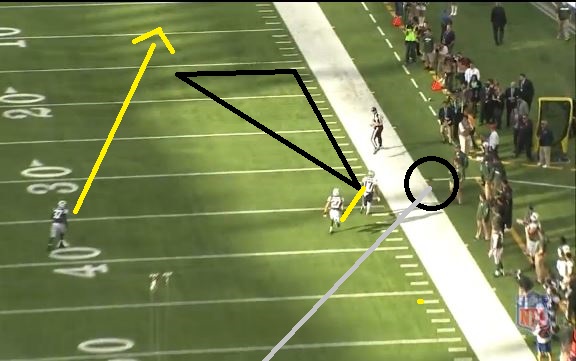 Unfortunately for Brady and the Patriots, his pass lands a full four yards out of bounds, giving Dobson—capable of making some crazy circus catches—no chance at making the catch. Any pass near the black triangle is a huge play for the Patriots, assuring them of a field-goal try and giving them over a minute to score a touchdown.
If the Patriots are going to compete for a ring this February—and not just a playoff berth—Brady is going to have get accuracy under control.