The 2013 World Series is set to begin on Wednesday night at Fenway Park, as the Boston Red Sox play host to the St. Louis Cardinals in the 109th edition of the Fall Classic.
Given that both clubs matched each other with the best record in the MLB regular season at 97-65 and that both have strong starting pitching and star-studded batting orders, this has the makings of an epic championship showcase.
Congrats to red sox and cardinals, the 2 best teams. Both also blessed with great prospects so this could be only 1st act

— Jon Heyman (@JonHeymanCBS) October 20, 2013
Boston has an innate edge in owning home-field advantage. In a series that should go down to the wire and be over in no less than six games, that is a massive asset.
However, St. Louis is fresh off lighting up what was arguably the postseason's hottest pitcher in Los Angeles Dodgers ace Clayton Kershaw to clinch the NLCS in Game 6. Now, it's the Cardinals who have the hottest hurler in the postseason with rookie sensation Michael Wacha.
Here is a look at the World Series television listings, along with a brief preview and prediction for how the action will unfold.
Note: Schedule is via MLB.com. Starting pitcher matchups are courtesy of ESPN.com.
2013 World Series TV Schedule

| | | | | |
| --- | --- | --- | --- | --- |
| Game | Date | Matchup | Time (EDT) | Channel |
| 1 | Wed., Oct. 23 | St. Louis Cardinals @ Boston Red Sox | 7:30 p.m. | FOX |
| 2 | Thurs., Oct 24 | St. Louis Cardinals @ Boston Red Sox | 7:30 p.m. | FOX |
| 3 | Sat., Oct. 26 | Boston Red Sox @ St. Louis Cardinals | 7:30 p.m. | FOX |
| 4 | Sun., Oct. 27 | Boston Red Sox @ St. Louis Cardinals | 8 p.m. | FOX |
| 5* | Mon., Oct. 28 | Boston Red Sox @ St. Louis Cardinals | 7:30 p.m. | FOX |
| 6* | Wed., Oct. 30 | St. Louis Cardinals @ Boston Red Sox | 7:30 p.m. | FOX |
| 7* | Thurs., Oct. 31 | St. Louis Cardinals @ Boston Red Sox | 7:30 p.m. | FOX |
Source: MLB.com (* = if necessary)
Preview and Prediction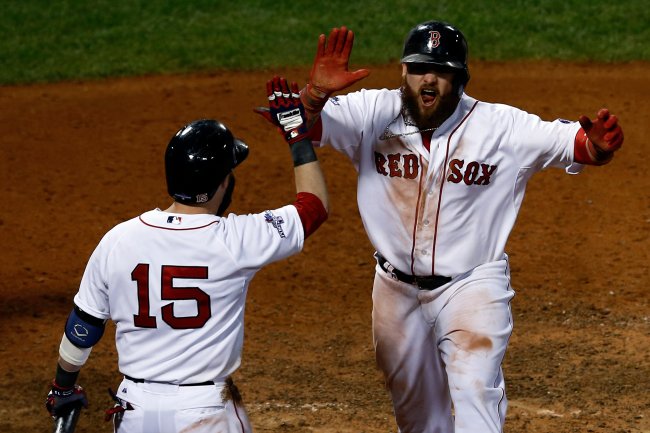 Jim Rogash/Getty Images
This rematch of the 2004 World Series will be tighter than the 4-0 sweep that the Red Sox turned in against the Cardinals nearly a decade ago.
The Cardinals will send 19-game winner Adam Wainwright to the hill in Game 1 and have the NLCS MVP in Wacha behind him for Game 2 at Fenway.
Elias Says Michael Wacha is the 1st rookie to record 2 scoreless starts in a single postseason series in MLB history. http://t.co/D4Ng1nKbuE

— ESPN Stats & Info (@ESPNStatsInfo) October 19, 2013
Such a formidable tandem leaves Boston vulnerable to dropping at least one of the first two at home, which could be devastating with the following three games at Busch Stadium.
Which bullpen has the edge?
However, just as Kershaw did for the Dodgers, it's conceivable that Wacha will cool off—especially since his experience, though positive, is minimal.
Wacha seems oblivious to the big stage thus far, but even someone with his prodigious pitching skills and uncommon composure isn't unflappable.
The Red Sox led the majors in runs scored this season and hit two key grand slams in the ALCS to spark their run to the brink of grabbing the Commissioner's Trophy.
Joe Kelly will get lit up in Game 3 for the Cardinals, giving Boston a 2-1 series advantage with Jake Peavy taking the bump in all likelihood for Game 4. St. Louis club will rally to push the series to seven games by roughing up Peavy, who lacked control in his Game 4 loss in the ALCS.
Between setup man Junichi Tazawa and door-slamming closer Koji Uehara, though, the Red Sox have the premier relievers to boost them to another World Series crown.
This is Koji Uehara dominating October and jumping into the arms of teammates: http://t.co/qKPRW5qwnQ #WorldSeries pic.twitter.com/42j662ZKAp

— MLB (@MLB) October 21, 2013
The St. Louis bullpen has only yielded six earned runs in 19 postseason innings, but look for Boston to have the edge there.
Prediction: Red Sox win in seven