Ohio State's Close Wins Are Still a Lose-Lose Despite Improved Big Ten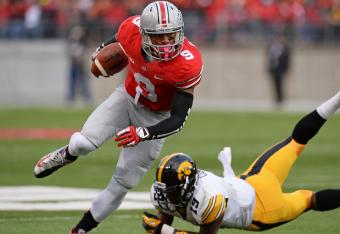 Ohio State got all it could handle from the Iowa Hawkeyes for a half on Saturday afternoon in Columbus before pulling away for a 34-24 win—a win that moved the Buckeyes' streak to 19 straight victories and their record to 7-0 for the 2013 season.
The Buckeyes should be enjoying a win over a tough defensive opponent in an improving Big Ten conference.
Urban Meyer: "I've learned a lesson in my life; I'm going to enjoy this win."

— David Wilkinson (@David10TV) October 19, 2013
The only problem is, the Buckeyes are damned if they do, damned if they don't in the eyes of pollsters and the BCS computers.
Blow out Iowa at home? So what, you were supposed to do that.
Win a relatively close game for a third straight time in Big Ten play? Well, that's no good either...remember, the Big Ten isn't a tough conference.
No matter the result, Ohio State wasn't likely to gain any respect in the minds of people who hold the school's BCS National Championship Game fate in their hands.
It's a scenario that is likely to play out each and every week the rest of the season for the Buckeyes.
The only way it doesn't play out like that is if Michigan comes into "The Game" without another loss.
Otherwise, Ohio State isn't going to play another team with enough cachet to help its status with most pollsters or computer models in the BCS.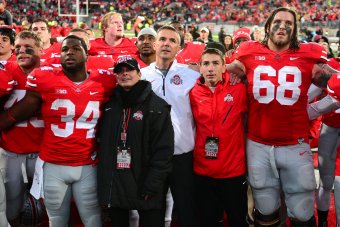 Andrew Weber-USA TODAY Sports
The simple fact is Ohio State needs to win pretty almost every week and get some help if it is to make the BCS title game.
Despite the perception that is playing out nationally, two things were made clear in Columbus on Saturday afternoon: Ohio State has taken everyone's best shot and is making statements by finding ways to still win, and the Big Ten is far better than outsiders give it credit for.
Would the 2012 version of the Iowa Hawkeyes have even had a chance in Columbus? Even the most ardent of Hawkeye fans would've laughed at their team hanging with the Buckeyes last season.
And forget about Indiana putting a real scare into Michigan, or Minnesota winning a road game in the Big Ten.
Yet all of those scenarios played out on Saturday in Big Ten country.
It's hard to say the conference isn't much improved from what 2012 brought to the table.
But back to the Buckeyes—the Big Ten's only realistic hope for a national title.
After going into the second half down 17-10, Ohio State put the Hawkeyes to the woodshed, outscoring Iowa 24-7 in the second stanza to really control the game and win in impressive fashion (despite "just" a 10-point win).
Carlos Hyde once again played a huge role in Ohio State regaining and keeping control of this game, rushing for 149 yards on 24 carries. He also had two huge second-half touchdowns to keep Ohio State rolling.
Unfortunately, the final score won't show just how dominant the Buckeyes were in the second half, and in the BCS scenario that is playing out, Ohio State needs all the "style points" it can get.
Ohio State's defensive performances aren't helping matters, which Urban Meyer addressed following the game:
"Defensively, I'm very disappointed in the first half. Very disappointed." - Ohio State's Urban Meyer

— Ben Axelrod (@BenAxelrod) October 19, 2013
Never mind the fact that Iowa is a vastly improved team and the Big Ten has proved throughout the past few weeks to be a deeper and more competitive league than most thought.
The good news for Ohio State is that it isn't the only Top Five team in the nation with a lot of question marks still to be answered.
Additionally, there will be a lot of movement still to happen around the Buckeyes in the polls, and that means anything is possible.
Ohio State is likely to not care about "style points," at least internally (knowing Urban Meyer), but with the perceived position of the Big Ten, it is going to need to worry about style points the rest of the year—and that includes not dropping a game.
*Andy Coppens is the Big Ten Lead Writer. You can follow him on Twitter @andycoppens.
This article is
What is the duplicate article?
Why is this article offensive?
Where is this article plagiarized from?
Why is this article poorly edited?