Why This Is the Year Toronto Raptors Return to the NBA Playoffs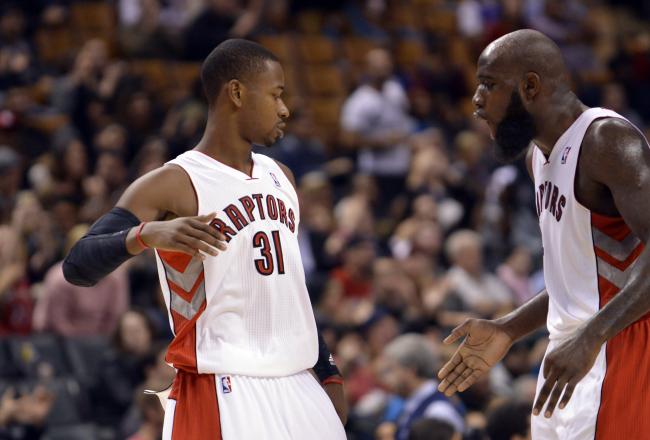 Mark Konezny-USA TODAY Sports
After dwelling in mediocrity near the bottom of the Eastern Conference for the past six seasons, the Toronto Raptors will soon find themselves playing meaningful basketball once again as participants in the 2013-14 NBA playoffs.
That sounded overly confident on my part, but it comes with sound reasoning and logic. It's not the voice of a homer simply rooting for his city and hoping for the best. That would be too easy and rather unfair.
The Andrew Wiggins bandwagon will obviously not be fond of this prediction. A postseason berth would eliminate the team from landing a lottery pick in the stacked 2014 NBA draft. Frankly, unless the Raptors bottom out and blow up the roster, the chances of them going No. 1 overall and taking Wiggins are slim to none.
So how exactly is this all going to come into fruition? Again, this is a franchise that hasn't qualified for the playoffs since 2007-08, having been eliminated in six games by Dwight Howard and the Orlando Magic in the opening round.
Why is this the year? Why is 2013-14 so special?
If you search around the interweb for predictions and analysis on the upcoming season, you'll notice that quite a few of the major media outlets don't think too fondly of the Raptors and their chances for success. Bill Simmons of Grantland ranked the team No. 23 overall on his YouTube NBA preview, while HoopsHype has Toronto finishing 10th in the conference.
The Miami Heat, Brooklyn Nets, New York Knicks, Indiana Pacers and Chicago Bulls are already being penciled in for those first five seeds. That leaves just three spots open for the likes of the Raptors, Cleveland Cavaliers, Detroit Pistons, Milwaukee Bucks, Atlanta Hawks and Washington Wizards to compete for.
It's easy to neglect the Raptors when it comes to ranking the best of the East. Their offseason was very tame compared to some of the other teams around the league, so that could explain why they find themselves being lost in the shuffle.
The Cavaliers made a huge splash in free agency, acquiring the likes of Andrew Bynum, Earl Clark and Jarrett Jack. They were also fortunate enough to land the No. 1 pick in the 2013 NBA draft, selecting forward Anthony Bennett out of UNLV. The Pistons also revamped their basketball team, bringing on Josh Smith and Brandon Jennings.
Even with J-Smoove out of the picture in Atlanta, the Hawks still have enough depth with Paul Millsap and Al Horford down low and Jeff Teague running the point to win some games. The Wizards will be hoping that John Wall can stay healthy for more than 49 games, and that shooting guard Bradley Beal can emerge as a more reliable offensive weapon in his sophomore year.
Don't forget about the Milwaukee Bucks. Seven new players will be suiting up for the Cream City, including scoring guard O.J. Mayo and athletic floor general Brandon Knight, who looks to resurrect his career after a rough start in Detroit.
I get it. The Raptors didn't make many marquee moves like some of those aforementioned teams. They made subtle, under-the-radar deals designed to improve their chances moving forward, but none of them were overtly sexy or considered front-page material outside of the GTA. A case can be made for Andrea Bargnani being sent to the Knicks, but more of the focus was on how New York made out, rather than the nice haul general manager Masai Ujiri acquired.
Bringing on Rudy Gay from the Memphis Grizzlies back in February was the Raptors big game-changing trade. After his arrival, the team would go on to finish the regular season with an 18-18 (17-16 with Gay) record. If you stretch that out over the course of an entire year, you're left with a .500 basketball team. Last year's eighth-seeded Milwaukee Bucks managed to get into the playoffs with 38 wins, so Toronto could have realistically found themselves in that position had Gay been on the roster from the very beginning.
A lot of focus is going to be on how he plays through the first 20-to-25 games. Rumors are swirling over possible trade scenarios should the team fail to deliver in the win column right away, with Gay being the primary target. With twenty pounds of added muscle and corrective surgery to fix the astigmatism in his eyes, it's not out of the realm of possibility to think that Gay could be in store for his most productive season yet.
How about that starting lineup? Rarely do we ever see a full starting-five remain intact for a second-straight season in Toronto. Gay, Kyle Lowry, DeMar DeRozan, Amir Johnson and Jonas Valanciunas will all be returning to their respective roles in 2013-14. This savvy quintet shot 49.6 percent from the field and was the 29th-most-used five-man lineup in the NBA, according to 82games.com. Barring any future transactions, head coach Dwane Casey will now have a full slate of games to work with a group that has proven to be efficient and capable on both ends of the court.
The Toronto Raptors will essentially sink or swim based on the starting-five and their ability to hold down the fort. Kyle Lowry looks to be in tremendous shape, and with it being a contract year, he has a little extra motivation to put up big numbers in order to land his next lucrative deal.
After a summer that saw him win the NBA Las Vegas Summer League MVP and a silver medal with Lithuania at the FIBA EuroBasket 2013, center Jonas Valanciunas now has even greater expectations and hype to live up to. Many experts are predicting a breakout year from the 21-year-old and rightfully so.
DeMar DeRozan is on a mission to get the Raptors to the playoffs, having never been there himself during his four years with the franchise, via Sports Illustrated.
It means everything to me, especially going into my fifth year and I haven't played in the playoffs. I just really took my conditioning and skill work to another level. I really worked my butt off in every aspect. Sometimes I'd go two or three times a day, just so I can get comfortable at everything and not really feel any weakness.
Through six games of the preseason, there are concerns arising over the bench and whether or not they will become a hindrance or an asset this season.
Tyler Hansbrough has been a blessing in disguise with his rebounding and knack for getting to the charity stripe. He's slated to be the sixth-man in the rotation, providing energy and a persistent presence on the glass whenever his name is called.
The big question marks come in the form of Terrence Ross and D.J. Augustin. Both players have been fairly erratic with their shooting this preseason, combining for just 38.5 percent from the field and 33.0 percent from three-point range. Their respective 2012-13 campaigns were extremely troublesome, so here's hoping that some form of improvement will be made this go-around. A team is only as strong as its second-unit, so the Raptors desperately need both Ross and Augustin to put up points and not turn the ball over in reserve roles.
Simply put, there's a lot to be excited about this season with all of their collective pieces. However, a lot needs to go right in many different areas.
Will the Toronto Raptors make the NBA playoffs in 2013-14?
Making the postseason isn't a given, but I absolutely love their chances. There are a cluster of teams fighting for positioning near the bottom of the conference, but if everyone on the roster can produce to their capabilities, there's no reason to think they can't end this excruciating draught.
Every team has its weaknesses. The Pistons are lacking in shooters, the Bucks don't have a clear-cut No. 1 option and the Cavaliers and Wizards are always battling injuries to key players. It's just a matter of how each roster can overcome its deficiencies in order to win games.
Can the Raptors win a playoff series with their current makeup? Probably not. They aren't ready to compete with the likes of the Heat and Pacers for conference superiority. That's not just plausible. However, the respect and recognition that comes with playing basketball in May and June is invaluable. It shows the rest of the NBA that a winning culture is slowly being implemented in Toronto.
The talent is here and the proper management and coaching is in place. To totally discount the Raptors in the 2013-14 playoff hunt would be absolutely foolish.
This is the year it all comes together, mark my words. Gay is focused, DeRozan is motivated, Lowry is healthy and Valanciunas is ready to make a name for himself. This is going to work.
Finally.
Follow Christopher Walder on Twitter @WalderSports
This article is
What is the duplicate article?
Why is this article offensive?
Where is this article plagiarized from?
Why is this article poorly edited?

Toronto Raptors: Like this team?