Say what you want about Los Angeles Dodgers fans, but they know quality entertainment when they see it.
They proved this much during Game 4 of the NLCS on Tuesday night, when Dodgers fans went from booing Hollywood mega-star Tom Cruise to cheering wildly for Breaking Bad's Bryan Cranston.
It all began with the panning of the ballpark's celebrity cam, which settled on Cruise, who was relaxing up in a suite on the fifth floor. The sight of Cruise on the scoreboard provoked a lusty booing from the crowd, according to USA Today's Bob Nightengale, via Ted Berg of ForTheWin.com.
Tom Cruise shown on #Dodgers Stadium scoreboard, and is booed.

— Bob Nightengale (@BNightengale) October 16, 2013
Yep, the Maverick-turned-Scientologist got zero love. Even better (or worse, if you're a Cruise fan), the stadium DJ allegedly started spinning "I Wish" by Skee-Lo when the camera found Cruise.
Crowd jeers Tom Cruise on video board. "Wish I was a little bit taller" is played while he is shown.

— Jesse Sanchez (@JesseSanchezMLB) October 16, 2013
@JesseSanchezMLB That's a Skee Lo Blow. #Rally

— Jose Martinez (@JMartinezNYC) October 16, 2013
Fortunately for viewers, the bad vibes quickly turned into an uproar of elation as the camera moved on and found Bryan Cranston, aka Walter White from the hit show Breaking Bad, in the crowd.
Bryan Cranston wildly cheered on scoreboard after Tom Cruise booed earlier. Dodger Stadium has impeccable taste.

— Greg Beacham (@gregbeacham) October 16, 2013
Tom Cruise gets booed... Bryan Cranston gets a big cheer at Dodger Stadium. #NLCS

— Tim McMaster (@mcmastert) October 16, 2013
Yes, they went nuts for various reasons, one of them presumably being their own personal safety. Heisenberg—er, Cranston—was down among the people, and he appeared to be having a decent enough time.
Or was he?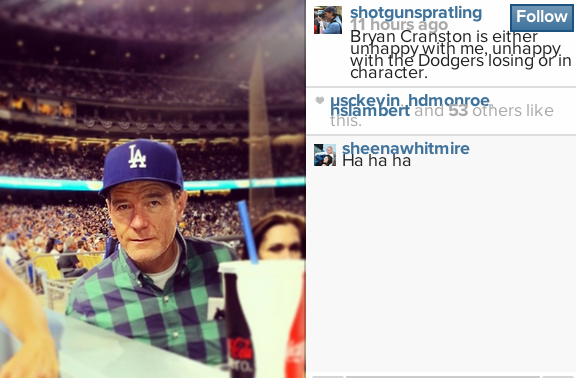 Cranston might not have enjoyed the Dodgers losing another to the St. Louis Cardinals, but his presence at the game was probably the biggest bright spot of the contest for some fans.
Well played, Dodgers fans. You get a blue ribbon for taste (no other blue-colored rewards, however). Now you'll just have to hope your team can fend off having its season finale against the Cardinals on Wednesday afternoon.
Join me on Twitter for more sports and Walt Jr. breakfast talk.