What if.
What if Baylor and Oregon's nuclear, technicolor offenses crossed paths, cramming their unique styles, offenses and carnage into one space.
In all likelihood, these two will not meet, at least not this season. But if somehow, someway these forces were to collide—the ultimate "don't cross the streams" scenario—the end result could be unprecedented Las Vegas intrigue and, of course, unprecedented excess.
"The over/under in this game would be a record NCAA total, right around 91.5," Bovada.lv sportsbook manager Kevin Bradley said. "I would expect this matchup to take more money than any other potential BCS matchup because of the high scoring potential that our bettors love."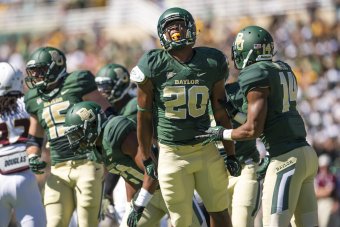 Jerome Miron-USA TODAY Sports
For perspective, the largest total in college football history actually surfaced last season, and yes, Baylor was involved. Oklahoma State was the other part of this equation, and the over/under closed at an absurd 88. While these two teams gave the over a good run, the combined 75 points proved to be a couple of touchdowns short.
Baylor and Oregon would almost certainly topple this record and do so with relative ease.
Right now, however, it's purely hypothetical. It's more realistic than generating an absurd point spread featuring [insert power house college team here, likely Alabama] vs. [insert horrendous NFL team here, likely the Jacksonville Jaguars], an exercise we seem to undertake yearly. But that's not saying much.
Yet, this scenario is not an impossibility, and for the sake of entertainment and scoreboard operators requiring IVs after the first quarter, we should welcome even the notion of it taking shape.
For it to transpire, both teams would likely have to meet in the BCS Championship Game. The scenario is at least gaining steam in Vegas circles.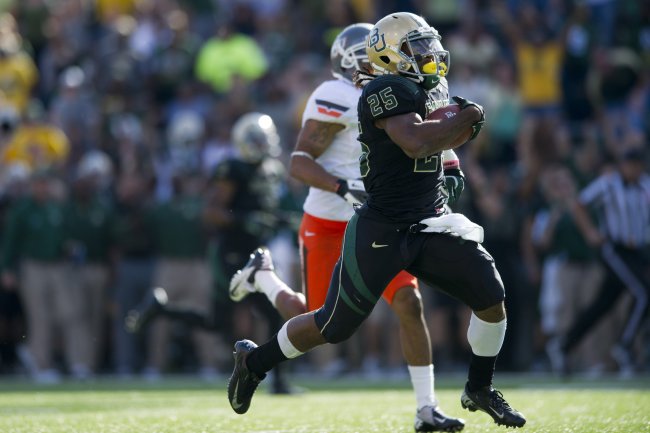 Cooper Neill/Getty Images
Oregon has the second best odds to win the BCS National Championship on the sportsbook Bovada, sitting at a valueless 21/10 and behind only Alabama. Baylor has watched its odds nosedive following its incredible start. In fact, Bovada didn't post odds on the Bears when its initial odds came out in January. Some sportsbooks had Baylor as high as 300/1.
The Bears are now 12/1 to win the BCS National Championship on Bovada, tied with Florida State and Clemson, and behind only Ohio State, Oregon and Alabama.
David Purdum has covered the sports betting industry for five years, and he recently explored this incredible drop in odds for Baylor. Outside of the impressive play, a hefty wager came in on the Bears, shrinking these odds down as low to 6/1 in some places.
As for the possibility of an Oregon-Baylor matchup, Purdum has also discussed the potential impact it would have.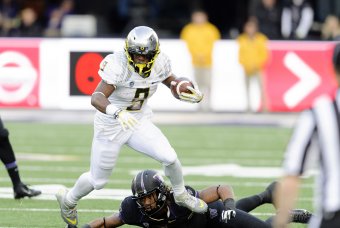 Steven Bisig-USA TODAY Sports
"Ed Salmons, head oddsmaker at the LVH SuperBook, projected the total would be somewhere in the mid-90s, but added that 'we're not far from having a college football total in the hundreds.'" Purdum said. "Think about all the potential prop bets that would come with this game, as well. Will any team score in the first minute? Will the scoreboard malfunction?"
Yes, "will the scoreboard malfunction" would put the measly "heads or tails" prop bets to shame. Also, don't rush to an answer. After all, the offense on display in this game could power a small village.
Together, Oregon and Baylor have combined to score 613 points in 11 games played. Baylor is No. 1 in points scored (63.4 points per game) and Oregon isn't far behind (56.8 points per game).
Did you know? Baylor averages 49.8 PPG in the 1st half! That's more than every team but Oregon & Florida State average for a game

— ESPN Stats & Info (@ESPNStatsInfo) October 10, 2013
With the incredible avalanche of points and gaudy offensive numbers have come enormous expectations from oddsmakers, and more specifically, enormous point spreads.
Oregon and Baylor have been favored by a combined 340.5 points in 2013—good for an average of 31 points per game. These numbers are even more impressive when you realize they have not been enough. The Ducks and the Bears have combined to go 10-1 against the spread.
"Baylor had covered the spread in 10 straight games before failing to do so against Kansas State," Purdum noted. "That was the longest streak in the nation. Now, Oregon owns that streak. The Ducks have covered in eight straight games."
The tempo and production of the offenses can be a challenge to assess when it comes to point spreads and totals. That's not just the case for the average football fan looking to invest in a side, but also the individuals tasked with creating the sides to be picked.
Todd Fuhrman is a former Caesars bookmaker and current market analyst at Donbest.com. He knows the challenges of handicapping these teams while determining how the public might respond.
"The difficult part is trying to gauge public perception, because the public wants to bet on teams that can score quickly," Fuhrman said. "Seven points to Baylor or Oregon is not the same as seven points to a more methodical offense like, say, Florida. These teams not only move faster, but they can also change games and payouts in a matter of minutes with the pace at which they play."
Let's Play the Hypothetical: Oregon (-9.5) vs. Baylor, Who Ya Got?
More difficult than simply gauging points scored, the spread in this game would vary a great deal. Each has proved its Vegas worth in recent months, although no team has destroyed inflated point spreads quite like Oregon.
"Right now I'd have Oregon as a 9.5-point favorite over Baylor, give or take," Bradley said. "The Ducks are clearly a touchdown favorite."
Others could see a number much higher. And the differing stances help showcase just how difficult these teams are to understand, even for the experts.
"John Avello, executive director at the Wynn sportsbook, told me last week that he'd have Oregon -14.5," Purdum said. "He also said he'd hang the total at 100."
Handicapping one of these teams can be difficult enough. Handicapping both could prove to be a fascinating but challenging proposition for Las Vegas. The possibilities (and points) are seemingly endless.
For now, oddsmakers won't have to fret over the appropriate total or point spread that will garner betting to their liking. The game does not exist, and it will likely stay that way unless the stars align.
We can only hope that somehow, someway they do.
*Adam Kramer is the lead college football writer for Bleacher Report. Unless otherwise noted, all quotes were obtained firsthand.