How Will Santi Cazorla and Mesut Ozil Partnership Work at Arsenal?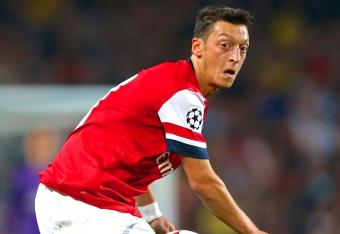 When Mesut Ozil arrived at Arsenal on the final day of the summer transfer window, thoughts immediately turned to the tantalizing prospect of his partnership with Santi Cazorla.
Ozil's prolific creative output and Cazorla's technical trickery is a dream combination. But in typical Arsenal luck, an injury to Cazorla on another needless international junket for Spain has meant he is yet to play a game with Arsenal's record signing.
Fortunately, fans won't have to wait long to see Ozil and Cazorla link up. The Spaniard has been telling AS that he is close to returning to the first team and could feature this weekend against Norwich City, via a report from The Sport Review.
But exactly how will his partnership with Ozil work? Very well is the answer most are hoping for and indeed anticipating.
But it will require a certain adaptation for at least one of Arsenal's primary playmakers. After all, Cazorla spent most of last season as the chief creative force for the Gunners.
He was at his best in the central No. 10 role, now seemingly reserved for the mercurial Ozil. That leaves Cazorla looking for a new way to fit into the structure of a winning team.
Cazorla must adapt himself to a winning team.
To many the answer is to simply put Cazorla on the left flank. He played there during the latter half of the last campaign, although opinion was mixed about how successful he was.
Despite the doubters, he did produce some match-winning performances from the left, notably in home fixtures against Aston Villa and Wigan Athletic.
Cazorla also seems like a natural fit to begin games in a wide berth. His quickness, close control and dizzying skills with both feet suit the demands of beating markers out wide.
This is something Arsenal's sometimes narrow approach has been lacking. The absence of true width and trickery was painfully obvious in the Gunners' recent 1-1 draw with West Bromwich Albion.
But as good as Cazorla can be from the left, there remains a feeling that Arsenal miss his guile in the middle. It is a valid point considering manager Arsene Wenger's style of play usually involves Arsenal building most of their attacks through the middle.
The obvious counter to that view is the Gunners no longer need Cazorla to play centrally. They have Ozil in that position, and he can exert a similar if not greater influence.
The one problem in that scenario is how much freedom Ozil is able to find in the middle. One of the criticisms sometimes applied to Cazorla is that he can be crowded out in central areas.
Well, that same critique applies equally to Ozil. Forcing him backward and swarming around him in numbers was clearly the approach West Brom took to corralling Ozil.
The tactic worked very well, and Ozil was ineffective for large portions of that game. One of his main issues is that he is, so far, too easily powered off the ball.
That and the number of markers opponents are able to dedicate to him in the middle is why Ozil has yet to deliver a truly masterful performance in the English Premier League.
His best display actually came in the UEFA Champions League against Napoli. Ozil began that game on the left and inspired Arsenal to a 2-0 victory.
Ozil produced his best game so far for Arsenal, operating from the left flank.
Letting him start from a wider area makes Ozil more difficult for opponents to mark. They cannot assign central midfielders exclusively to the task, or else they risk becoming exposed in the middle.
When he is wide, Ozil's movement off the flank also becomes harder to track. In that sense, he becomes similar to Arsenal legend Robert Pires.
The classy schemer occupied the left flank for years but never played like a true winger. Instead, Pires would drift around and rotate positions with forward Dennis Bergkamp and striker Thierry Henry.
Pires was deadly whenever he ghosted into central positions as part of a flowing attacking move. Ozil is certainly capable of posing the same threat.
Starting him on the left puts Cazorla back in the middle, and that may suit both Arsenal and Ozil better.
One of Cazorla's best attributes is his scoring potential. He was very effective attacking centrally during his first year with the Gunners.
More than just his impressive array of long shots, Cazorla would often make the late run into the box to latch onto a pass from wide and produce a goal.
His hat-trick in the 5-2 away win over Reading as well as his delightful flick in the home win by the same score over West Ham United serve as prime examples.
Ozil does not offer the same goal threat. Granted, it is too early in his Arsenal career to be dismissing his scoring potential altogether, but Ozil has historically never been prolific, either at club level or internationally.
But he can certainly provide the supply for a player like Cazorla to make the most of.
Finding players for the man often dubbed "King of the Assist" to provide for has been a problem for Arsenal since they signed Ozil. With quick, wide-breaking forwards Lukas Podolski and Theo Walcott still injured, Ozil does not have many targets.
Cazorla's ability to make late runs and convert scoring chances can be a boost to Ozil.
Cazorla would give him a dangerous option to connect with. And despite his diminutive stature, Cazorla would be more use in central midfield, where his persistence and intricate trickery often get him out of crowds and away from close marking.
Of course, it is important to remember that no positions are fixed in Wenger's grand design. Fluidity is the key, and both Cazorla and Ozil can be expected to roam all over the pitch.
But that is not to say that teams, including Arsenal, sometimes encounter problems when they try and accommodate too many players vying to dominate the same areas.
That was an issue for Wenger when he had Cesc Fabregas, Samir Nasri and Andrei Arshavin. The latter pair were not always comfortable being forced into wide berths.
But in truth, that is the kind of dilemma a manager ought to welcome and use to his advantage. If nothing else, it shows strength and depth in a key area of the team.
For now though, the Cazorla-Ozil partnership might work best with Ozil starting wide and Cazorla working the middle.
This article is
What is the duplicate article?
Why is this article offensive?
Where is this article plagiarized from?
Why is this article poorly edited?

Arsenal: Like this team?