NBA's Best Players Who Never Made an All-Star Team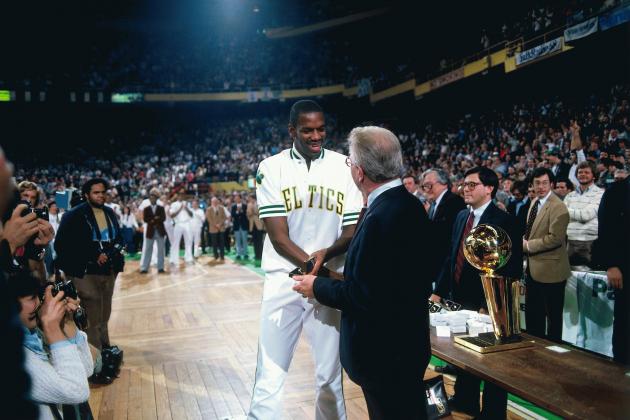 Dick Raphael/Getty Images

This season, the snubbing of Lance Stephenson, Kyle Lowry and others from the All-Star Game has been discussed ad nauseam. But what about the guys who got snubbed for their entire career?
When there are only 24 players selected for the big game each year, there's bound to be a number of major omissions. Believe it or not, there's even a few Hall of Famers who never got the nod.
So this slideshow is an effort to honor those who never got their moment at All-Star Weekend despite probably deserving it.
The players will be organized the same way this year's teams were: five starters, two reserve guards, three reserve forwards and two wild cards.
They have to be out of the league to qualify for the team, since technically, active players still have a shot at a selection. And though much of this is subjective, there are few pieces of criteria that guided the selection process.
Basketball Reference's "Player Season Finder" tool filters and organizes all the league's players based on selected criteria.
For the purposes of this slideshow, I looked up players with the most career win shares without an All-Star appearance, players with the most win shares in a single season without an All-Star appearance and players without an All-Star appearance sorted by points per game, rebounds per game or assists per game.
Unless otherwise noted, all stats are courtesy of Sports-Reference.com and NBA.com.
Begin Slideshow

»
Career Stats: 13.2 points, 7.3 assists and 45.4 percent shooting
Most All-Star-Worthy Season—1997-98: 17.8 points, 10.5 assists and 5.3 rebounds
Rod Strickland is one of the most surprising career snubs the NBA's ever produced. As a member of the Portland Trail Blazers and Washington Bullets (later the Wizards) from 1992 to 1998, Strickland averaged 17.2 points and nine assists. He even led the league in assists in '98 at 10.5 a game.
That season, Anfernee Hardaway made the All-Star team while averaging 16.4 points, 3.6 assists and shooting 37.7 percent from the field. He played just 19 games that year.
Strickland is fourth in win shares and assists per game among retired players who never made the All-Star Game.
Career Stats: 9.3 points, 3.2 assists, three rebounds and 40.5 percent three-point shooting
Most All-Star-Worthy Season—2001-02: 14.4 points, 5.4 rebounds, 5.3 assists and 42.4 percent three-point shooting
Brent Barry quietly put together a much more impressive career than many realize. In NBA history, he's ninth in career effective field-goal percentage and 25th in threes made.
He's also 10th in total win shares among retired players who never made the All-Star team, despite playing just 25.9 minutes a game (only Don Nelson averaged fewer minutes among the top 10 on the list).
And during the '01-02 season alone, he was ninth in the league in win shares. In spite of his huge contribution to the Seattle SuperSonics success that year, he failed to make the All-Star team.
Career Stats: 13.3 points, 8.4 rebounds and 3.7 assists
Most All-Star-Worthy Season—2003-04: 17.1 points, 9.7 rebounds and 4.1 assists
Lamar Odom isn't technically retired yet, but he's currently not on an NBA team and it looks like interest in his services may have dried up around the league.
In his prime, Odom was one of the most dynamic point forwards in the game. The 6'10" forward handled and distributed the ball like a point guard and finished around the rim like a big.
His versatility allowed him to play multiple positions throughout his career. That was especially true when he was Phil Jackson's sixth man. It was a role in which he thrived, winning the 2011 Sixth Man of the Year award.
Career Stats: 12.5 points, 6.3 rebounds and 54.6 percent shooting
Most All-Star-Worthy Season—1978-79: 19.0 points, 9.9 rebounds and 58.4 percent shooting
I'm willing to bet that the vast majority of NBA fans don't know Cedric Maxwell has the best true shooting percentage of all time. Heck, I didn't know before I researched this slideshow.
Maxwell relentlessly attacked the rim for the Celtics and Clippers on his way to a true shooting percentage of 62.9—an impressive feat for a 6'8" player listed as a small forward.
In 1979, 1980 and 1981, he finished fifth, third and seventh in win shares, and he's fifth all time in that category among players who never made an All-Star team.
Career Stats: 12.0 points, 7.3 rebounds and 2.1 assists
Most All-Star-Worthy Season—1997-98: 16.0 points, 10.0 rebounds and 3.0 assists
Arvydas Sabonis would have have almost certainly been named an NBA All-Star at some point had he joined a team earlier in his career.
He spent the majority of his career playing in Europe, but took the NBA by storm as a 31-year-old rookie in 1995. In his first two seasons, the versatile 7'3" center averaged 14 points and eight rebounds while shooting 37.3 percent from three-point range.
His enormous frame, passing ability and scoring touch out to the three-point line made him an incredibly unique matchup problem for opposing defenses.
That variety of skills also helped him post a player efficiency rating over 20 in seven of his eight NBA seasons. He also finished in the top seven in defensive rating five different years.
Career Stats: 14.7 points, 5.5 assists and 37.9 percent three-point shooting
Most All-Star-Worthy Season—2004-05: 19.6 points, 6.8 assists and 4.2 rebounds
Because he was a part of one of the most complete starting fives in the league at the time, Mike Bibby's individual merits were often overlooked when he played for the Sacramento Kings.
His teammates Chris Webber, Vlade Divac and Peja Stojakovic all made the All-Star team while with Sacramento, but the point guard was somehow passed up.
He was in the top 10 in the NBA for assists three times, the top 10 for threes made four times and is ninth in win shares on the list of players who never made the All-Star team.
Career Stats: 13.8 points, 4.3 rebounds and 3.9 assists
Most All-Star-Worthy Season—1989-90: 22.8 points, 5.9 rebounds, 5.2 assists and 2.3 steals
I would imagine I'm probably not the only fan who mostly remembers Ron Harper as the unconventional starting point guard for five of Phil Jackson's 11 championship teams.
In that role, he wasn't called upon to do much beyond play defense, initiate the offense and defer to Michael Jordan, Scottie Pippen, Kobe Bryant and Shaquille O'Neal.
But before Jackson made him a point guard, Harper was one of the best scoring shooting guards in the NBA. As a member of the Cleveland Cavaliers and Los Angeles Clippers, Harper averaged 19.3 points, 5.2 rebounds and 4.9 assists over eight seasons.
Career Stats: 11.9 points and 6.0 rebounds
Most All-Star-Worthy Season—2004-05: 16.5 points and 8.8 rebounds
Sam Perkins is first in career win shares among players who never made an All-Star team. The fact that he played 17 seasons certainly helped him get to that rank, but that shouldn't discredit his accomplishments.
Perkins was never really a featured player on any of the teams for which he played, but he always played well within his role and averaged double figures in each of his first 13 seasons.
In the second half of his career, Perkins redefined himself to stay relevant in the NBA. In his first eight seasons, Perkins shot 25.6 percent from three-point range. Over the next nine, that number was 38.0 percent.
George Long/Getty Images

Career Stats: 14.8 points and 10.3 rebounds
Most All-Star-Worthy Season—1969-70: 18.5 points and 11.1 rebounds
1972 NBA champion Happy Hairston is one of five NBA players who averaged a double-double for their careers without ever making an All-Star appearance. And Hairston is the only one of the five who played for at least 10 years.
He's 43rd in NBA history in rebounds per game, and during the 1974-75 season, he led the league in total rebounding percentage.
Career Stats: 16.7 points and 3.8 rebounds
Most All-Star-Worthy Season—1994-95: 20.4 points, 3.3 rebounds and 3.3 assists
Isaiah "J.R." Rider may be best known for his performances in the NBA's dunk contest, but the guy put up some big numbers outside of judge's scorecards as well.
Over the first seven seasons of his nine-year career, the high-flying Rider averaged 18.1 points and 4.1 rebounds. Though he was often among his teams' leading scorers, Rider never quite took the next step to becoming a superstar.
That led to him abruptly washing out of the league, averaging 7.8 points in 77 games over his last two seasons. It was a sad way to go out for a player who showed so much promise early in his career.
Career Stats: 14.3 points, 3.8 assists and 3.5 rebounds
Most All-Star-Worthy Season—2002-03: 22.1 points, 4.8 assists and 4.3 rebounds
Jalen Rose first showed up on the national scene as a member of Michigan's "Fab Five." And though he took a few years to gain traction in the NBA, he eventually became a fantastic wing for the Indiana Pacers, Chicago Bulls and Toronto Raptors.
From 1999 to 2005, he averaged 19.3 points, 4.4 assists and 4.3 rebounds.
Some of his best years came with the Pacers, a team featuring Reggie Miller and Jermaine O'Neal that he led in scoring twice.
It's particularly hard to see how Rose missed the All-Star Game in 2000, when the Pacers won the Central Division with a record of 56-26 (they eventually lost to the Los Angeles Lakers in the Finals).
Career Stats: 9.8 rebounds, 9.5 points and 2.4 blocks
Most All-Star-Worthy Season—2004-05: 13.1 rebounds, 9.1 points and 3.6 blocks
Like Odom, Marcus Camby isn't technically out of the league. But considering he's 39 and not currently under contract, I'm willing to make a second exception.
Camby is one of the greatest rebounders and shot-blockers in NBA history, but somehow never made a single All-Star Game.
He led the league in blocks per game four separate times, is 13th in NBA history in both blocks and blocks per game and is eighth in career block percentage. And that's just the shot-blocking numbers.
Camby was a dominant rebounder as well. His career defensive rebounding percentage is fourth all time and his total rebounding percentage is seventh.
Considering defense and rebounding is two-thirds of the game, it's tough to figure out how Camby didn't make a single All-Star appearance in 17 seasons.
Andy Bailey covers the NBA for Bleacher Report.